3 Steps to the Best Wardrobe
It's hard to believe that it has almost been a year since The Block 2019! Take our minds back to last year's season, some amazing and very different wardrobe designs were showcased – and even an entertaining space thanks to Mitch & Mark from House 1.
Below we explore three key factors that were highlighted on The Block 2019 and that we think you should consider when creating the best wardrobe on your block.
1. Pick the Right Wardrobe Style for Your Space.
Here at Freedom Wardrobes we offer Walk-in, Walk-through, Hinged and Sliding Wardrobe styles to suit any space in any home. Throughout the season of The Block we watched the couples lean towards the Walk-in and Hinged wardrobe styles depending on the room that they have been allocated.
Walk-in Wardrobes:
The epitome of luxury and ultimate organisation, our Walk-in & Walk-through Wardrobes create more than just a smart storage solution designed to showcase all of your prized items – it's a daily style experience.
WE LOVE: Tess & Luke – Master Bedroom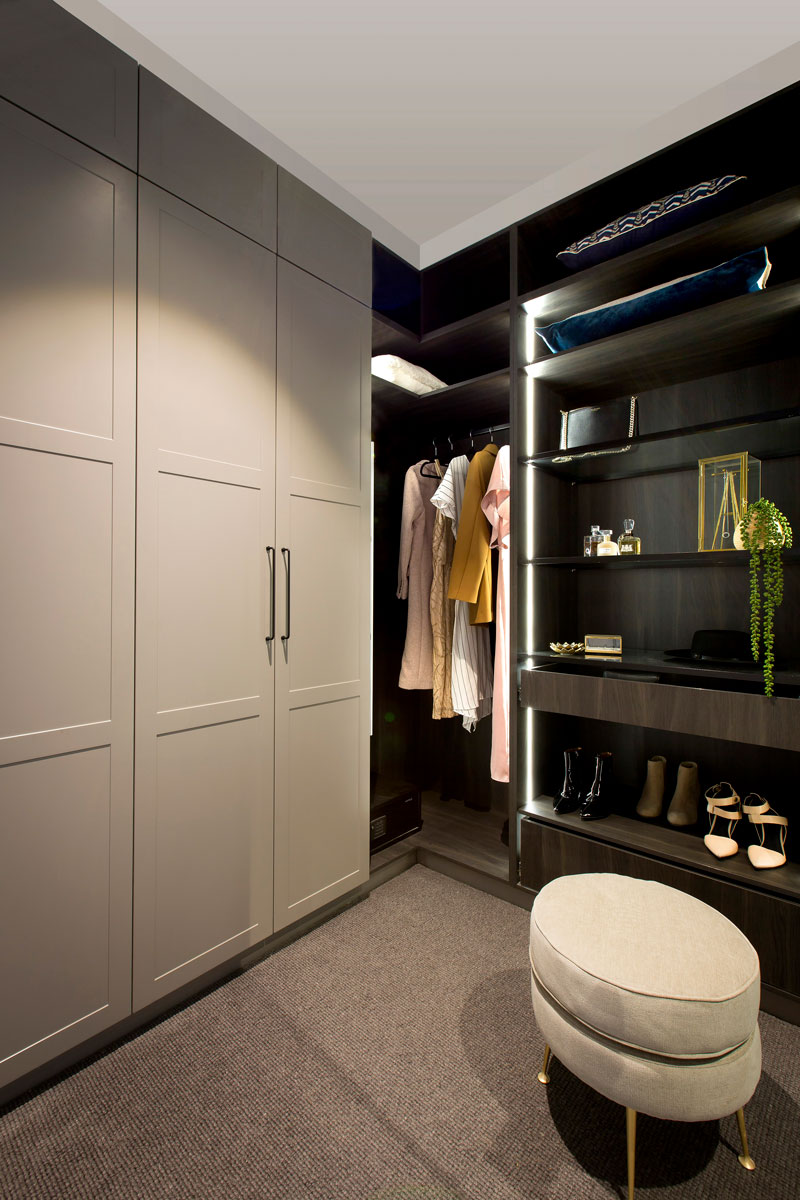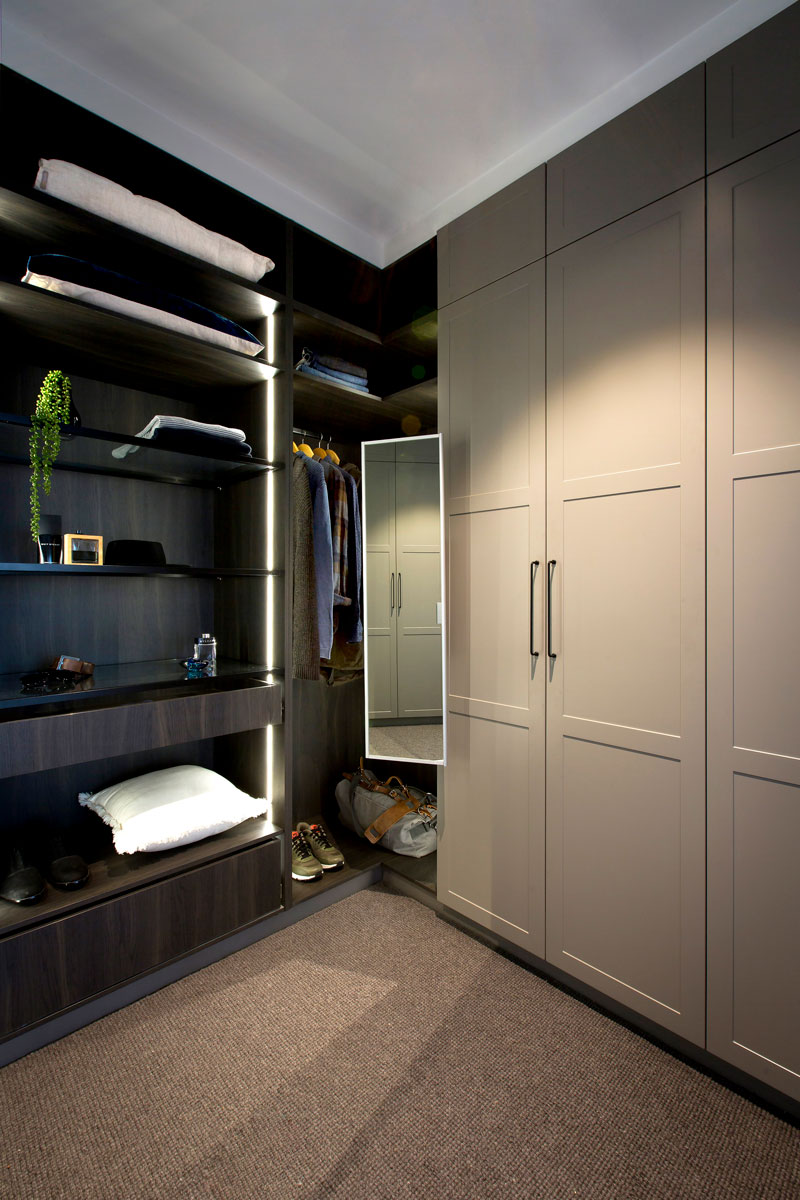 Tess and Luke's Master Bedroom was a hit with the judges! Darren believed they produced "the perfect walk-in robe." He went on to say their walk-in Freedom Wardrobe was not just nailed, it was right out of the ball park! The robe boasts a dark, moody and luxe colour palette featuring Sierra Warm Grey exterior cabinetry and Mountain Oak Natural internals. Also included are Black Hanging Rails, supplying ample hanging space and jewellery drawers, all illuminated by Flexy LED Strip lighting.
Hinged Wardrobes:
Ideally suited for larger bedroom spaces, our Hinged Wardrobes create a feature wall of storage bliss that allows you to keep everything hidden behind soft-close doors.
We have loved seeing how the contestants have used this style in their Guest Bedrooms. They have used a mix of door profiles and colours and have turned them into multi-use spaces by introducing shelving and desk spaces that can also be used as make-up stations.
WE LOVE: Andy & Deb – Guest Bedroom 2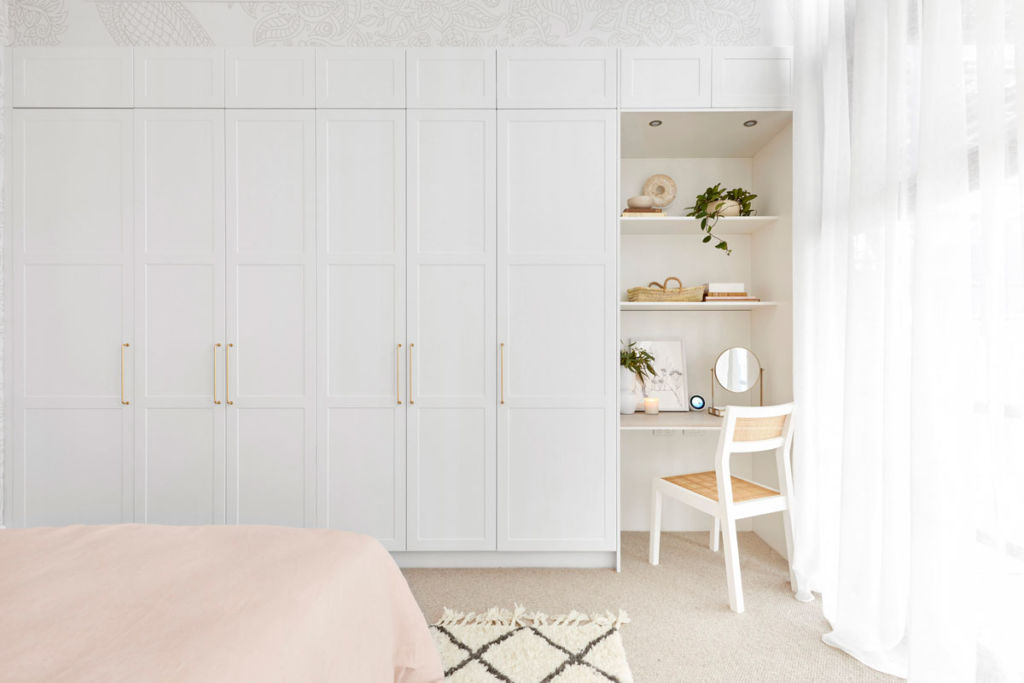 Andy and Deb's winning space features a sophisticated and classic style Hinged wardrobe with Shaker-style Sierra White Matt doors which conceal an Ash Firenze interior. Their refined space proves to be functional too with ample storage produced by double stacked cabinetry. To up the luxe factor, a desk featuring a Caesarstone Topus Concrete top has been added, the perfect setting to do makeup, with Matt Brass Rounded handles offering the finishing touch.
2. Celebrate Colour in Your Wardrobe Design!
Central to the design ethos at Freedom Wardrobes is offering a curated selection of premium door and interior finishes and colours. Mix and match exterior and interior finishes to create personality and mood in your bedroom space.
We have loved seeing how this years' couples have embraced colour in their Master and Guest Bedrooms wardrobe designs. Dark tones have dominated many of the spaces with opulent timber looks such Supa Wenge and Mountain Oak being used to great effect by Jesse & Mel, and Tess & Luke showcasing Sierra Warm Grey for their exteriors paired with Mountain Oak interiors. Alternatively, Deb & Andy have used a fresh white colour palette with Shaker-style Sierra doors in White Matt throughout their bedrooms.
WE LOVE: El'ise & Matt – Master Bedroom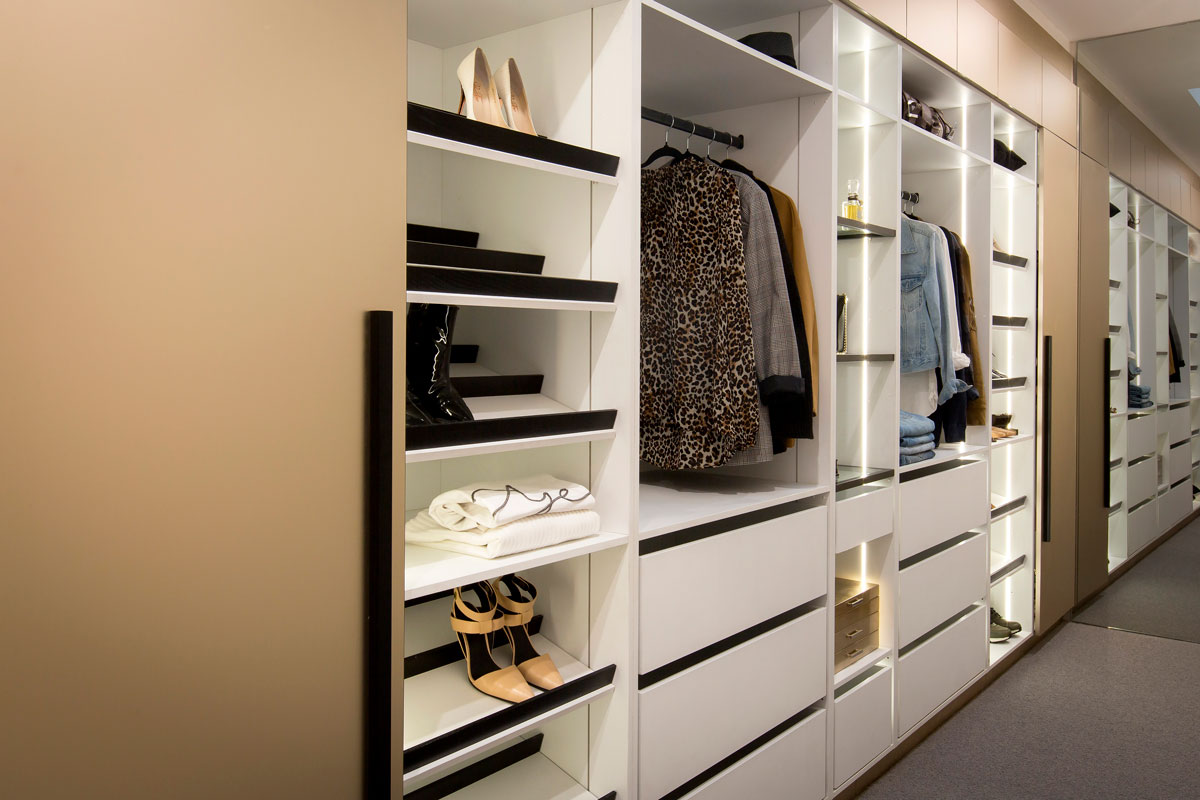 El'ise and Matt's walk-in wardrobe certainly made a statement with the judges, resulting in Shaynna commenting the wardrobes were "glamorous and beautiful". Champagner Metallic (no longer available) doors gives the wardrobe the ultimate luxurious feel, alongside Classic White Satin cabinetry to establish a clean, bright interior. The elegant colour palette delighted the judges too, Darren said he loved the colour of the wardrobes.
3. Invest in Luxury Extras
When it comes to stylish bedroom storage, not all wardrobes are created equal. This is especially true when you look at some of the finer details that set a well-designed wardrobe apart from something truly special: it's the next-level luxury extras that make Freedom Wardrobes a premium choice that can take you to new style heights.
This series of The Block has seen our extensive range of luxury extras in full effect. From shoe and trouser racks, jewellery drawers, folding mirrors, hanging rails and black framed glass shelves- these robes have it all!
WE LOVE: Deb & Andy – Master Bedroom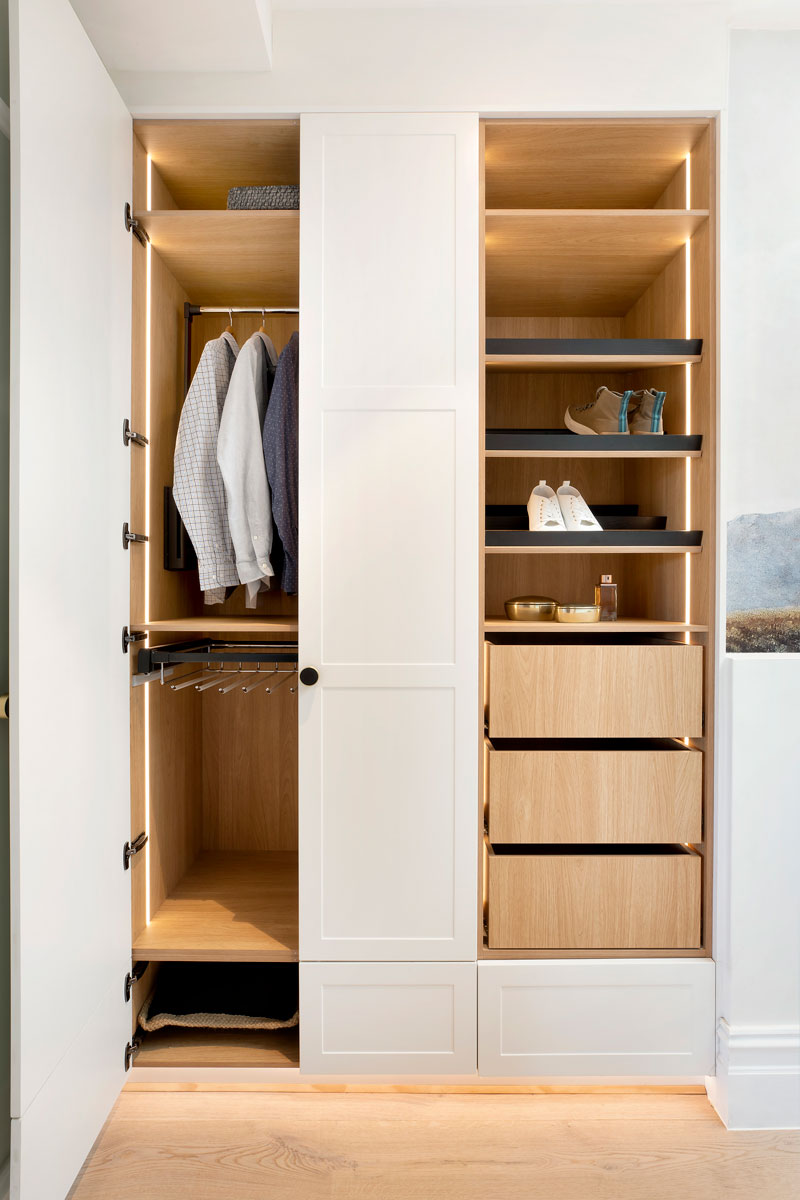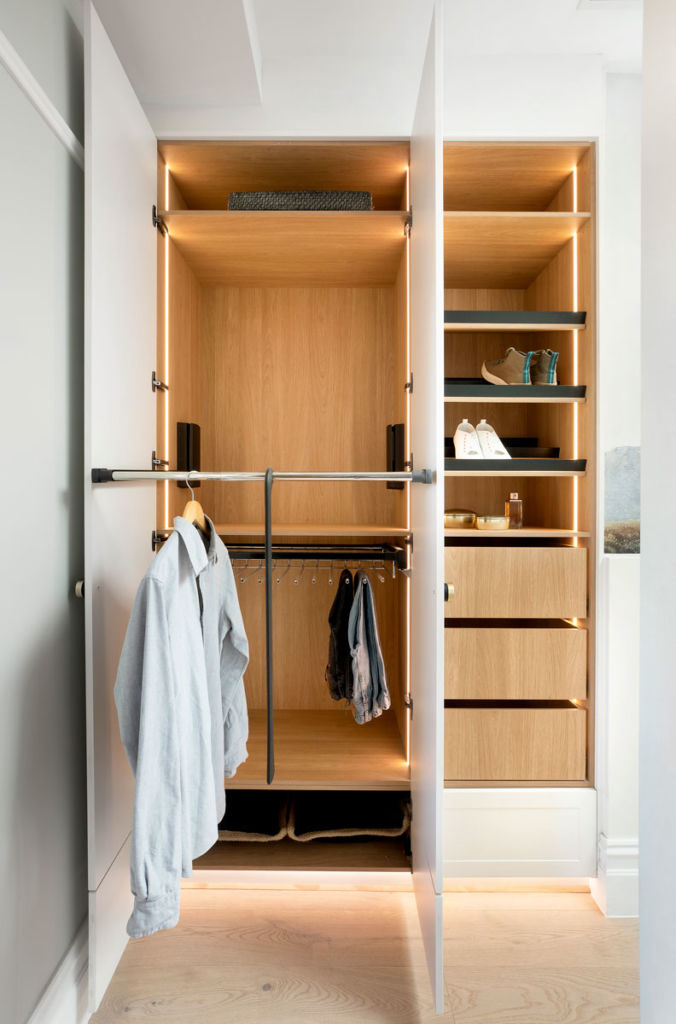 Deb & Andy's wardrobe design features a myriad of design details. Pull down Black Hanging Rails ensure clothing is easy to access without compromising the storage options below which feature Pull Out Trouser Racks, drawers and shoe racks. Flexy LED Strip Lighting is the perfect finishing touch, creating an ideal setting for an opulent display of garments.
WE LOVE: El'ise & Matt- Master Bedroom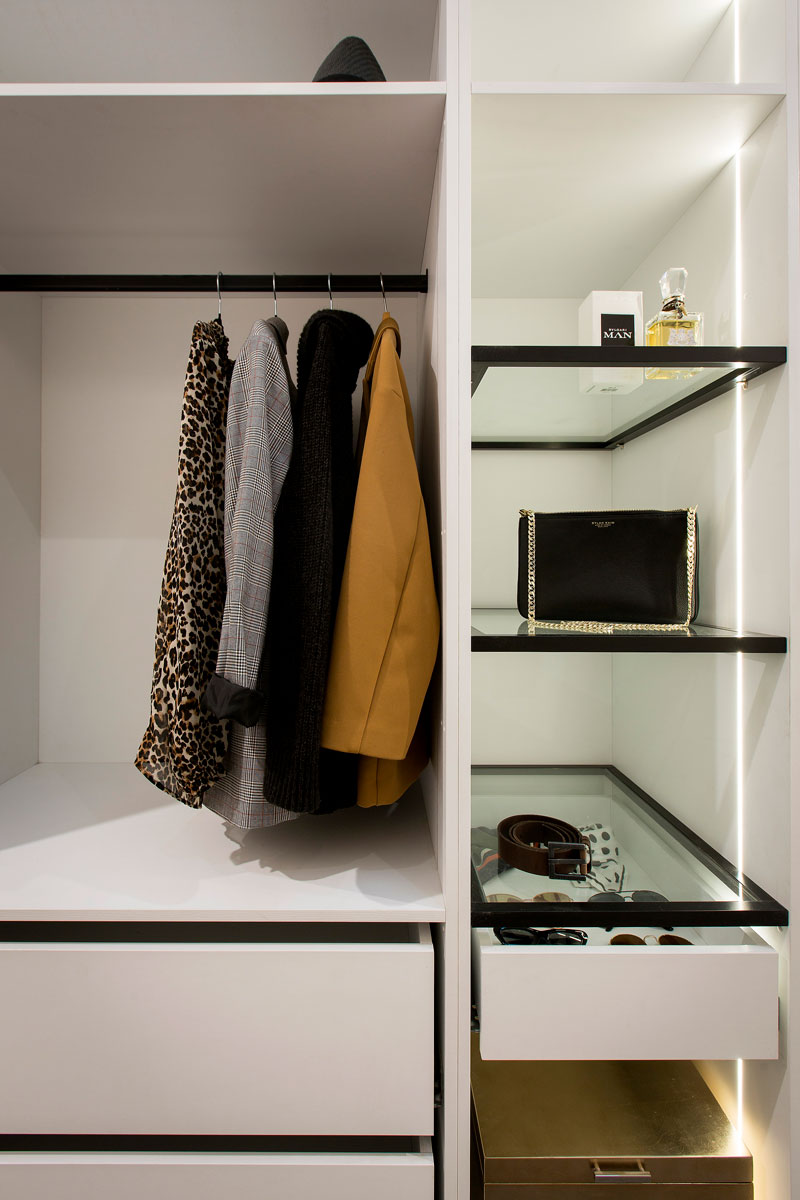 Not only does this couple's Master robe showcase bold and glamourous colour choices, all the finer details have been taken into account as well. Ample storage space is created from a complementing mixture of Black Hanging Rails, Shoe Racks, Jewellery Drawers and Trouser Racks. Black Framed Glass Shelves splits the cabinetry into separate storage area, giving a striking visual effect and decorative styling opportunities.
Love what you saw and want to learn how you can create your own wardrobes with wow factor?
To book a FREE in-home or video call design appointment today, simply click HERE. Need more wardrobe inspo first? Download our catalogue HERE.