Wardrobes that 'Wowed' on The Block
12 weeks and 20 wardrobes! Yes, it's true – the biggest build on The Block has seen a plethora of stunning Freedom Wardrobes in various shapes, sizes and finishes.
The beauty of this season is that each couple has followed their unique design style and aesthetic -and the wardrobes revealed in each house are distinct as a result.
What they all have in common are premium door and interior finishes as well as luxurious extras including desk and makeup station tops in Caesarstone and stylish black hardware and accessories- from shoe racks, wardrobe rails, black frame glass shelving to jewellery drawers – these wardrobes have it all!
Read on to discover more about the Walk-in, Hinged and Sliding wardrobe layouts and the couples that presented them.
Walk-in Wardrobes
The epitome of luxury, our Walk-in Wardrobes create more than just a smart storage solutions – they are a daily style experience designed to showcase all of your prized items.
We love: El'ise & Matt – House 4 Master Bedroom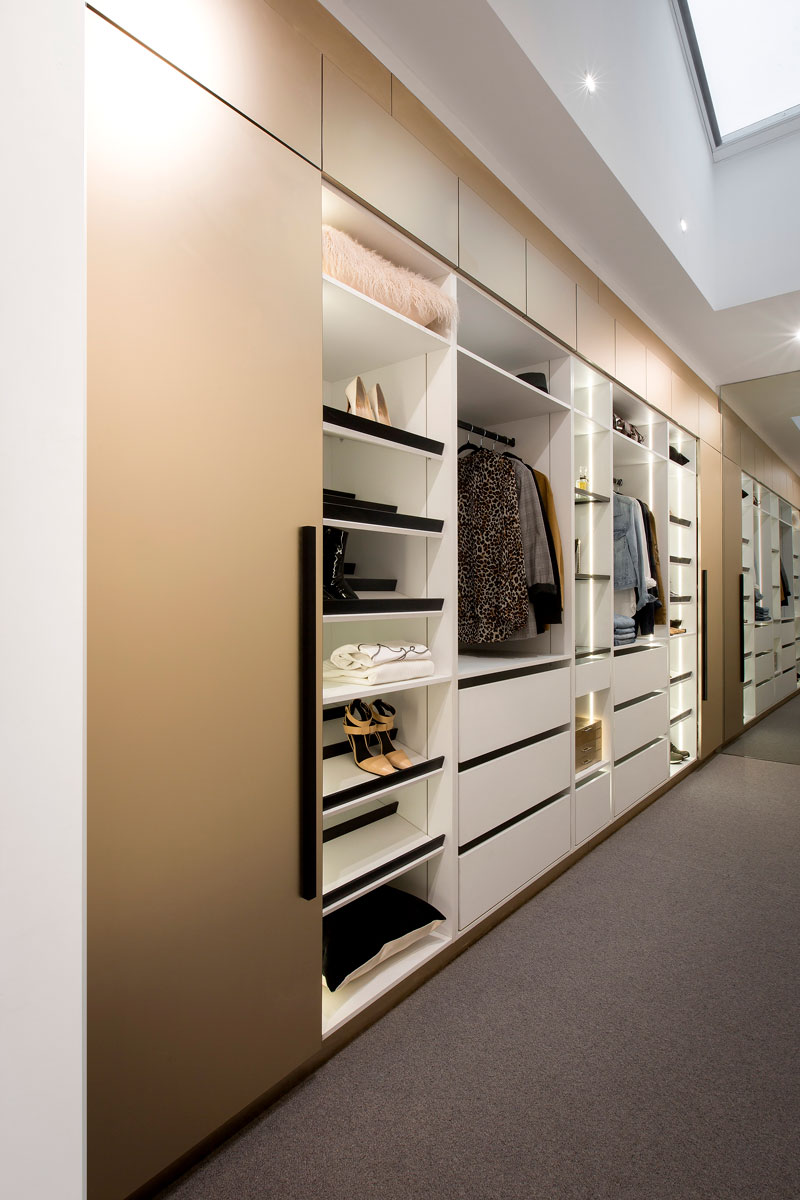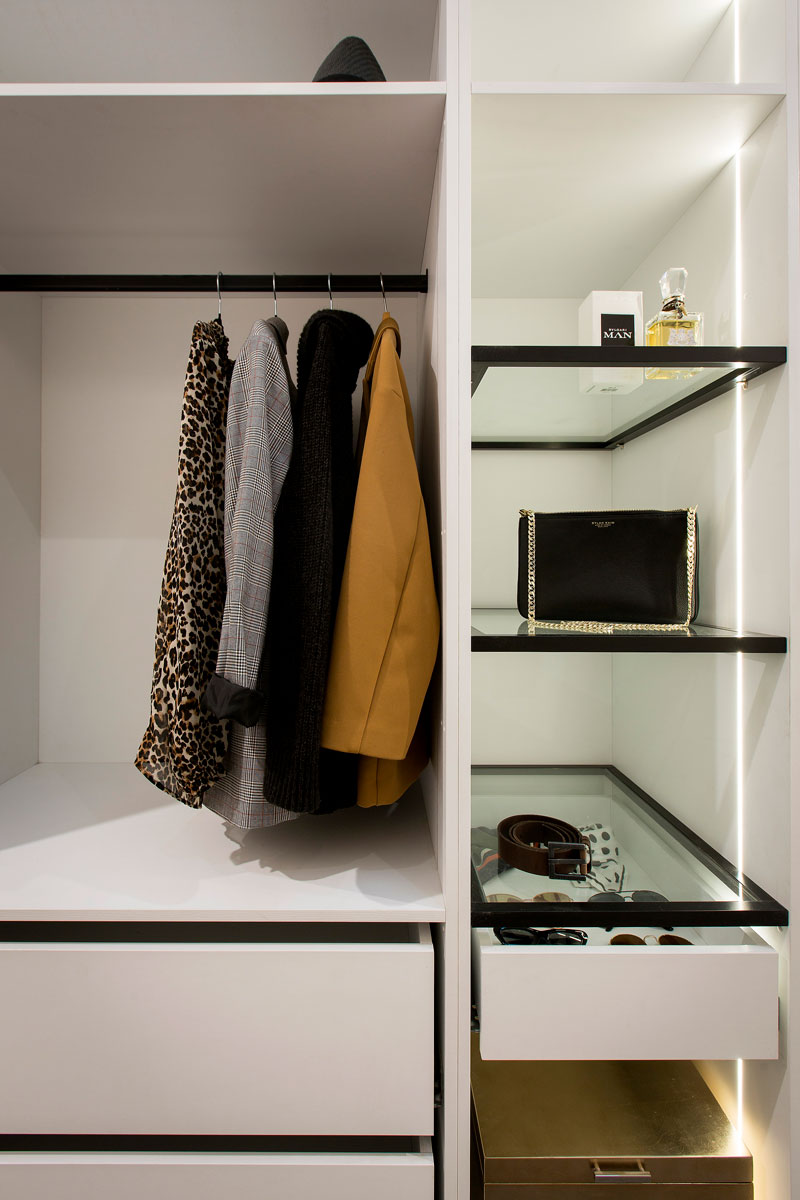 El'ise and Matt's walk-in wardrobe in their Master Bedroom certainly made a statement with the judges, resulting in Darren Palmer stating he was "completely speechless". The robe boasts a grand straight run of cabinets, finished at the end with a floor to ceiling mirror to reflect light and give the sense of more space.
The glamourous colour palette delighted the judges too – Champagner Metallic (no longer on range) doors give the wardrobe the ultimate luxurious feel, alongside Classic White Satin internal cabinetry to establish a clean and bright space.
Ample storage space has been created from a complementing mixture of Black Hanging Rails, Shoe Racks, Jewellery Drawers and Trouser Racks. Black Framed Glass Shelves splits the cabinetry into separate storage areas, providing a striking visual effect and decorative styling opportunities.
Floor plan: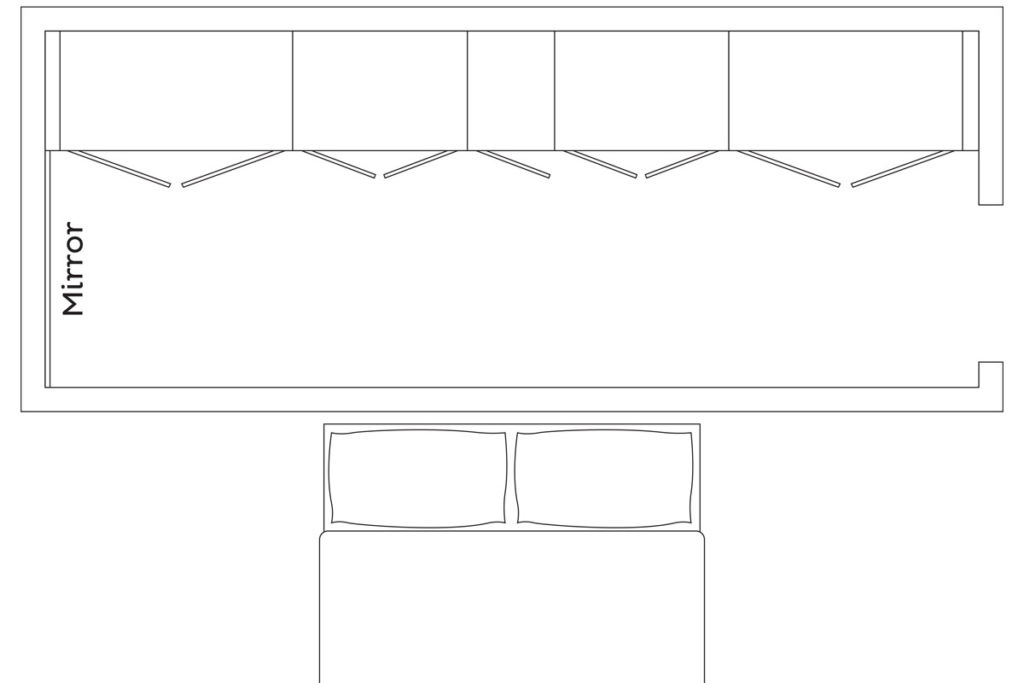 Exterior finish: Champagner Metallic
Internal finish: Classic White Satin
Special features: Square Hook Matt Black Handles, Shoe Racks, Jewellery Drawer, Black Hanging Rails, Trouser Rack, Black Framed Glass Shelves, Multifunction Insert Drawer Dividers, Flexy LED Strip Lighting
We love: Jesse & Mel – House 5 Master Bedroom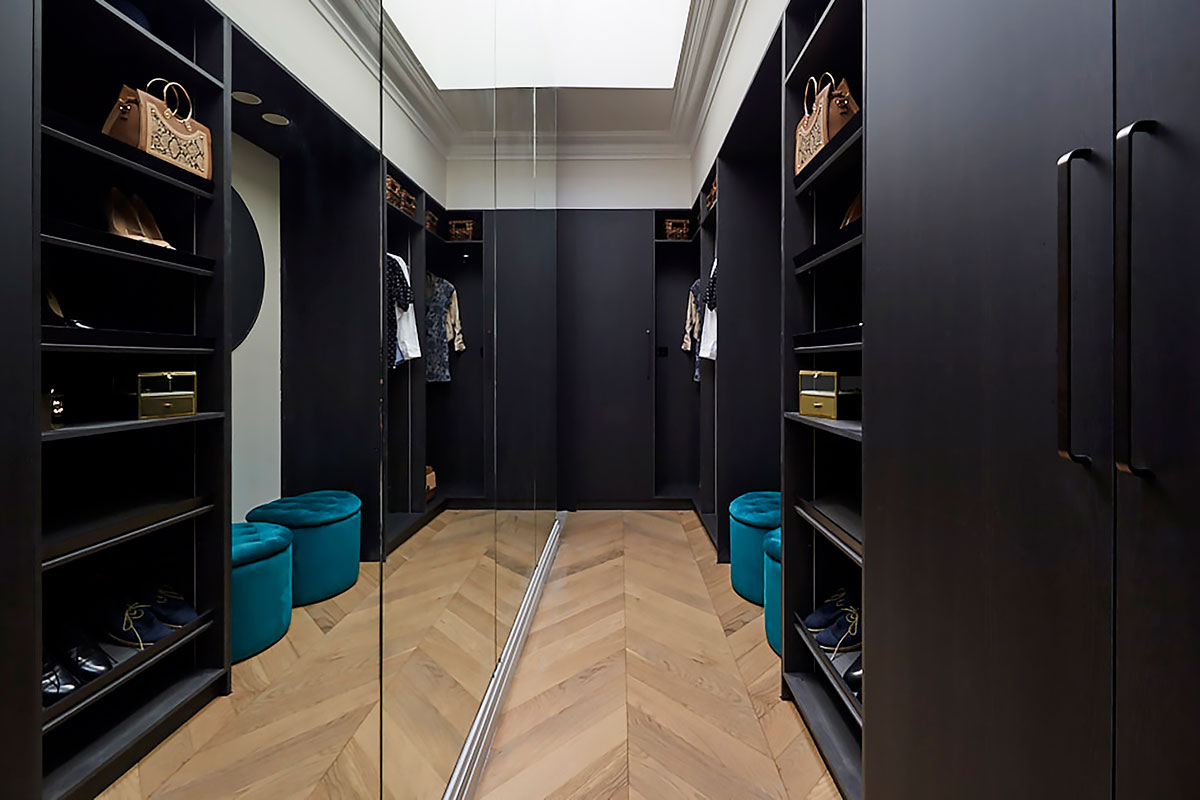 Jesse & Mel's walk-in wardrobe boasts extensive storage space, which is evenly made up of Shoe Racks, Drawers and Black Hanging Rails. The opulent colour palette of the cabinetry contrasts perfectly with the lighter timber-look herringbone flooring. We love how this team have mixed two dark timbers – Exterior finishes in Supa Wenge and the interiors in Mountain Oak Natural- as well as the addition of the dark Brush Orb handles to create a sleek look.
The desk found in the main part of the bedroom has been topped with Caesarstone® Statuario Maximus to complete the luxurious aesthetic the couple wanted to achieve. LED Strip Lighting above the desk and bench seat pairs form with function and adds light to balance the dark finishes.
Floor plan: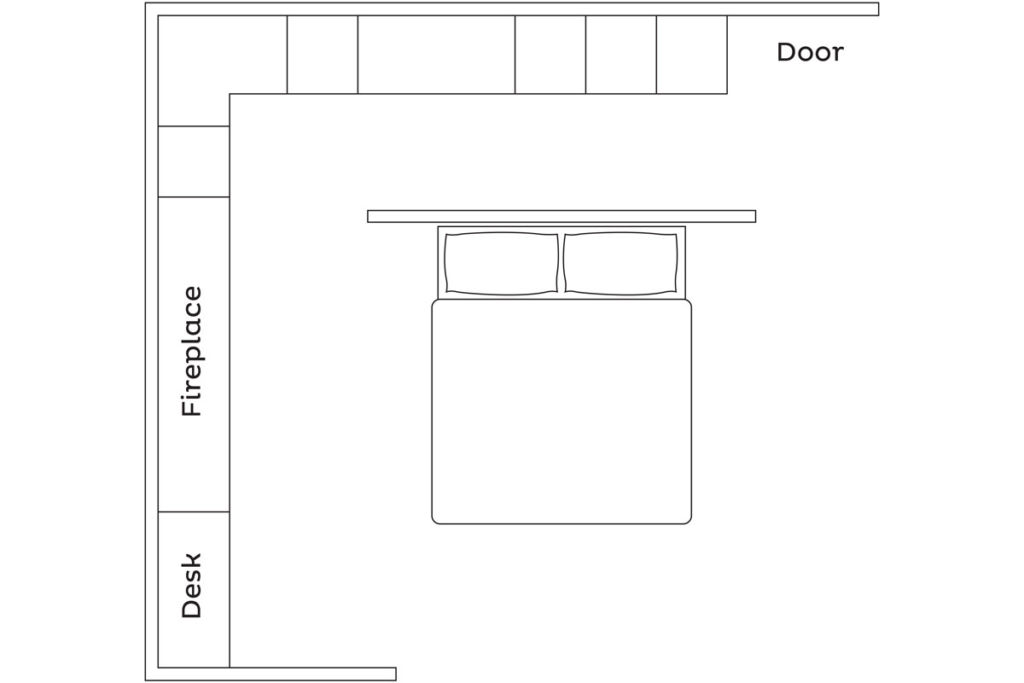 Exterior finish: Supa Wenge
Internal finish: Mountain Oak Natural
Special features: Caesarstone® Statuario Maximus Desk Top, Brushed Orb Handles, Multifunction Insert Drawer Dividers, Shoe Racks & Drawers, Black Hanging Rails, Flexy LED Strip Lighting
Hinged Wardrobes
With a variety of door sizes, this range is ideally suited to small or large bedroom sizes which make it a very popular choice. Our Hinged Wardrobes create a feature wall of storage bliss that allows you to keep everything hidden behind soft-close doors.
We love: Mitch & Mark – House 1 Master Bedroom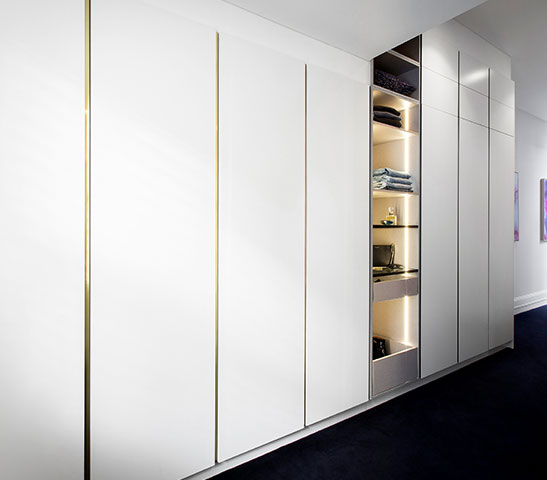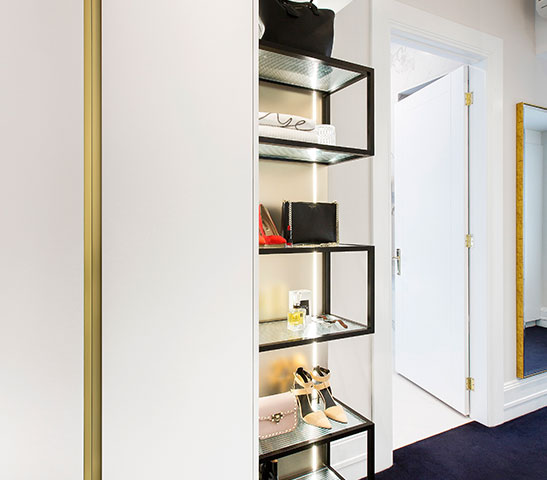 Mitch & Mark's wardrobe was one of the centrepieces in their winning Master bedroom. The stylish pair created a grand Hinged robe that perfectly mixes style and sophistication.
A sleek run of White Satin cabinets with subtle Brushed Gold Peak Handles highlight the vertical space with double-stacked storage boxes above. Beautiful Black Framed Glass Shelving not only breaks up the run of white cabinetry but also allows the user to display prized items, from handbags, shoes and other special accessories.
Shaynna loved their inclusion of a makeup/dressing table topped in Caesarstone's new colour Empira White as "theatre" stating it would be a pleasure getting dressed in here and we couldn't agree more!
Exterior finish: Iceland White Satin with Brushed Gold Peak Handles
Internal finish: Suit Grey Textile
Special features: Caesarstone Empira White Desk Top, Black Framed Glass Shelves, Black Hanging Rail, Jewellery Drawer, Home Safe, Flexy LED Strip Lighting, Motion Sensor Door Switches
We love: Deb & Andy – House 3 Guest Bedroom 2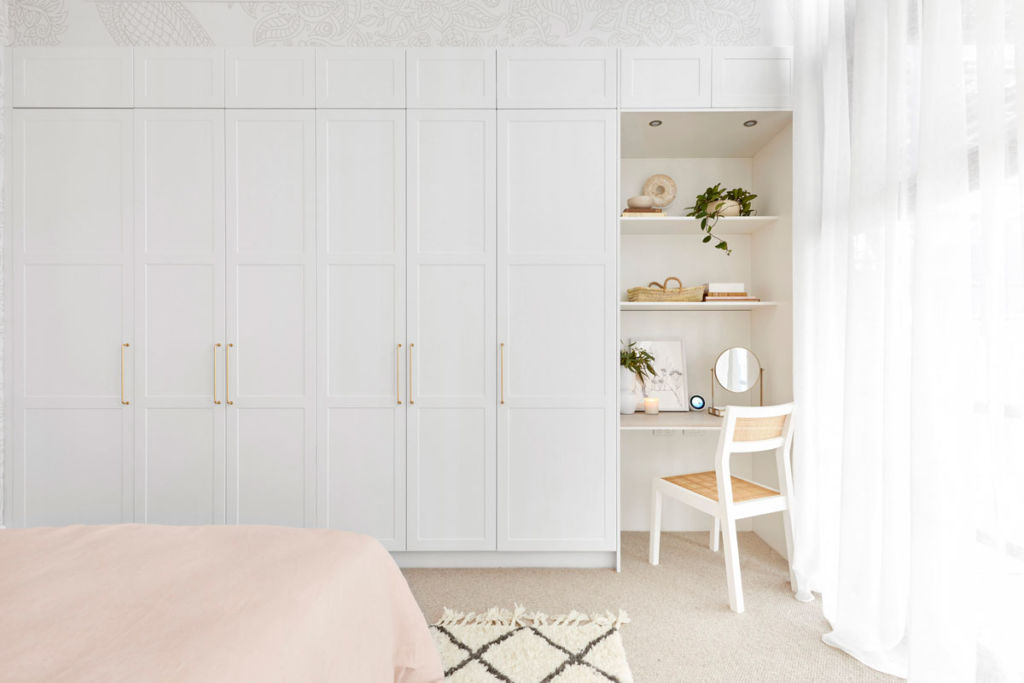 When walking into Deb & Andy's winning second guest bedroom, Neale described it as "a really happy room," with Shaynna adding that it was incredibly hard to fault.
The couples eye-catching & perfectly styled Hinged Wardrobe reflects the relaxed luxe style seen throughout their house. We love the use of Shaker-style doors in Sierra White Matt paired with Matt Brass Rounded handles, as well as the inclusion of Ash Firenze (a light timber-look finish) interiors.
The refined robe is highly functional too with ample storage produced by double stacked cabinetry and an array of accessories including Black Hanging Rails and Shoe & Trouser Racks. A desk featuring a Caesarstone® Topus Concrete top and shelving has been included to the right, the perfect setting to do makeup.
Exterior finish: Sierra White Matt
Internal finish: Ash Firenze Natural
Special features: Caesarstone® Topus Concrete Desk Top/Make Up Station, Matt Brass Rounded Handles, Shoe Racks, Trouser Rack, Black Hanging Rail, Vertical Strip Lighting
Sliding Wardrobes
Our Sliding Wardrobes are the perfect combination of space-saving and space.
Design tip: Add personality to your wardrobe design with our Tri Panel Door System© – our unique panelling system gives you the flexibility to create a simple and classic one-colour look or mix & match different coloured finishes within the 3 separate sections of each sliding door for a dramatic effect.
We love: Tess & Luke – House 2 Guest Bedroom 3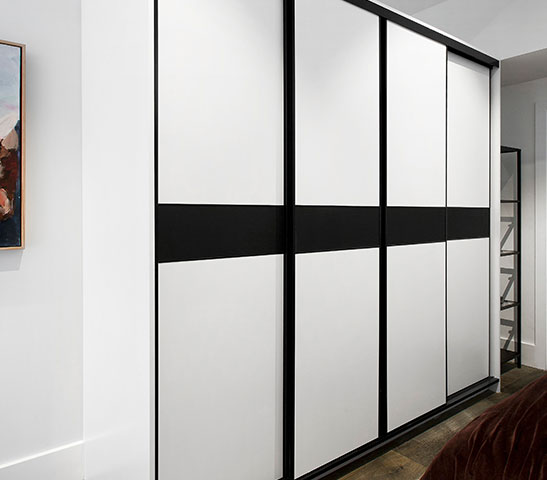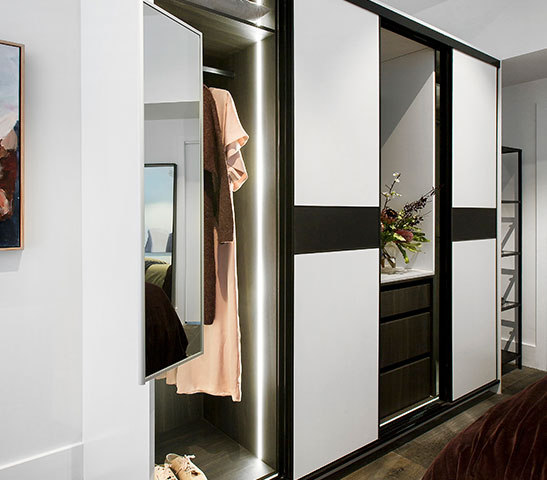 Tess and Luke opted to include a sliding robe in their winning third guest bedroom, which the judges loved for both its style and functionality. The perfect choice for this room due to its space-saving design, this is a robe that demands attention with a bold monochromatic palette.
Sliding back the doors you are met with plenty of hanging and drawer space in elegant Mountain Oak interior finish which ties in with the rest joinery found in their other bedrooms. Also hidden within the slider is a television and Caesarstone Noble Grey counter top, upping the luxe factor.
Exterior Finishes: Iceland White Satin (Top and Bottom Tri Panel) and Black Ultramatt (Centre Tri Panel)
Internal Finishes: Mountain Oak Natural
Special features: Black Framed Glass Shelves, Caesarstone® Noble Grey Desk Top, Folding Mirror, Black Hanging Rail, Flexy LED Strip Lighting, Sliding Door, Motion Sensor
Here at Freedom Wardrobes we love the saying "a place for everything and everything in its place" as that's exactly what we want to create with you in your home.
Ready to create the best wardrobes on your block? Start your dream wardrobe journey today and book a FREE design appointment today HERE.