Bringing the Wow Factor to the Toughest First Week on The Block
The nation's favourite renovation show, The Block is back on our TV screens with the toughest first week ever seen. The five new teams were thrown the challenge of transforming their first guest bedroom and en-suite bathroom in only 8 days. Was the challenge simply too big?
Without time to digest the extremity of the renovation challenge ahead, the Blockheads got stuck straight in and demonstrated how to take guest bedroom storage to stylish new heights.
The winning team were St Kilda locals, Jesse and Mel in House 5 whose bold and contemporary bedroom oozed sophistication and wowed The Block judges Darren Palmer, Shaynna Blaze and Neale Whitaker.
Below we take a closer look at each wardrobe and delve into the high-end finishing touches which enriched each wardrobe with wow factor.
House 1 – Mitch and Mark
Neale Whitaker's comments on Mitch and Mark's guest bedroom was that "it's palatial". All the judges agreed that the space gave off a sense of 'Old Hollywood' glamour. This flowed into the boys' walk-in wardrobe, a luxurious space which hosts matt finished Sierra White doors, perfectly complementing the Oslo's period features.
Style Guru Shaynna Blaze loved the choice of handles. The pairing of the brass handles with the chosen door finish enhances the opulence of the space without going overboard, and ensures that anyone who enters will be greeted with a sense of grandeur.
Throughout the room, the judges loved the attention to detail. These are echoed inside the wardrobe with Black hardware and accented shoe racks, creating an elegant storage space to house a range of garments.
Cabinetry by Freedom Wardrobes:
Exterior finish in Sierra White Matt
Internal finish in Classic White
Special Features: 
Square Hook Brushed Brass Handles
Trouser Rack 600mm
Shoe Racks
Wardrobe Lift
LED Strip Lighting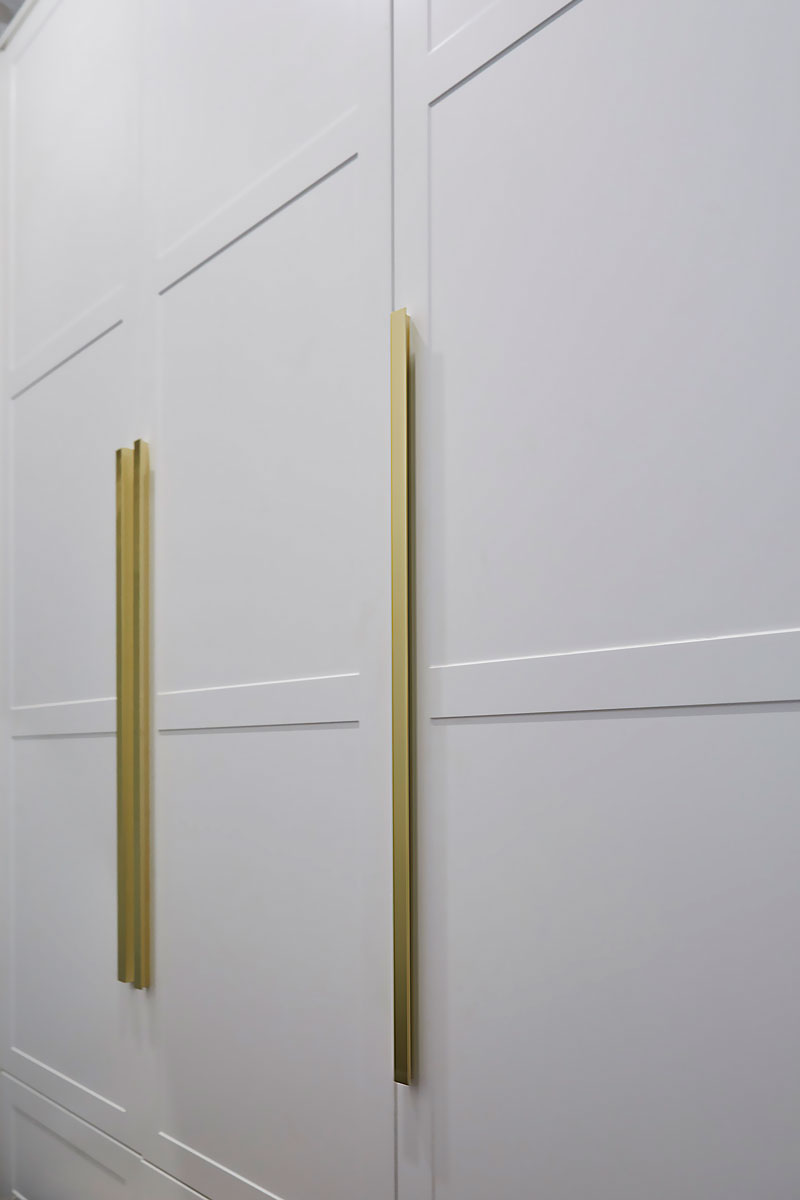 House 2 – Tess and Luke
Stepping in into Tess and Luke's bedroom, the judges were disappointed to see the young couple were unable to complete their room. However, interior design extraordinaire Darren Palmer stated "I can see where they're going with this, it's a pretty young-looking vibe".
Their bedroom has a contemporary feel, and this is reflected in their wardrobe design which features Charcoal Black Knob handles and shaker style Sierra White Matt robe doors – a modern take on a traditional door profile.
Darren also noted the study nook, also doubling up as a make-up station to add a sense of opulence to the space. Whether or not the bedroom was finished in time, there is no doubt the couple utilised the space efficiently with Suit Grey open storage along the bottom of the run and extra storage above.
Cabinetry by Freedom Wardrobes:
Exterior finish in Sierra White Matt
Internal finish in Suit Grey
Special Features: 
Charcoal Black Knob Handles
Black Hanging Rail
LED Strip Lighting
LED Downlight
Wardrobe Lift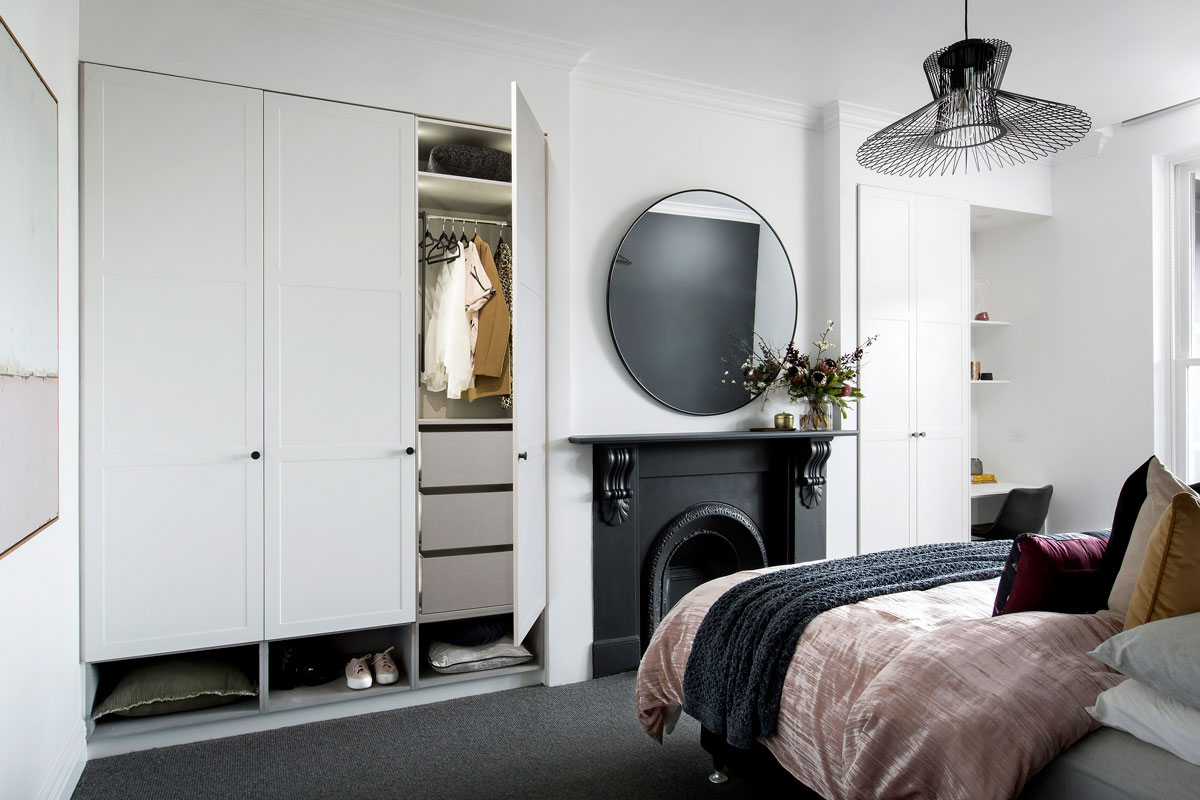 House 3 – Deb and Andy
The judges described Deb and Andy's bedroom as "another unfinished symphony". However they were impressed with the way the space was styled stating it was a "glamorous upscale take on Scandi".
Their wardrobes achieved a modern Scandi style with a mixture of feature open shelving in the warm and inviting timber-look Ash Firenze interiors and Sierra shaker-style door White Matt. This look creates a natural and soft feel that Deb and Andy wanted this bedroom to reflect.
Cabinetry by Freedom Wardrobes:
Exterior finish in Sierra White Matt
Internal finish in Ash Firenze
Special Features: 
Radio Dial Brass Plate Handles
Black Hanging Rail
LED Strip Lighting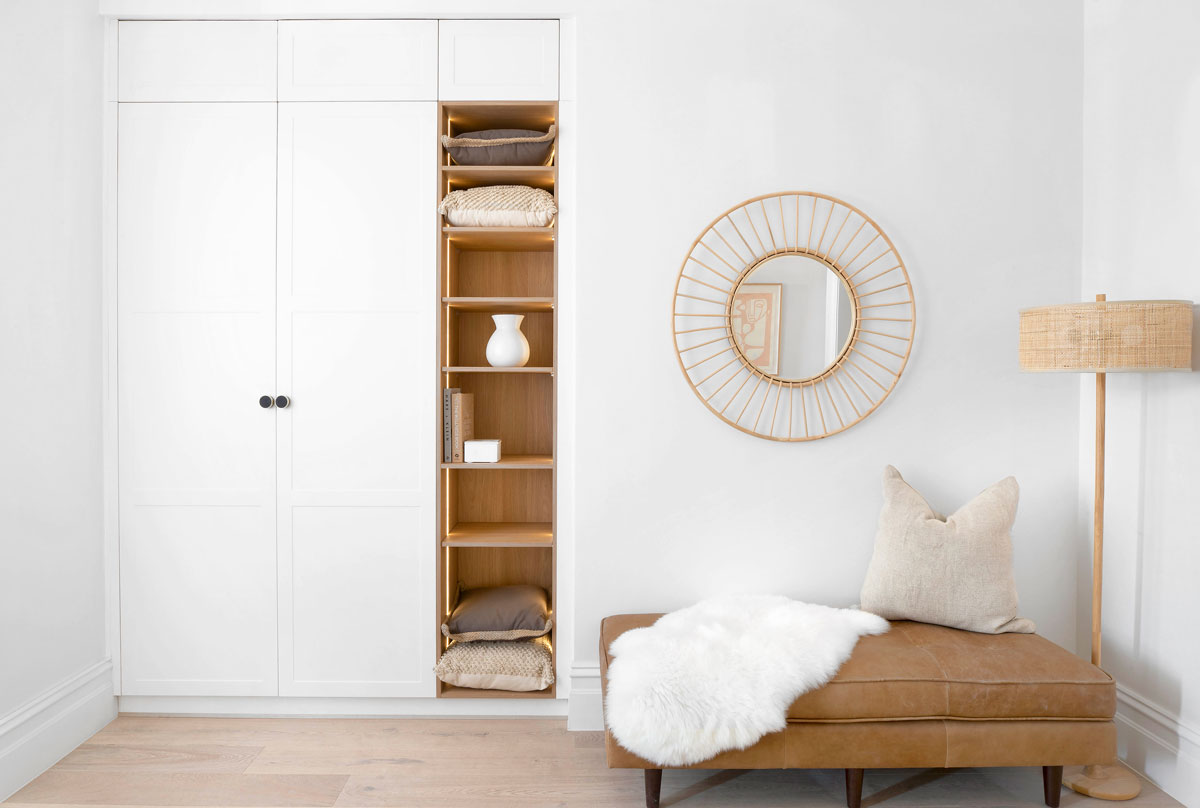 House 4 – El'ise and Matt
Creating a walk-in wardrobe in their bedroom, Matt & El'ise wanted open units to wow any potential guests, in doing so they also impressed the judges too. The couple created a sleek and ornate look by using on-trend colours and a bold layout. 
Shaynna complemented the walk-in saying there was a "really sweet layout of the robe", as she identified the drawers, hanging space and shoe storage. 
Darren described the wardrobe as "really beautifully resolved", stating "Freedom robes do a really beautiful job." He loved the linen interior finish created by the subtle Suit Grey cabinetry, as well as the glass shelves housed by the 2020 Black Alumin racking which added a contemporary touch to the couple's eye-catching luxe wardrobe. 
Cabinetry by Freedom Wardrobes:
Exterior finish in Forest
Internal finish in Suit Grey
Special Features: 
2020 Black Alumin with Glass Shelves
Touch Catch Handles
Jewellery Drawer
Wardrobe Lift
LED Strip Lighting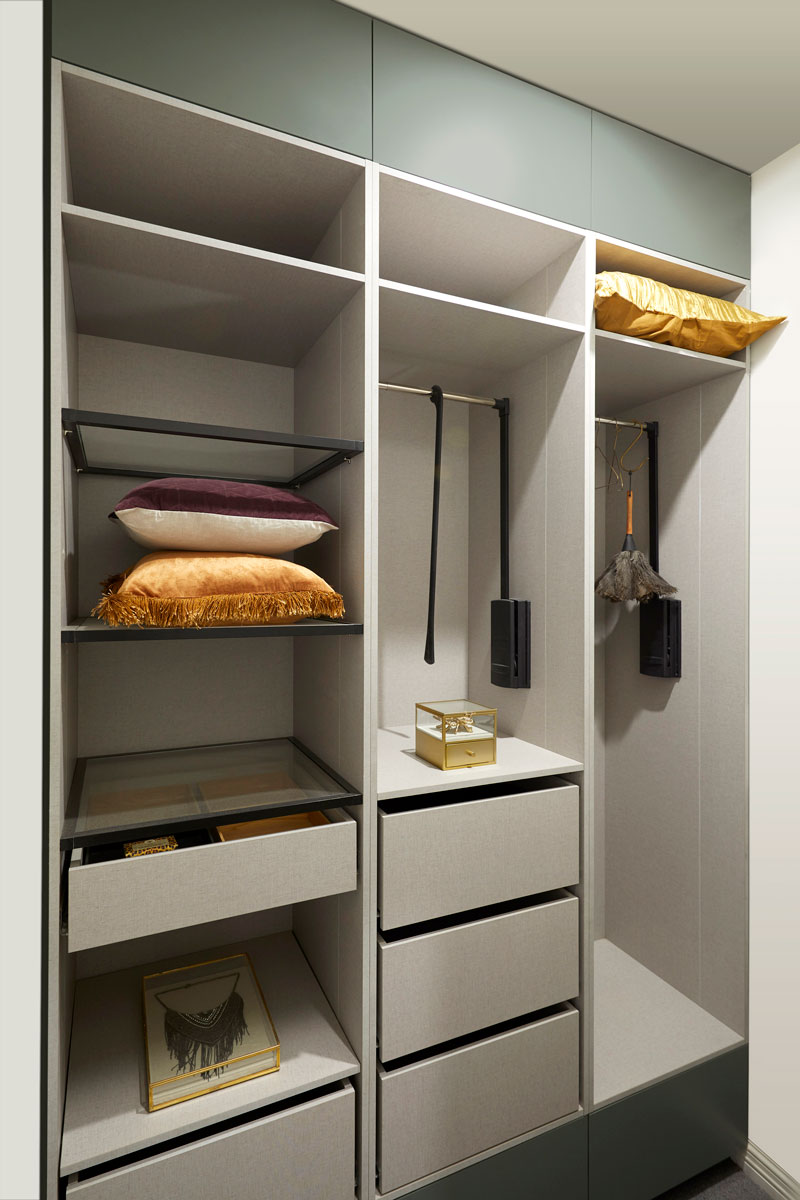 House 5 – WINNERS Jesse and Mel 
As the judges walked into the final room to critique, it was clear the space had little to fault in their eyes. Jesse and Mel utilised a darker colour palette to create a rich and luxurious aesthetic within their first guest bedroom. Mountain Oak interiors coupled with Supa Wenge doors and copper coloured Brushed Orb Ealing Handles combine effortlessly to make a dark and moody setting. Shaynna commented "the drama of the colour of the Freedom Wardrobes is spot on."
They described the style of the room as "the perfect marriage between contemporary and heritage." This is echoed in the wardrobe design with the extension of a desk topped with Caesarstone® Statuario Maximus to provide a sophisticated look. The Ash Firenze floating shelving above contrasts nicely to their warm palette. This bedroom now rejuvenates the older part of the building into a sleek, modern and timeless space.
Jesse and Mel's bedroom really impressed the judges, Neale describing the couple as a "Triple Treat", resulting in a win for the Melbournians and them scooping up $140,000 worth of prizes from the game-changer safe that was up for grabs.
Cabinetry by Freedom Wardrobes:
Exterior finish in Supa Wenge
Internal finish in Mountain Oak
Ash Firenze Floating Shelves
Special Features: 
Caesarstone Statuario Maximus Desk Top
2020 Black Alumin with Glass Shelves
Brushed Orb Ealing Handles
Touch Catch Handles
Wardrobe Lift
Jewellery Drawer
LED Strip Lighting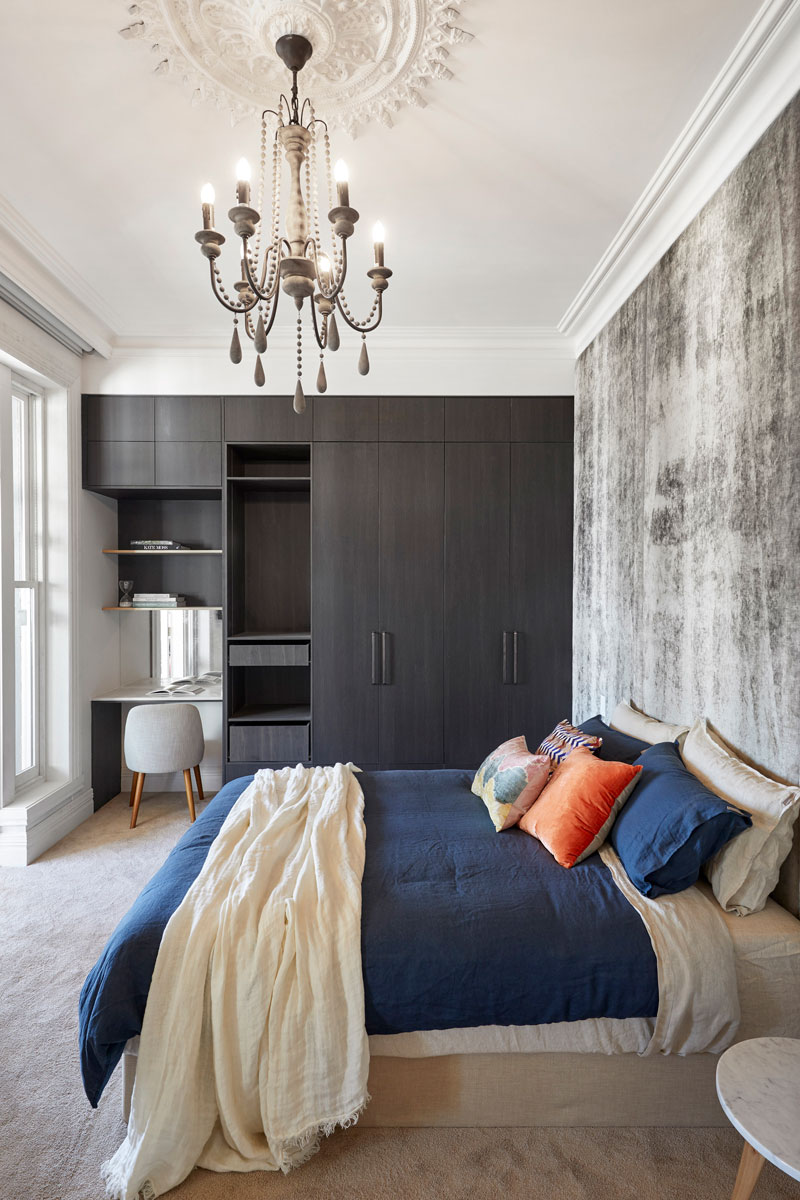 With more bedrooms yet to be transformed on the show, stay tuned to see how the contestants create a host of Freedom Wardrobes with wow factor. Follow The Block bedroom and Freedom Wardrobes on our socials:
Instagram: @freedom_wardrobes
Facebook: /freedomwardrobes