Our bedrooms are our sanctuaries, a place to rest and dream. Many of us believe in the importance of filling our bedrooms with beautiful linen, textiles, artwork and accessories, so it stands to reason that our wardrobes can also be styled in a way that adds to the overall look of your space. Below we share some of our favourite ways to style your Freedom Wardrobe in a way that complements the rest of your bedroom.
Shelfie love.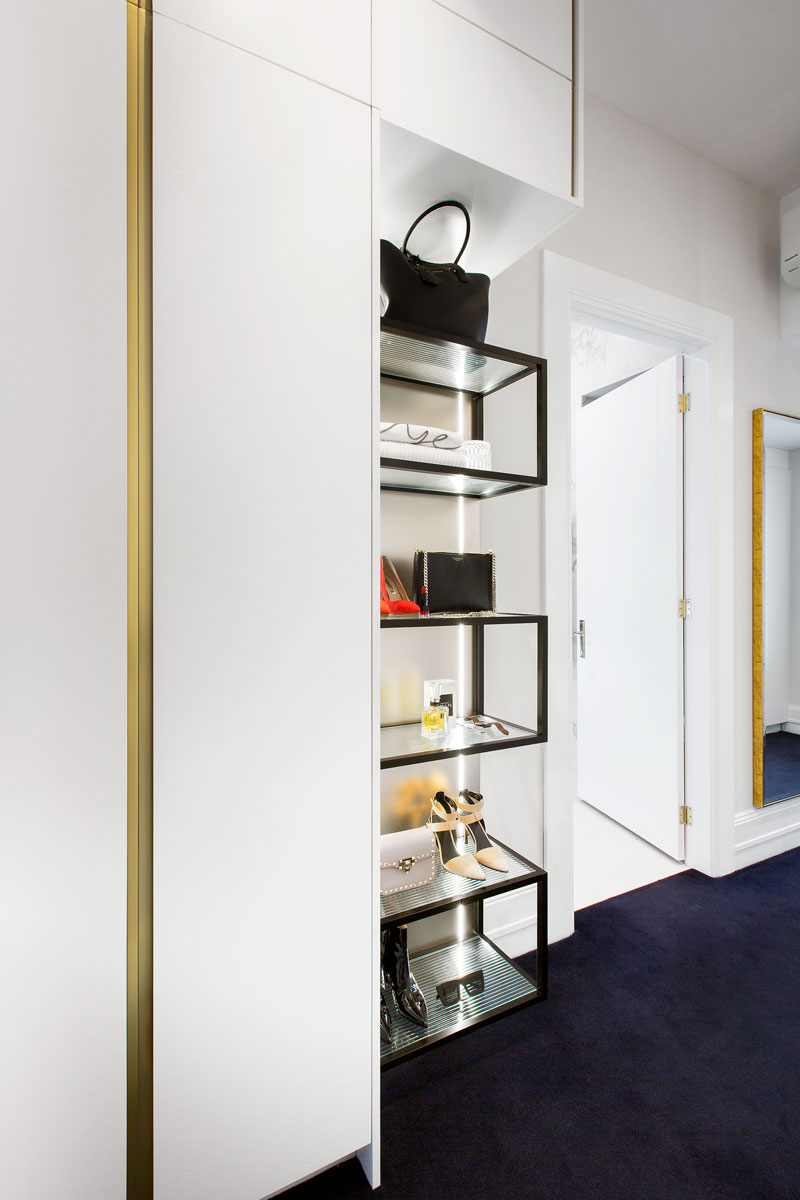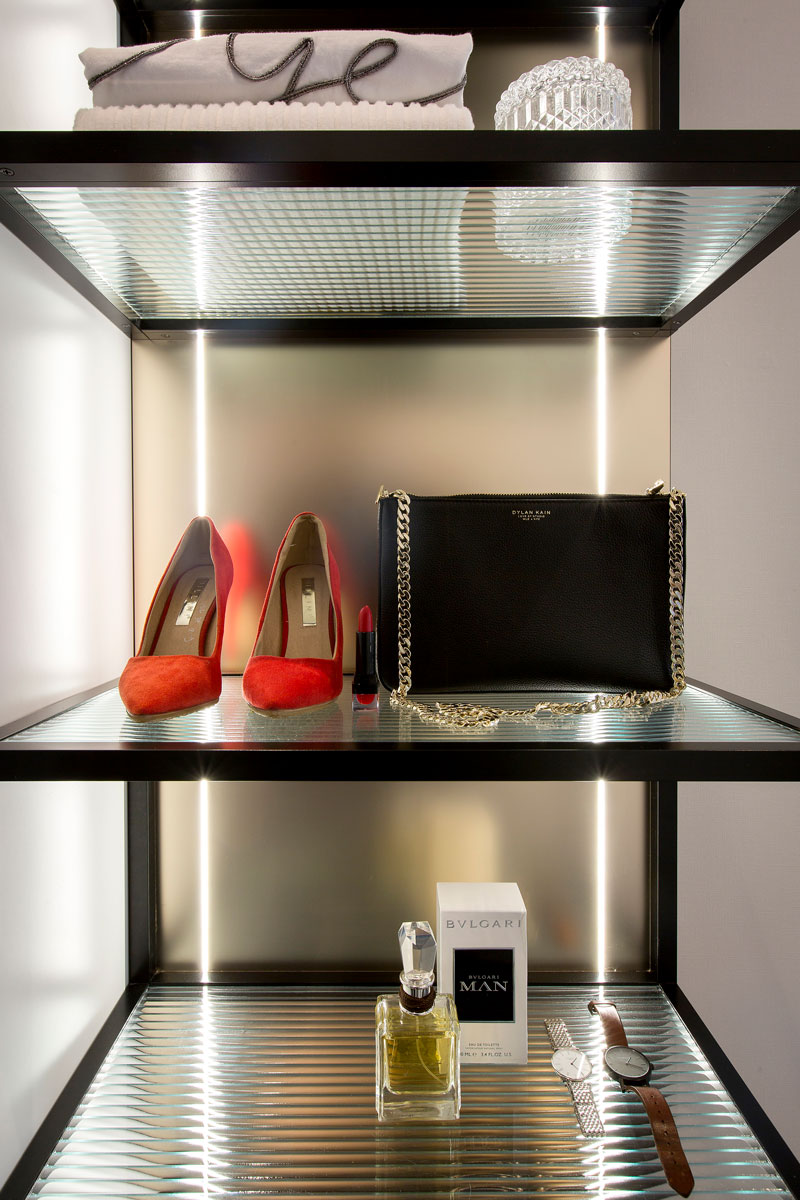 Open shelving within your wardrobe design not only creates a beautiful contrast to cabinetry, it also offers the perfect platform to put various special belongings out on display. Our Black Frame Glass Shelving are the perfect choice for displaying your favourite accessories such as handbags, hats, perfumes, colognes, shoes and sunglasses. Their sleek black frame is irresistibly on-trend, while the glass adds a high-end boutique feel to your bedroom.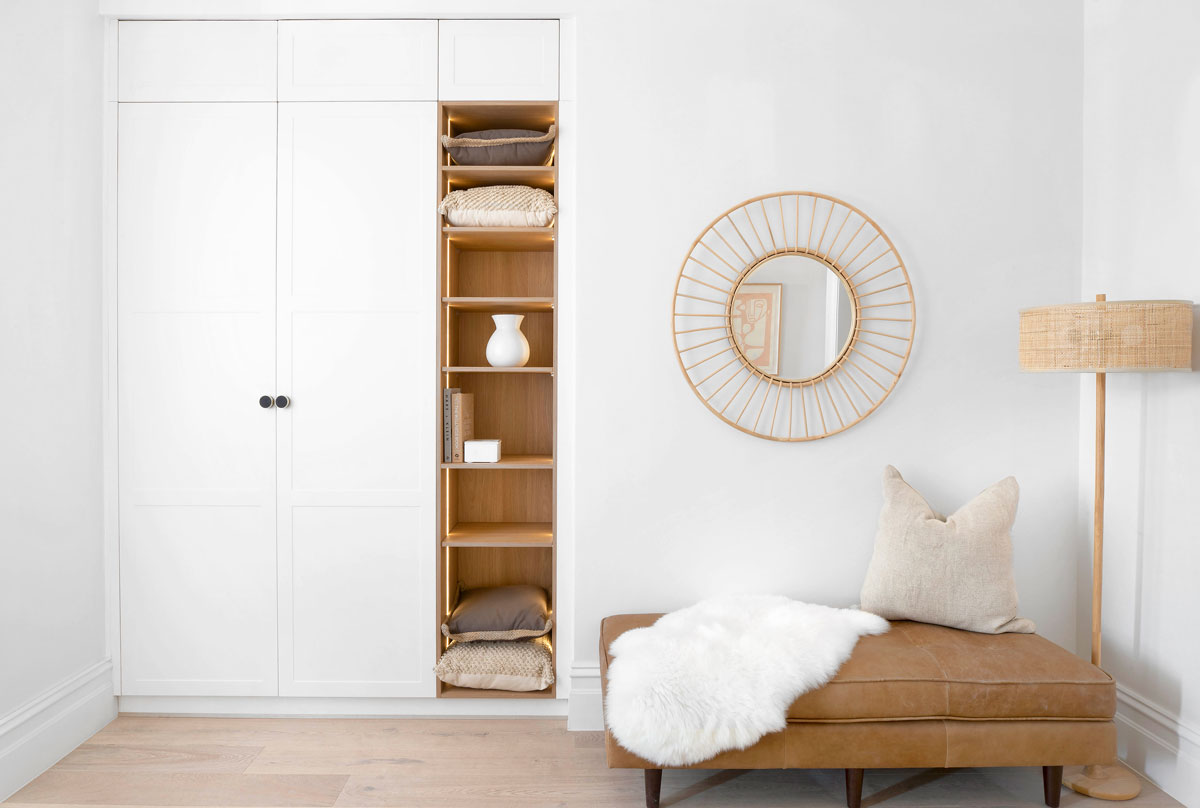 If your bedroom evokes more of a Scandi or coastal aesthetic, then timber-look shelves are a wonderful choice to include in your robe design. Pair with matte white doors and arrange a mixture of styling items from textiles such as throws and pillows, to books, candles, and small sculptural pieces for a look that adds interest and personality to your space.
Surface style.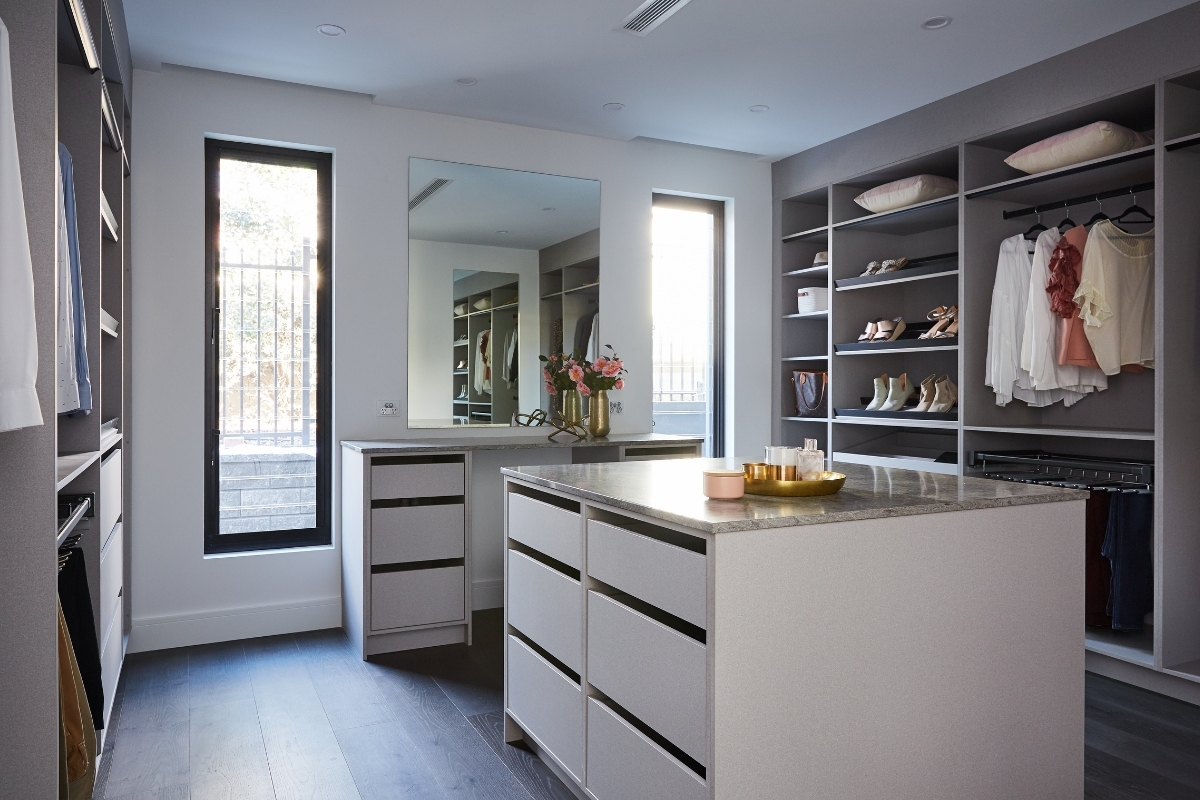 Walk-in wardrobes are the epitome of luxury and ultimate organisation, and if space permits adding an island bench and/or makeup station to your room is a game-changing design choice. Aside from offering additional storage (within the island) and the perfect spot to get ready in the morning, their tops (using either Caesarstone quartz or a finish from our premium laminate range) allow you to create beautiful styling vignettes. Group vases of fresh florals, candles, small sculptures and the like together to add colour and style to your room. Extra bonus points? You can update these displays as often as you like!
On display.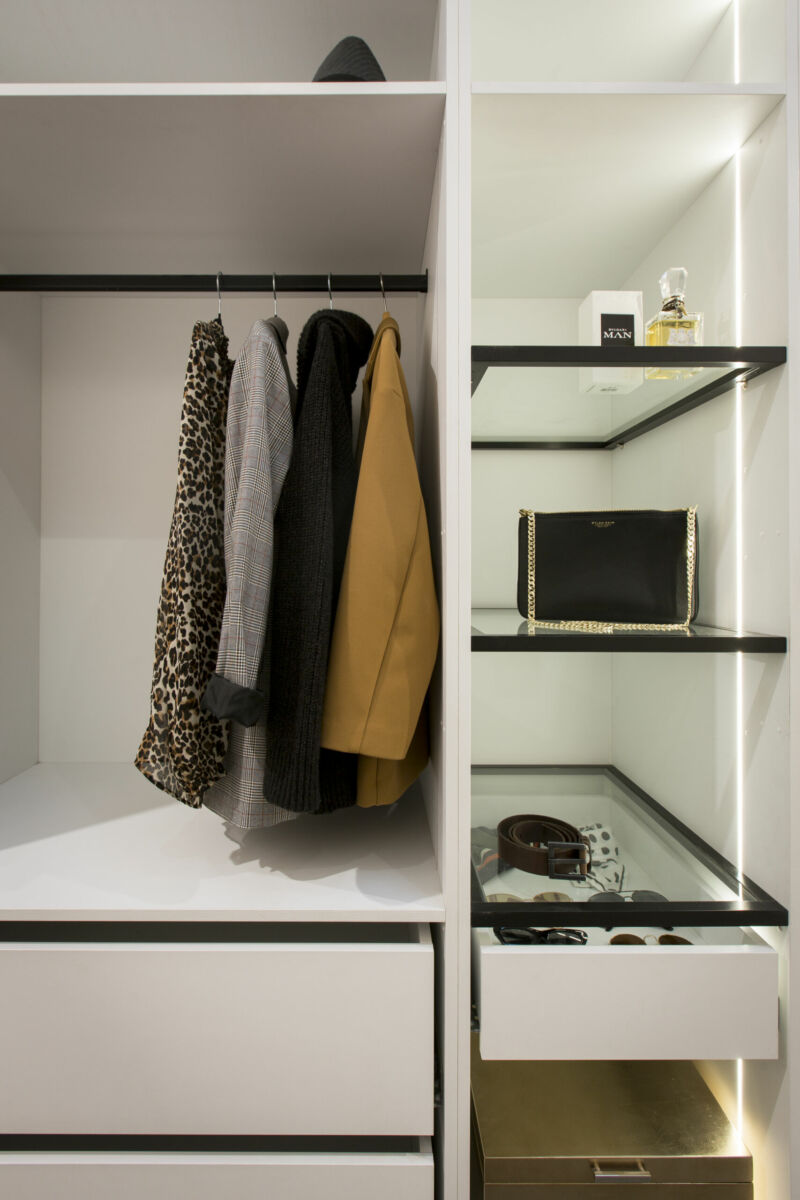 Keep your smaller belongings such as jewellery, watches and sunglasses beautifully organised in one of our Jewellery Drawers. Designed with dividers that create perfectly sized spaces to display your smaller accessories, these drawers ensure that everything is safely stored while still being easily accessible.
Fancy footwork.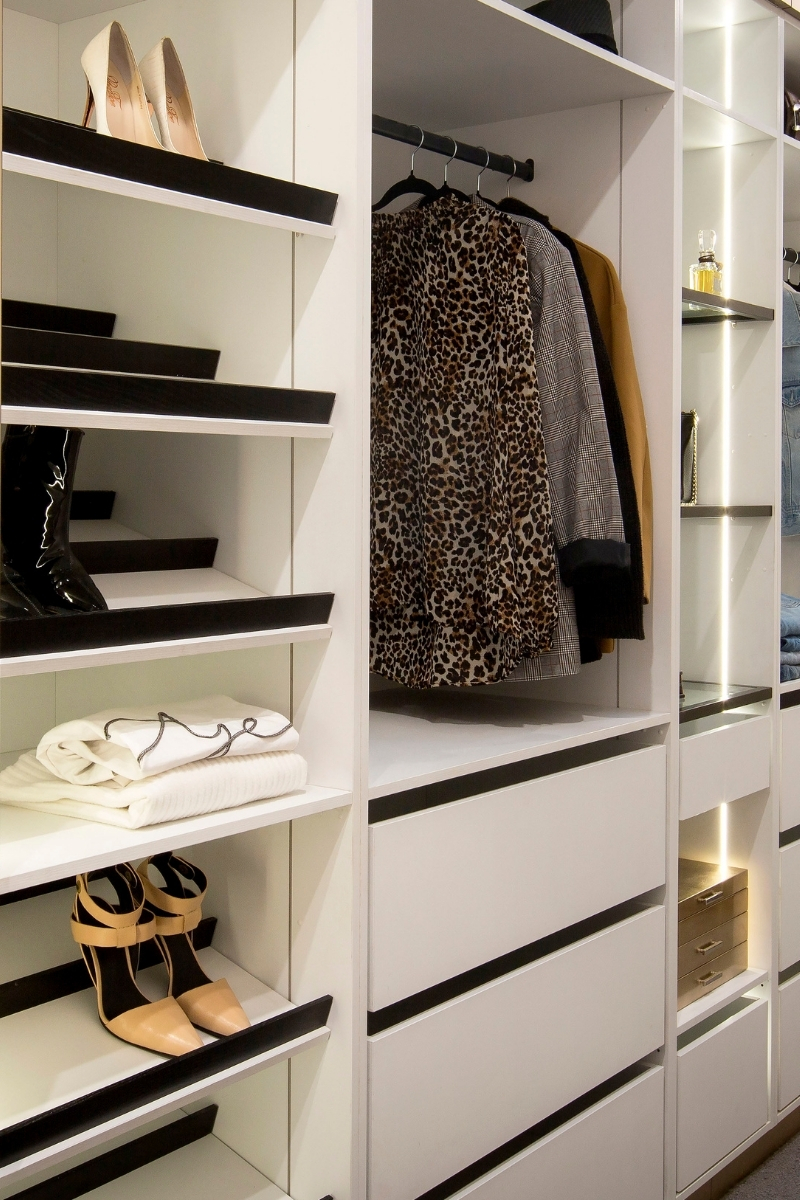 Don't hide away your favourite footwear, and instead place them proudly out on display with our angled Shoe Racks. Available in matching interior finishes to the rest of your robe with chic black edging, our racks allow you organise your shoes in a stylish way that allows them to be easily accessed.
Insider style.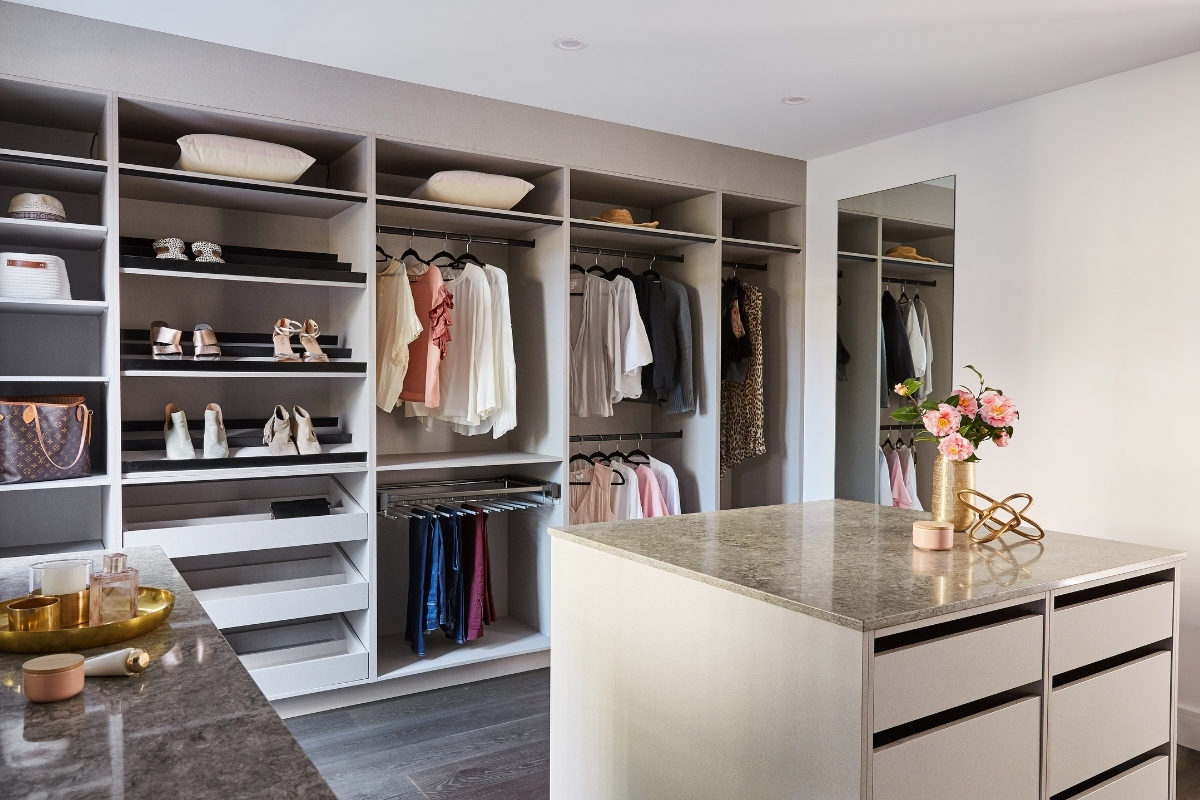 Whether the contents of your robe are hidden behind closed doors or out on display, its worth paying attention to the small details to create a cohesive look and style within your closet. Matching coat hangers make instant impact- we love black hangers as they complement the black detailing of our matte black hanging rails, hinges and Black Frame Glass Shelving. Storage cubes above hanging space provide the perfect location for pretty, matching storage boxes and/or storing hats, handbags or linen.
Ready to create a Freedom Wardrobe that complements your bedroom and home, and allows you to create a beautifully styled space?
Book your free in-home or video-call design appointment HERE and start your journey with us today.
For more inspiration and information download our latest catalogue HERE.