With a place for everything, and everything in its place, discover how you take your bedroom storage to stylish new heights.
Here at Freedom Wardrobes we believe it is the finer details that set our wardrobe designs apart from the rest – our range of luxury extras from shoe racks, jewellery drawers to home safes and hanging rails are space-saving options that will transform your wardrobe into a space that sparks joy.
Read on to discover more about some of our luxury, space-saving extras that you will want to invest in your new Freedom Wardrobe in 2020.
Black Framed Glass Shelves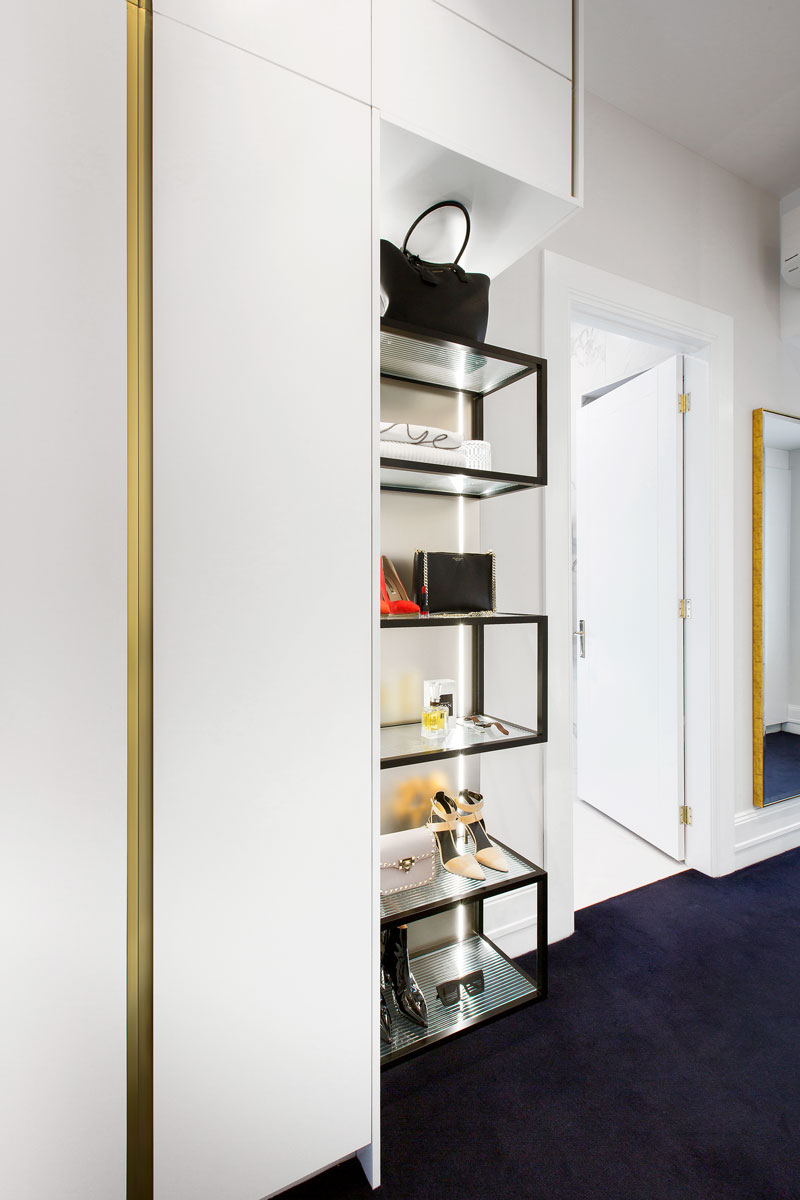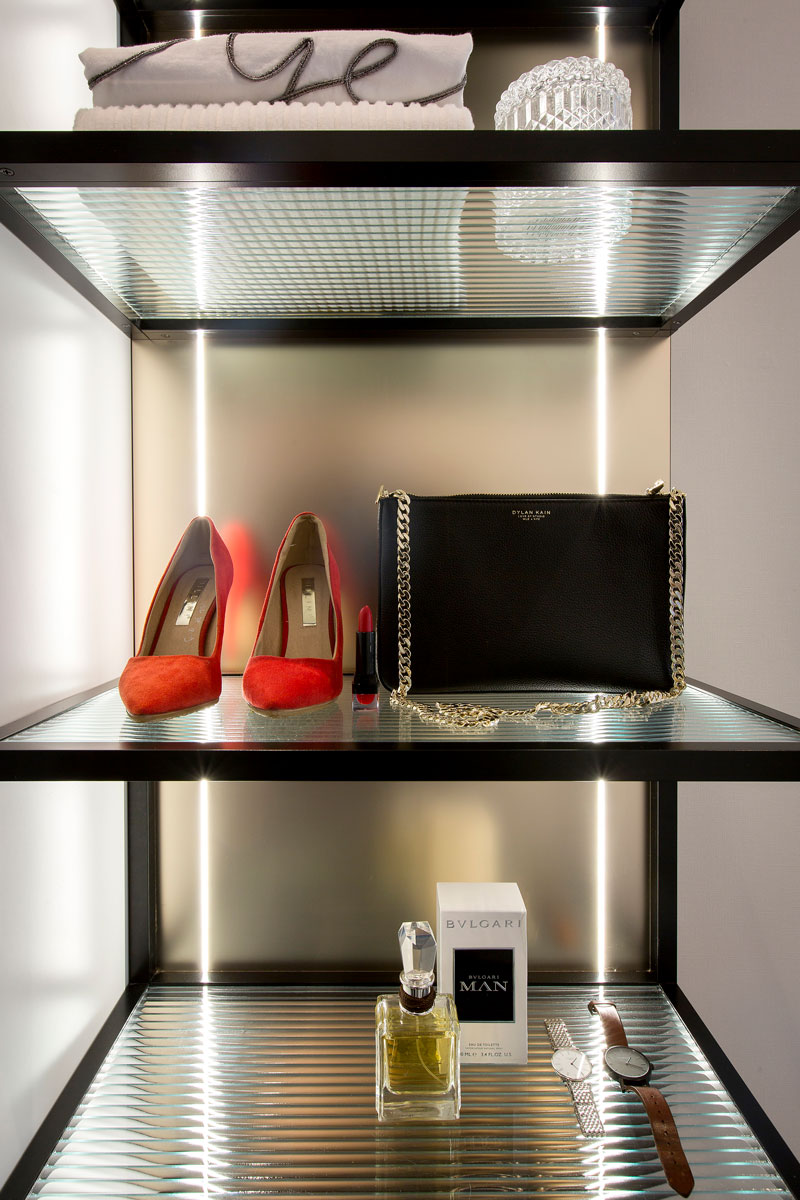 Channel your inner Kate Moss like Mitch & Mark did on The Block 2019 for their winning Master Bedroom which featured our eye catching Black Framed Glass Shelves.
Adding another luxe level to your robe, our Black Frame Glass Shelving are the perfect choice for displaying your favourite accessories such as handbags, hats, perfume and cologne. The sleek matte black frame is irresistibly on-trend and matches our other available extras, while the glass adds the high-end feel of a boutique to your boudoir.
Jewellery Drawers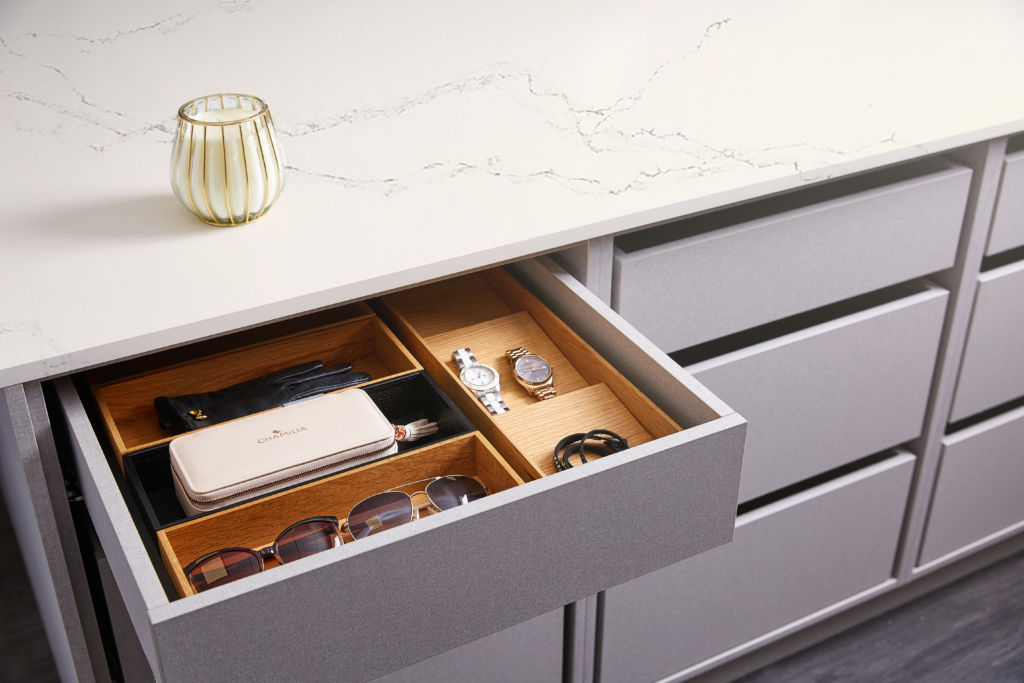 Storing smaller precious accessories is both stylish and easy with our Jewellery Drawers.
When it comes to storing and organising smaller yet precious items such as jewellery, watches, sunglasses and the like, compartments are key to keeping everything beautifully organised. Our Jewellery Drawers are designed with dividers that create perfectly sized spaces to display your smaller accessories that you want to keep out of sight, yet easily accessible.
Shoe Racks & Drawers
Place your footwear on display with our shoe storage options. Our angled Shoe Racks in matching interior finishes with black edging organises footwear in stylish way that allows them to be easily accessed.
Another simple and chic alternative is incorporating Shoe Rack Pullouts into your wardrobe design, featuring a wire pullout basket that can fit up to three pairs of shoes.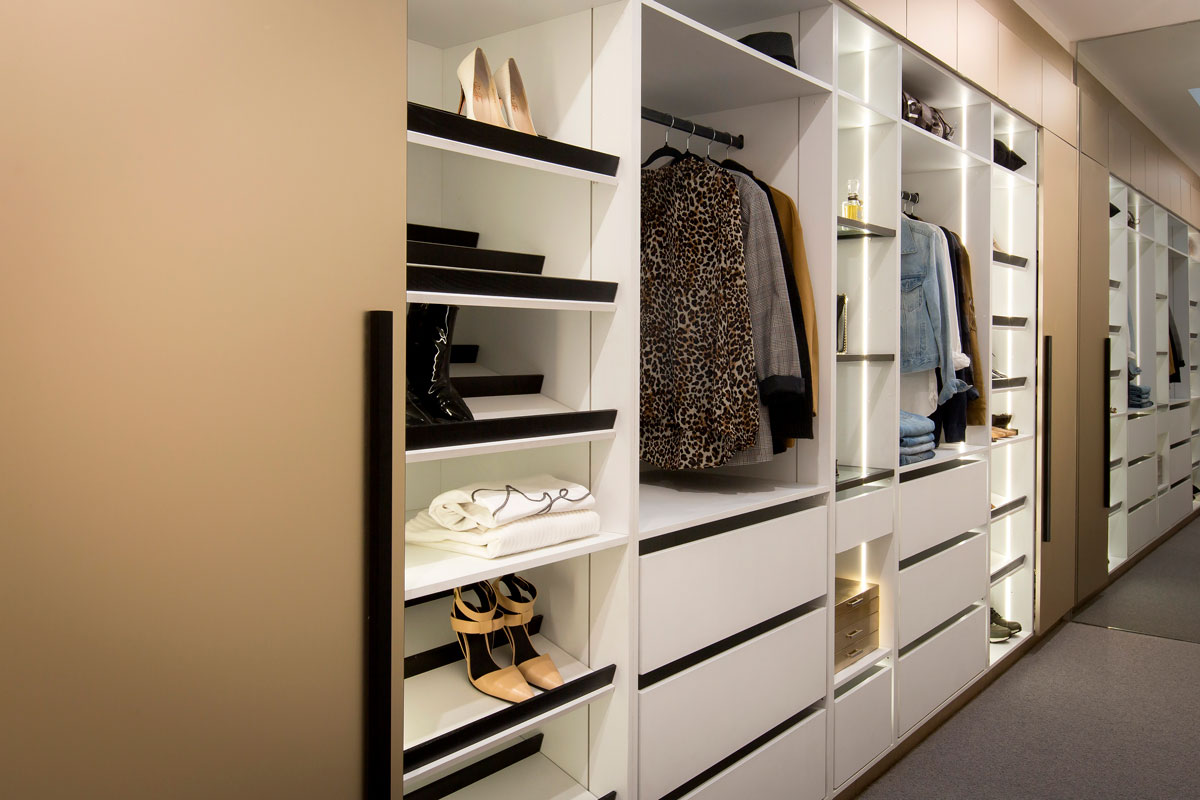 Not sure how to store and organise your shoes in your new Freedom Wardrobe? Our Shoe Racks (above) provide a stylish and function storage solution as seen in El'ise & Matt's Master Robe in The Block 2019.
Organise in style with Flexstore
Our Flexstore organiser system provides great possibilities for space-saving storage of clothing, footwear and other accessories in your new Freedom Wardrobe.
Design your dream wardrobe with combinations of pullout wire baskets, shoe racks and trouser rails complemented with full extension runners and soft closing mechanisms. They feature refined matte black edging- you can even select matte black handles and hinges for your matte black wardrobe doors.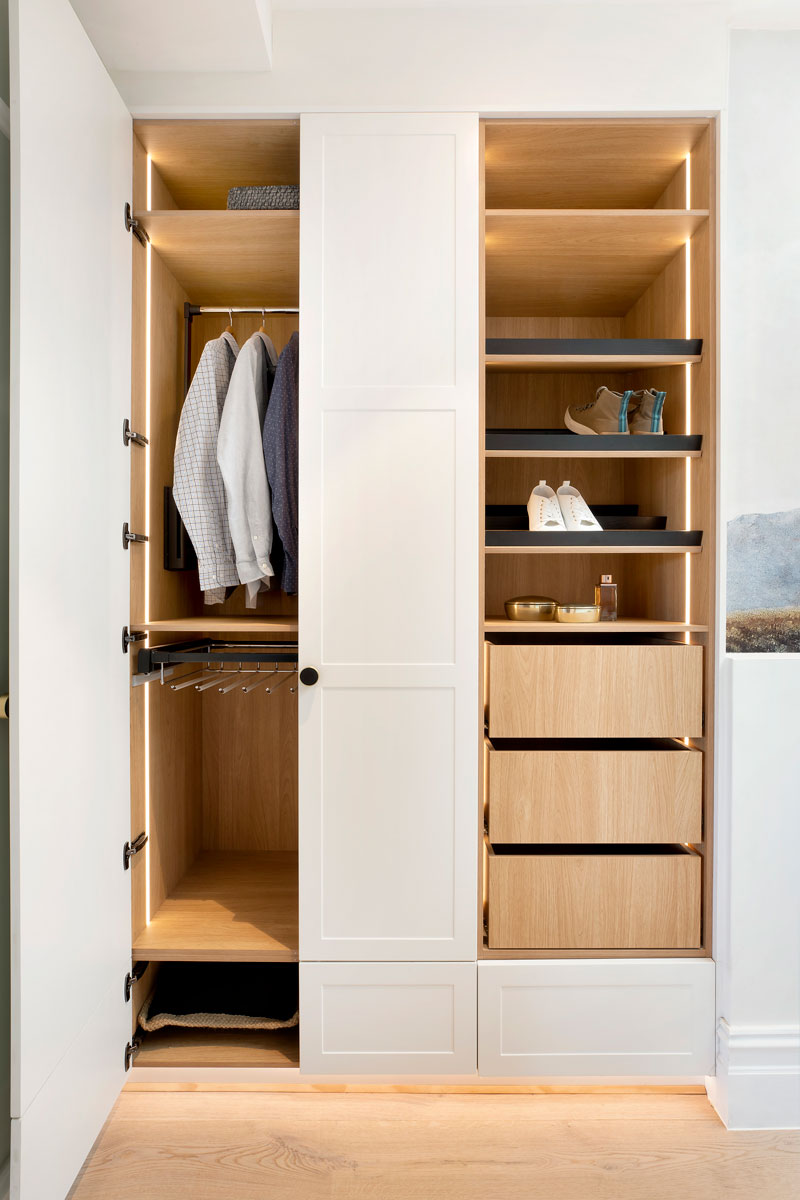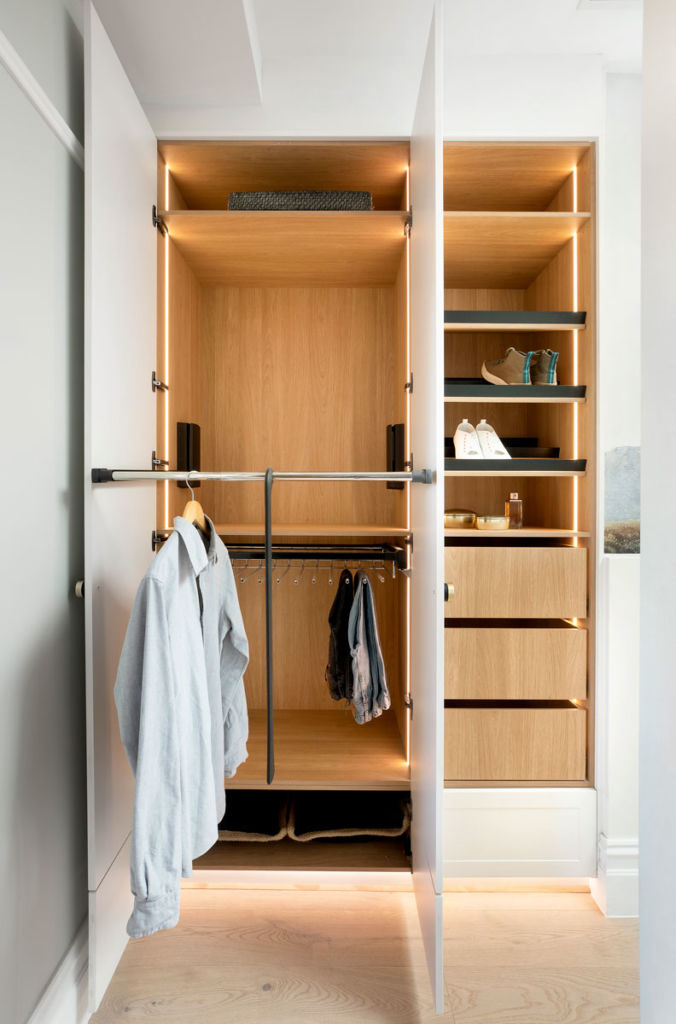 The Block 2019 Deb & Andy's wardrobe design features a myriad of design details. Pull down Black Hanging Rails ensure clothing is easy to access without compromising the storage options below which feature Pull Out Trouser Racks, drawers and shoe racks.
Lighting
Lighting is an often over-looked design element when creating your dream wardrobe and yet it has the power to elevate your storage to a whole new level.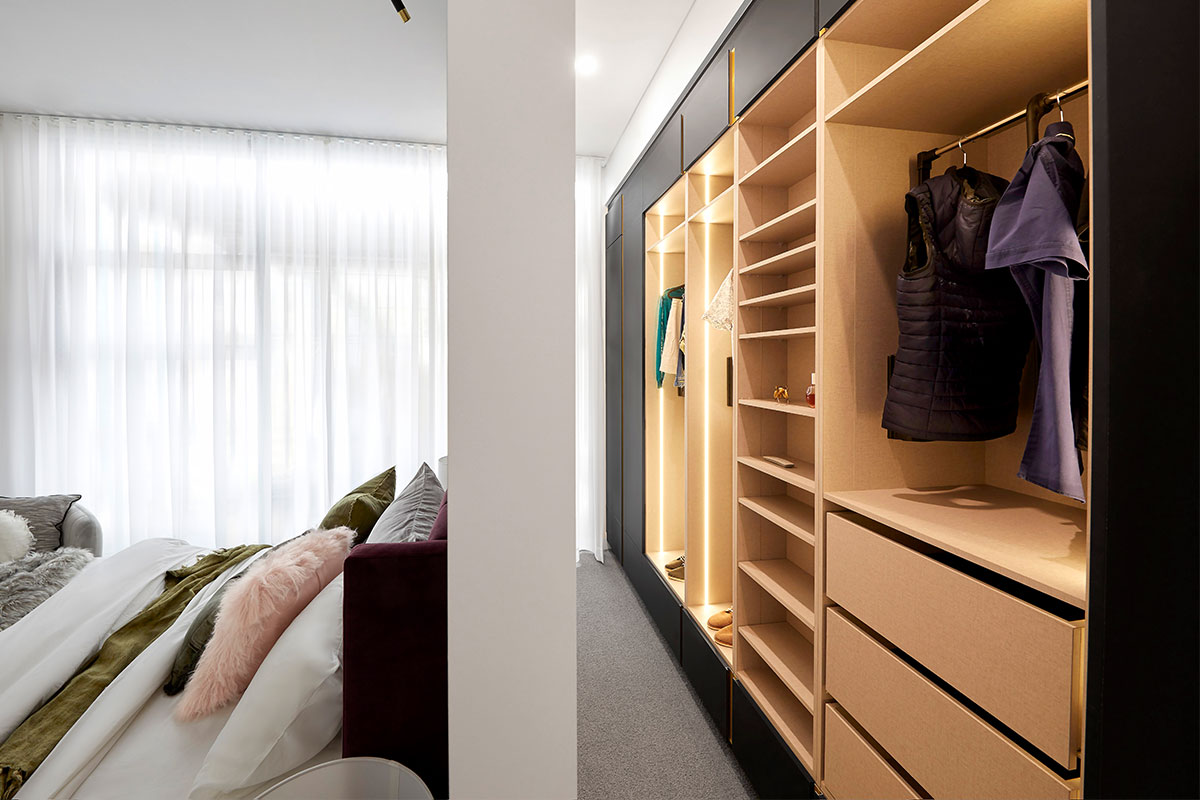 Light up your wardrobe with Vertical Mood lighting internally and strip lighting underneath to up the luxe factor.
The Freedom Wardrobes lighting range gives you the option to include mood lighting in several locations of your robe design, such as under your doors, or within the interiors. For maximum impact, consider our new Vertical Mood Lighting (in a Natural White light) which is recessed in the cabinet interiors to illuminate the contents of your robe. We also love using LED Strip lighting under wardrobes to create a moody and stylish look. Ask your Freedom Wardrobe designer about placing lighting on a motion sensor or using a remote.
Folding Mirrors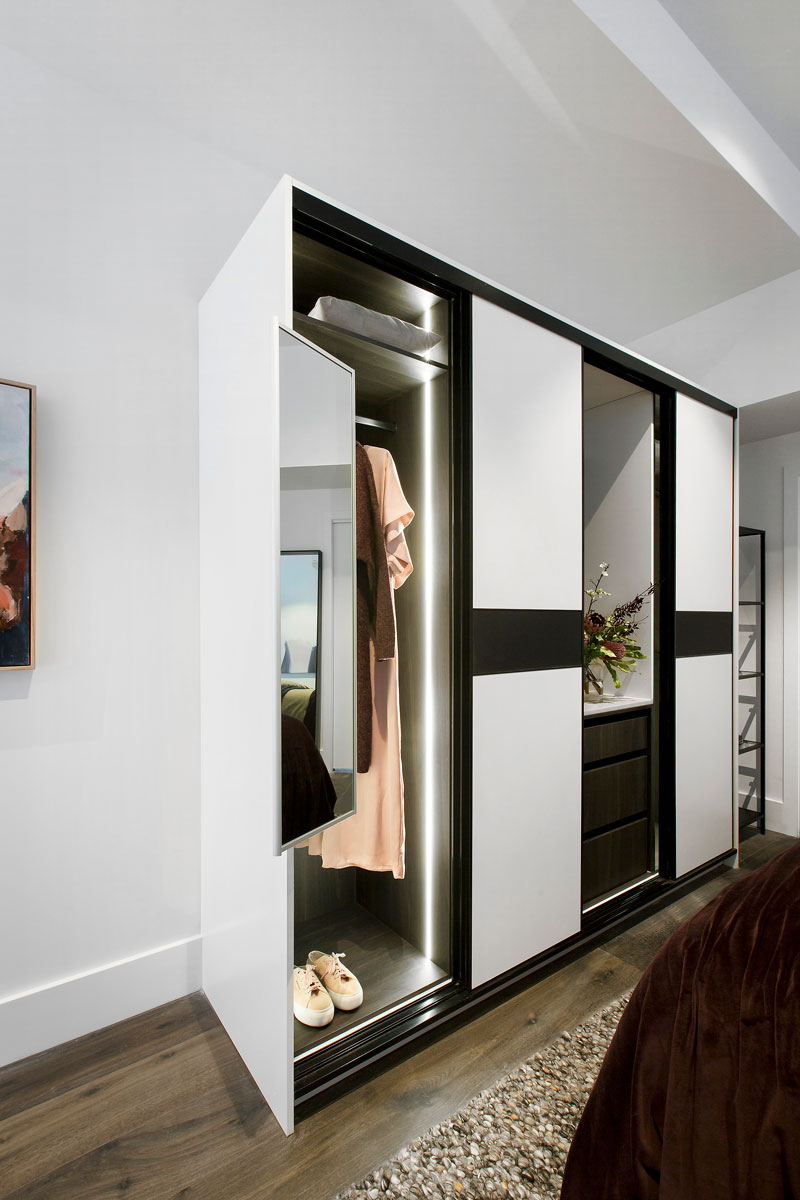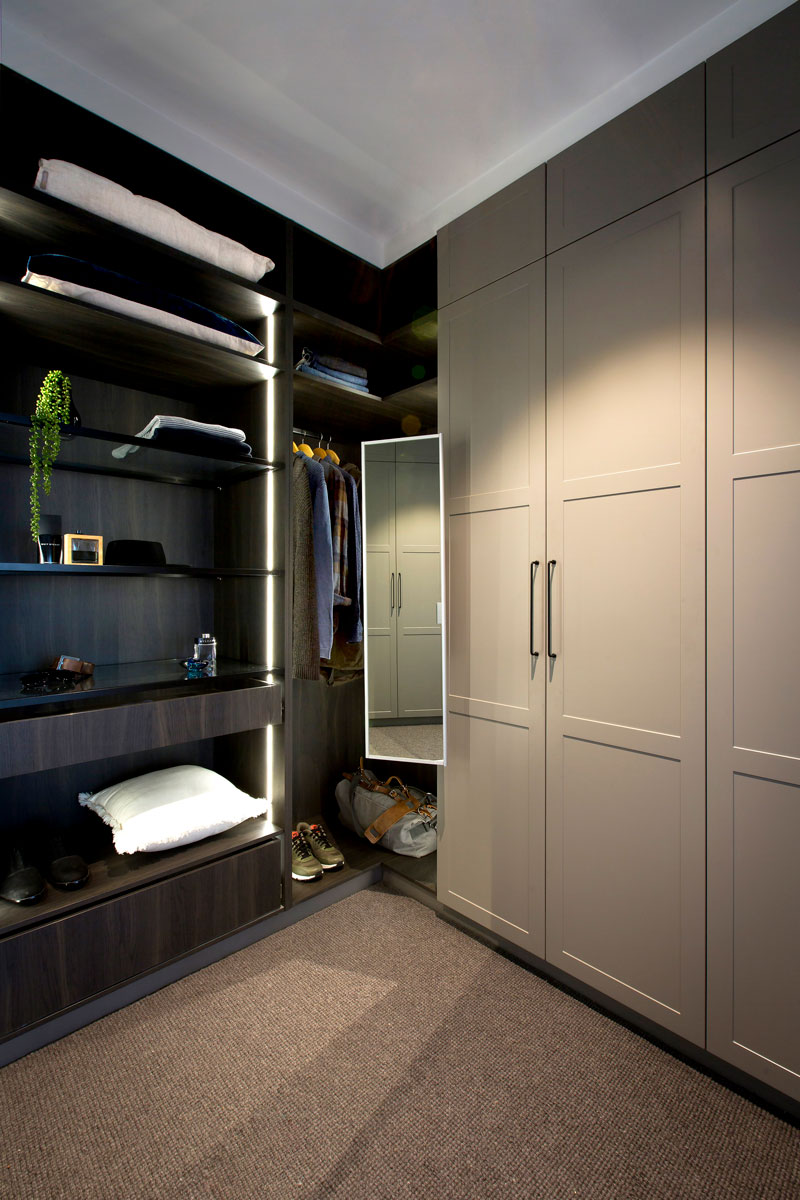 Small yet efficient – this compact Sliding wardrobe design is brimming with stylish and space-saving features including a Folding Mirror.
Folding mirrors are a stylish and smart solution for modern wardrobe design and can be incorporated into Hinged, Sliding and Single layouts. They make getting ready a breeze, even if your wardrobe space is limited. Simply pull out to check that your outfit is on point and then place back into your wardrobe when you're ready to leave. Simple and stylish!
Other extras: Laundry Bag Pullouts & Home Safes
Ask your Freedom Wardrobes designer about the other luxury extras that you can incorporate into your robe design. Home safes allow you to keep your vaulables safe at all times (espcially when you're travelling), while pull out Laundry Bags make laundry day a breeze!
Ready to bring your wardrobes to stylish new heights in the New Year with Freedom Wardrobes? Book your free expert design appointment HERE, or download our new catloague brimming with smart & stylish wardrobe design, including those from The Block 2019 HERE.