The Almighty All Stars Inject Their Expertise into the Second Guest Bedrooms
Our favourite All Stars made their almighty return to The Block to help this year's Blockheads with their second guest bedrooms. The injection of their expertise, style and manpower meant four more breathtaking Freedom Wardrobes were unveiled.
Deb and Andy proved to be the ultimate dream team with renovation fanatics and two time Block contestants, Josh and Jenna when they topped the leader board. Read on to discover how this match made in renovation heaven created the winning space, as well as the other impressive Freedom Wardrobes.
House 2 – Tess and Luke
With Mitch and Mark in House 1 opting to reveal a Master Bedroom without a Freedom Wardrobe, the first room we delve into the details of is in House 2. Winning Block couple from 2017, Josh and Elyse added their touch to this second guest bedroom, to help create a room which wowed the judges with colour and style.
Neale Whitaker suggested the style of the room was a perfect mixture of Scandinavian and deco, "Scan-deco!"
A luxurious and neutral colour palette has been established in this bedroom with a contrasting Sierra Warm Grey shake style door and Mountain Oak interior finish, enhancing the Scandi feel.
To utilise the space efficiently, Tess and Luke opted for a neat, straight run of wardrobe cabinets. Hidden within these are internal drawers, a pigeon-hole unit plus full hanging ensuring guests are not short of storage space for any item of clothing, shoes or accessories. A desk topped with Caesarstone® Noble Grey completes the elegant look.
Host Scott Cam told the young couple the room they created was "bang-on for the demographic you are targeting."
Cabinetry by Freedom Wardrobes:
Exterior finish in Sierra Warm Grey
Internal finish in Mountain Oak Natural
Special features:
Caesarstone® Noble Grey Desk Top
Satin Black Rounded D Handle
Pigeon Hole Interior Dividers
Black Hanging Rails
Vertical Mood Lighting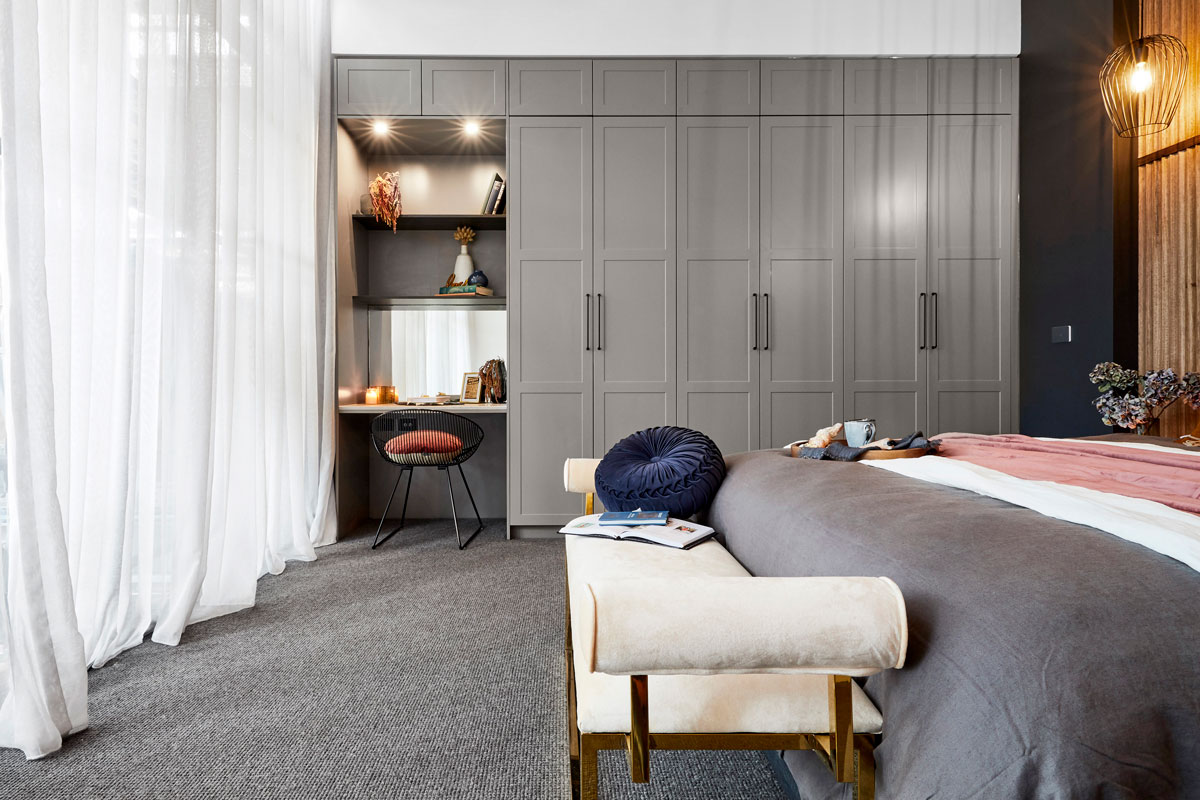 House 3 – WINNERS Deb and Andy
The judges were blown away by Deb and Andy's second guest bedroom and praised the pairing of them with Josh and Jenna, with Darren Palmer stating he could see elements of both couples' style in the room.
When Neale Whitaker first walked into the bedroom he declared it as "a really happy room."
Shaynna defined the room was "incredibly hard to fault."
The winning space possesses a bright and beautiful style which ties in perfectly with the rest of the house with their choice of matching joinery. A sophisticated and traditional looking exterior was created from the use of a Sierra White Matt door finish which conceals an Ash Firenze interior.
The refined space proves to be functional too with ample storage produced by double stacked cabinetry. Shaynna highlighted she loved the interiors of the wardrobe and amount of storage. To up the luxe factor, a desk featuring a Caesarstone® Topus Concrete top has been added, the perfect setting to do makeup. By creating this winning room, Deb and Andy have proved they know how to add flawless finishing touches to produce room which are inviting and stand out.
Cabinetry by Freedom Wardrobes:
Exterior finish in Sierra White Matt
Internal finish in Ash Firenze Natural 
Special features:
Caesarstone® Topus Concrete Desk Top/Make Up Station
Matt Brass Rounded D Handles
Shoe Racks
Trouser Rack
Black Hanging Rail
Vertical Strip Lighting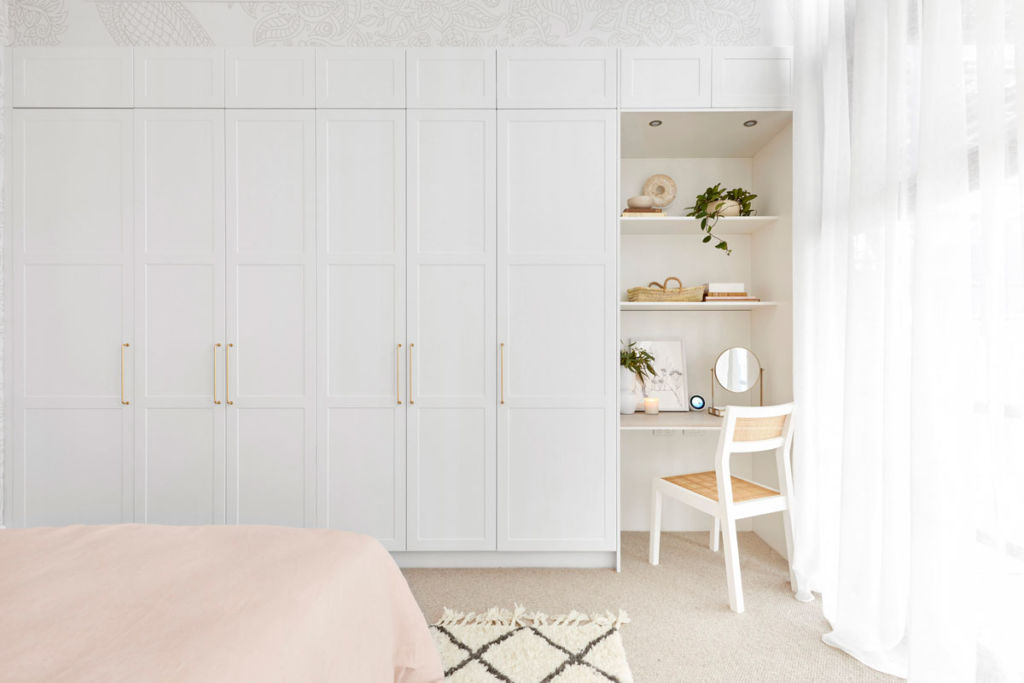 House 4 – El'ise and Matt
With two power couples brought together in House 4, there was no doubt El'ise & Matt joined by All Star contestants from 2017, Ronnie & Georgia were a force to be reckoned with. This was evident from the bedroom's key features, in particular the well-thought out wardrobe design boasting not one but two separate robes.
El'ise and Matt chose to split their wardrobes into two areas, an 'AM' wardrobe found within the bedroom (pictured), dedicated to casual day to day wear and a 'PM' wardrobe located in a separate room for all luxury garments. Needless to say this decision intrigued the judges, Shaynna eagerly stating "I'm quite liking the sound of that."
The bold move paid off with Darren describing it as "a really lovely considered use of space."
Shaynna reinforced the excitement by saying "I love this as a concept and I love how they've executed it and I think it works incredibly well."
The judges were thrilled to see both wardrobes incorporated matching colours to the ensuite bathroom, creating a "seamless" transition.
The Peak Black Ultramatt doors with brushed gold integrated handles make for a sleek and stylish design that complements their black window frames and hardware, the gold adding warmth to the space. Suit Grey internals pair well with the mauves and greys used in the bedroom situated next to the wardrobe space.
Cabinetry by Freedom Wardrobes:
Exteriors in Black Ultramatt with Brushed Gold Peak Handles
Internals in Suit Grey
Special Features: 
Home Safe
Black Framed Glass Shelves
Trouser Rack
Jewellery Drawer
Black Pull Down Hanging Rail System
Vertical Strip Lighting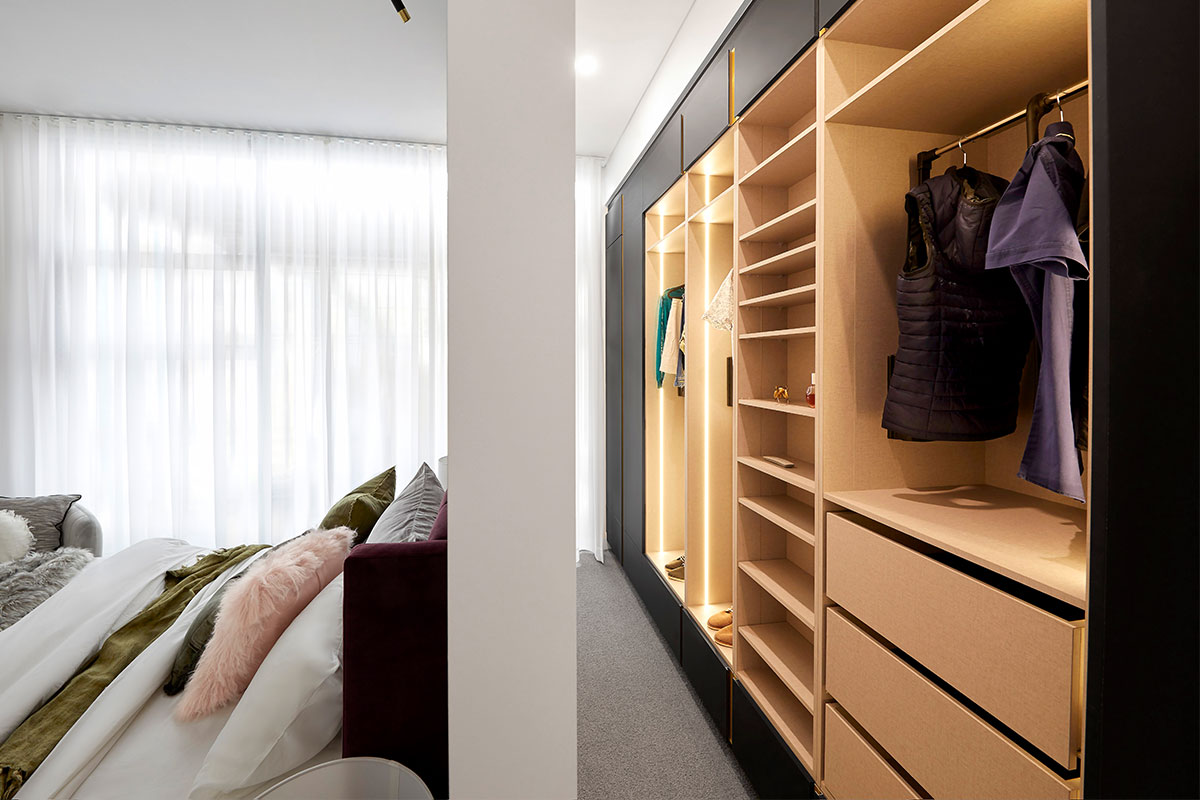 House 5 – Jesse and Mel 
Darren and Dea made history on The Block with their epic win in 2015 after they took home almost $1 million. With their invaluable experience, they brought Jesse and Mel back into the game when they helped deliver yet another luxurious space in House 5, featuring a rich colour palette.
Neale admitted "This is the first time since week one I've been that excited about seeing what they've got to put up."
Supa Wenge doors blend well with the dark accents and joinery found throughout their house. Vertical Mood Lighting within the robe adds to the high-end feel of the bedroom. Jesse and Mel choice of colours and textures allowed the space to be cosy and inviting.
The wardrobe boasts extensive full and half hanging space, as well as useful drawers and shelving throughout. Boxes below can be utilised to tuck away shoes and other loose items. A desk topped with Caesarstone® Statuario Maximus can double up as a makeup station, ensuring it's both stylish and functional.
Scott Cam concluded the comments by saying "keep delivering to this level and you'll be right up there come auction day." An exciting and promising finish for the local couple from St Kilda.
Cabinetry by Freedom Wardrobes:
Exterior finish in Supa Wenge
Internal finish in Mountain Oak Natural
Special Features: 
Caesarstone® Statuario Maximus Desk Top
Brushed Orb Handles
Black Pull Down Hanging Rail System
Vertical Mood Lighting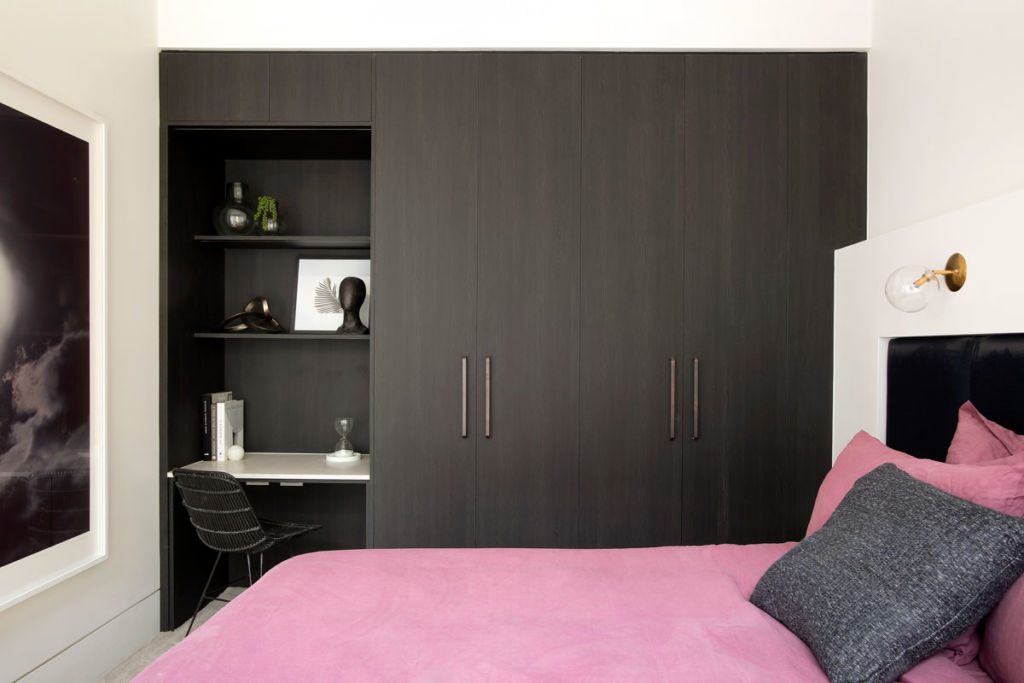 With The Block almost hitting the halfway mark in the season, stay tuned for more Freedom Wardrobes with wow factor still to be revealed. Follow The Block bedroom and Freedom Wardrobes on our socials:
Instagram: @freedom_wardrobes
Facebook: /freedomwardrobes