GUEST 2 BEDROOMS REVEALED
A luxurious and neutral colour palette has been established in this bedroom with a contrasting Sierra Warm Grey shaker style door and Mountain Oak interior finish. To utilise the space efficiently, Tess and Luke opted for a neat, straight run of wardrobe cabinets.
Hidden within these are internal drawers, a pigeon-hole unit plus full hanging ensuring guests are not short of storage space for any item of clothing, shoes or accessories. A desk topped with Caesarstone® Noble Grey is the perfect finishing touch to complete the elegant look.
Cabinetry by Freedom Wardrobes:
Exterior finish in Sierra Warm Grey
Internal finish in Mountain Oak
Special features:
Caesarstone® Noble Grey Desk Top
Satin Black Rounded D Handle
Pigeon Hole Interior Dividers
Black Hanging Rail
Vertical Mood Lighting
WINNERS Deb and Andy – House 3
Deb and Andy's winning second guest bedroom possesses a bright and beautiful style which ties in perfectly with the rest of the house with their choice of matching joinery. A sophisticated and traditional looking exterior is created from the use of a Sierra White Matt door finish which conceals an Ash Firenze interior.
This refined space is functional too with ample storage produced by double stacked cabinetry. To up the luxe factor and functionality, a desk featuring a Caesarstone® Topus Concrete top has been added.
Cabinetry by Freedom Wardrobes:
Exterior finish in Sierra White Matt
Internal finish in Ash Firenze Natural
Special features:
Caesarstone® Topus Concrete Desk Top/Make Up Station
Matt Brass Rounded D Handles
Shoe Racks
Trouser Rack
Black Hanging Rail
Vertical Strip Lighting
El'ise and Matt – House 4
This bedroom features a well-thought out wardrobe design boasting not one but two separate robes. El'ise and Matt split their wardrobes into two areas, an 'AM' wardrobe found within the bedroom (pictured), dedicated to casual day to day wear and a 'PM' wardrobe located in a separate room for all luxury garments. Designer suits, workwear and dresses can be hung in this "PM" space and decorative Black Framed Glass Shelving provide the ideal setting to showcase handbags, jewellery and other accessorises.
Both wardrobes feature open units that have been framed with a bank of cabinets above and below. The Peak Supa Black doors with brushed gold integrated handles make for a sleek and stylish design that complements their black window frames and hardware, the gold adding warmth to the space. Suit Grey internals pair well with the mauves and greys used in the bedroom situated next to the wardrobe space.
Cabinetry by Freedom Wardrobes:
Exteriors in Black Ultramatt with Brushed Gold Peak Handles
Internals in Suit Grey
Special features:
Home Safe
Black Framed Glass Shelves
Trouser Rack
Jewellery Drawer
Black Pull Down Hanging Rail System
Vertical Strip Lighting
Jesse and Mel have delivered another luxurious space featuring a rich colour palette. Supa Wenge doors blend well with the dark accents and joinery found throughout their house. Vertical Mood Lighting within the robe adds to the high- end feel of the bedroom.
The wardrobe boasts extensive full and half hanging space, as well as useful drawers and shelving throughout. Boxes below can be utilised to tuck away shoes and other loose items. A desk topped with Caesarstone® Statuario Maximus can double up as a makeup station, ensuring it's both stylish and functional.
Cabinetry by Freedom Wardrobes:
Exteriors in Supa Wenge
Internals in Mountain Oak Natural
Special features:
Caesarstone® Statuario Maximus Desk Top
Brushed Ord Handles
Black Pull Down Hanging Rail System
Vertical Mood Lighting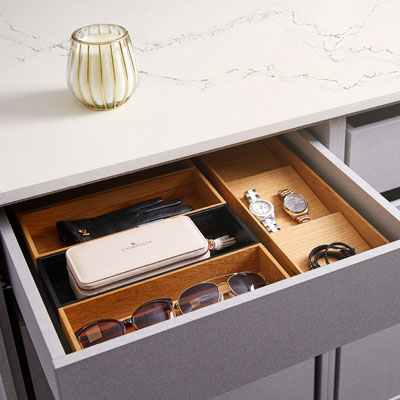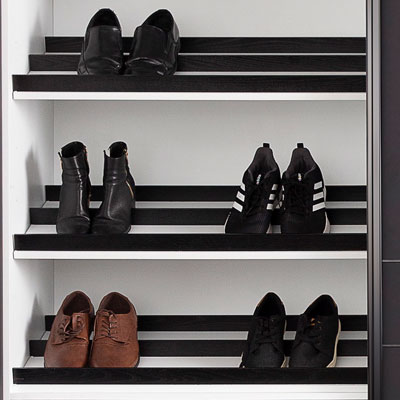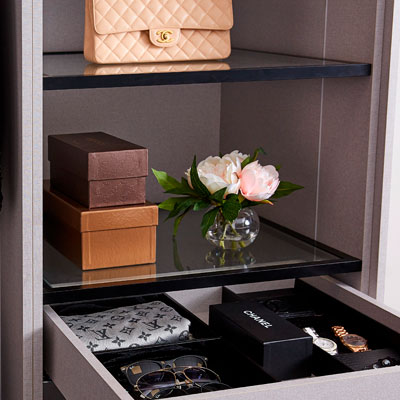 2020 Black Alumin Shelves