WINNERS Mitch and Mark – House 1 (Entertainment Area)
Luxurious Sierra White Matt doors pair perfectly with White Satin interiors, creating a clean and bright entertainment space, complementing the period features of the building. Base and wall cabinets create storage, a desk and a functional bar unit whilst still retaining the look of their previous wardrobes and tying in their joinery from room to room.
A unique feature within the room is the desk topped with Caesarstone® Excava, chosen specifically to balance the timber flooring and contrast well with the neutral palette of the wardrobe cabinetry.
Cabinetry by Freedom Wardrobes:
Exterior finish in Sierra White Matt
Internal finish in Classic White Satin
Special features:
Matt Brass Rounded Handles
Caesarstone® Excava Desk & Benchtop
Flexy LED Strip Lighting
Warm LED Downlights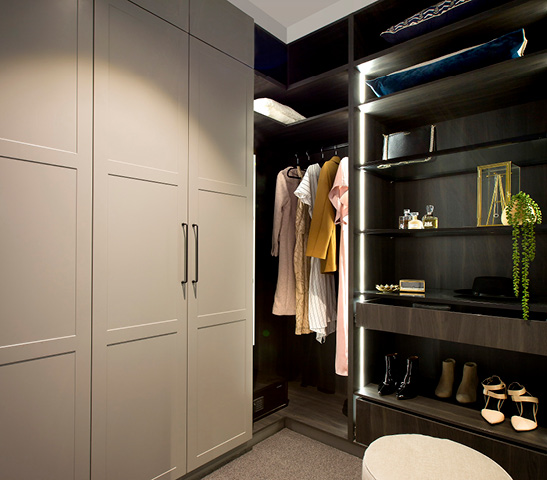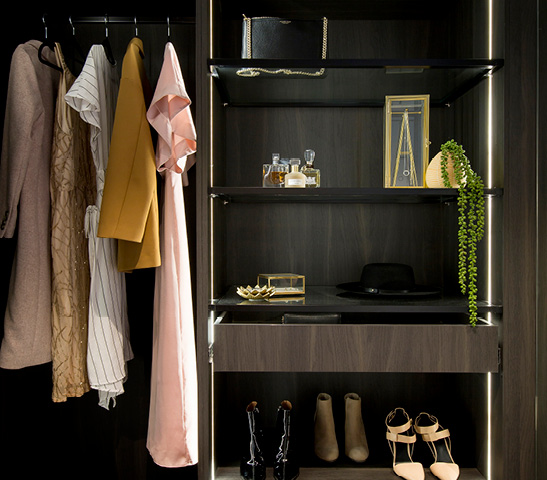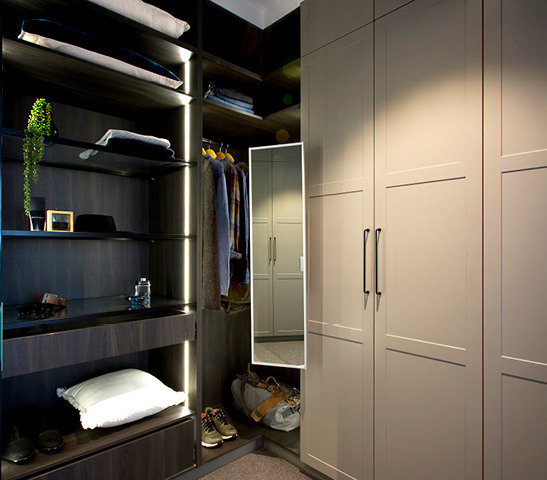 This Master Bedroom robe boasts a dark, moody and luxe colour palette, an intriguing contrast to their guest bedroom finishes. Open shelving in Mountain Oak hosts a His and Hers side, complete with Black Framed Glass Shelves. Also including are Black Hanging Rail for ample hanging space and jewellery drawers, all illuminated by Flexy LED Strip Lighting.
Sierra Warm Grey doors with Satin Black Rounded D Handles effortlessly match the ornate features of the old building. Tucked away inside are Mountain Oak internals paired with black hardware, creating a bold and rich feeling space.
Cabinetry by Freedom Wardrobes:
Exterior finish in Sierra Warm Grey
Internal finish in Mountain Oak Natural
Special features:
Satin Black Rounded Handles
Jewellery Drawer
Folding Mirror
Black Framed Glass Shelves
Black Hanging Rails
Flexy LED Strip Lighting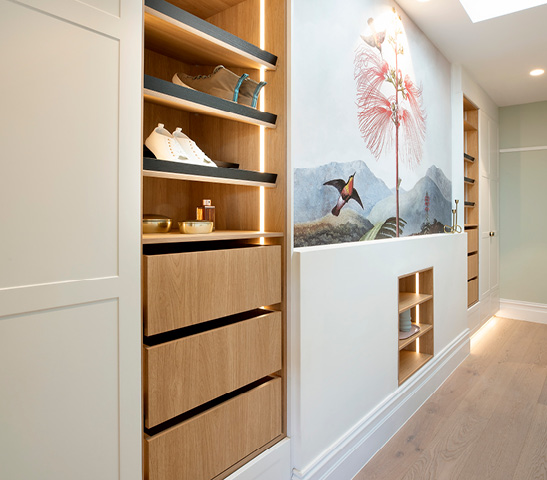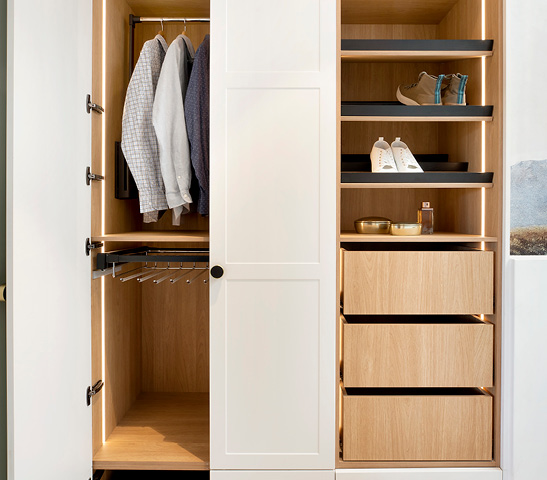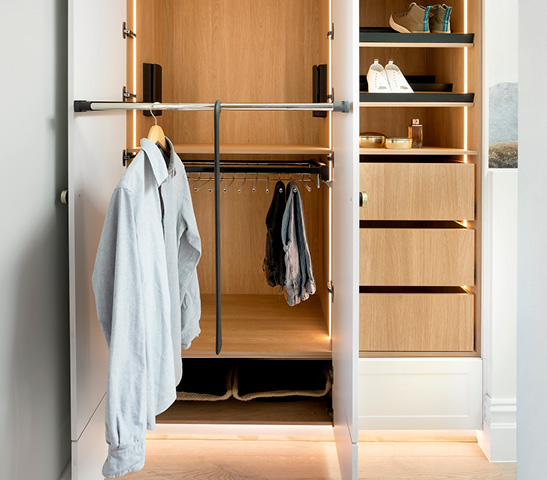 Deb and Andy ensured the natural and soft elements showcased in their guest bedrooms also flowed into their Master Bedroom using Sierra White Matt exterior finish and Ash Firenze feature opening shelving.
Delving deeper into the wardrobe design, the attention to detail and thought process behind the design choices are apparent. Radio Dial Brass Plate Handles lend a modern touch alongside the Sierra White Matt shaker style door profile. Pull down Black Hanging Rails mean clothing is easy to access without compromising the storage options below. Flexy LED Strip Lighting is the perfect finishing touch, creating a perfect setting for an opulent display of garments.
Cabinetry by Freedom Wardrobes:
Exterior finish in Sierra White Matt
Internal finish in Ash Firenze Natural
Special features:
Radio Dial Brass Plate Handles
Shoe Racks
Black Hanging Rails
Flexy LED Strip Lighting
Pull-out Trouser Rack
El'ise and Matt – House 4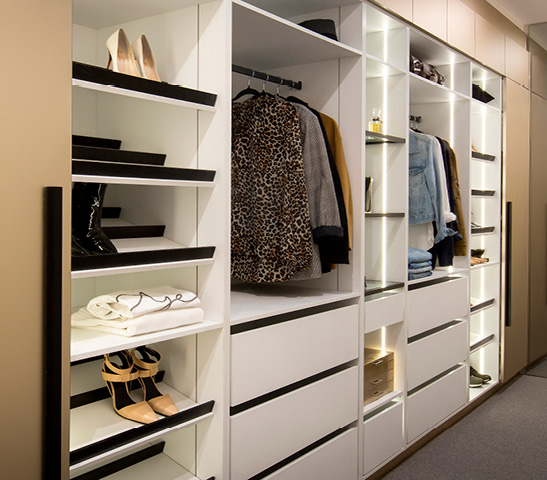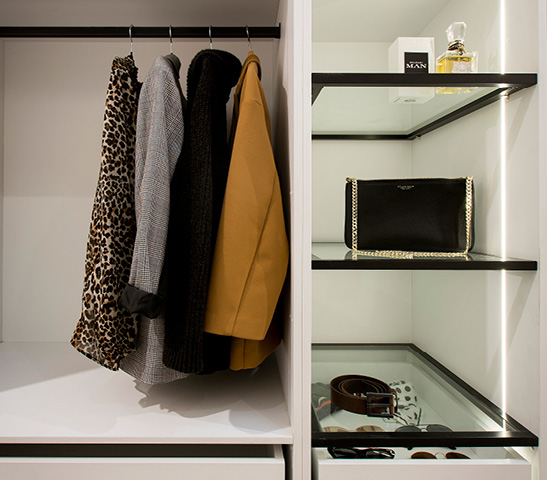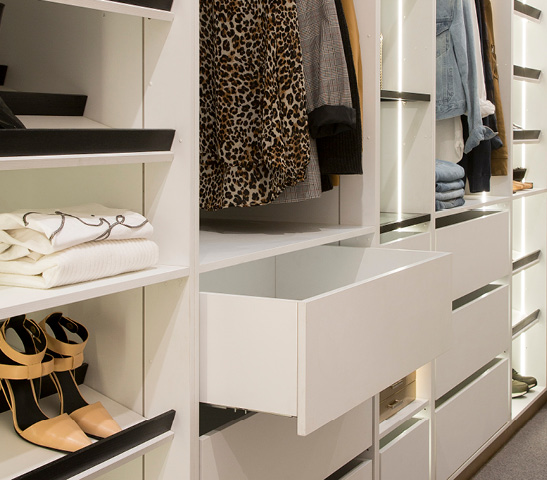 Eli'se and Matt's Master Bedroom walk-in wardrobe certainly makes a statement. The room boasts a grand and opulent straight run of cabinets, finished with a floor to ceiling mirror to reflect light and give the sense of more space.
Champagner Metallic doors give the wardrobes the ultimate luxurious feel, alongside Classic White Satin cabinetry to establish a clean, bright interior. Ample storage space is created from a complementing mixture of Black Hanging Rails, accented Shoe Racks, Jewellery Drawers and Trouser Racks. Black Framed Glass Shelves splits the cabinetry into separate His and Her's storage, as well as gives a striking visual effect and decorative styling opportunities.
Cabinetry by Freedom Wardrobes:
Exterior finish in Champagner Metallic
Internal finish in Classic White Satin
Special features:
Square Hook Matt Black Handles
Shoe Racks
Jewellery Drawer
Black Hanging Rails
Trouser Rack
Black Framed Glass Shelves
Multifunction Insert Drawer Dividers
Flexy LED Strip Lighting
The scuff and fingerprint resistant Supa Wenge doors displayed in Jesse and Mel's Master Bedroom flow seamlessly with the rest of the cabinetry found in their guest bedrooms. An extensive storage space is found within this walk-in wardrobe, which is evenly made up of Shoe Racks, Drawers and Black Hanging Rails. The dark and indulgent palette of the cabinetry, contrasts perfectly with the timber-look herringbone flooring which adds a touch of warmth to the room.
The desk found in the main room has been topped with Caesarstone® Statuario Maximus to complete the luxurious aesthetic the couple wanted to achieve. LED Strip Lighting above the desk and bench seat pairs form with function. Illuminating the desk space, this highlights decoration and creates a useable makeup/study area.
Cabinetry by Freedom Wardrobes:
Exterior finish in Supa Wenge
Internal finish in Mountain Oak Natural
Special features:
Caesarstone® Statuario Maximus Desk & Benchtop
Brushed Orb Handles
Multifunction Insert Drawer Dividers
Shoe Racks & Drawers
Black Hanging Rails
Flexy LED Strip Lighting