Designing new wardrobes for your home is an exciting project with the potential to transform your bedrooms and house with additional storage and beautiful cabinetry. It can however be a daunting task to decide the layout, style and finishes for your new robes and you are bound to have a number of questions for your Freedom Wardrobes designer. To take some of the guess work out, we have answered some of the most frequently asked questions regarding wardrobe design below.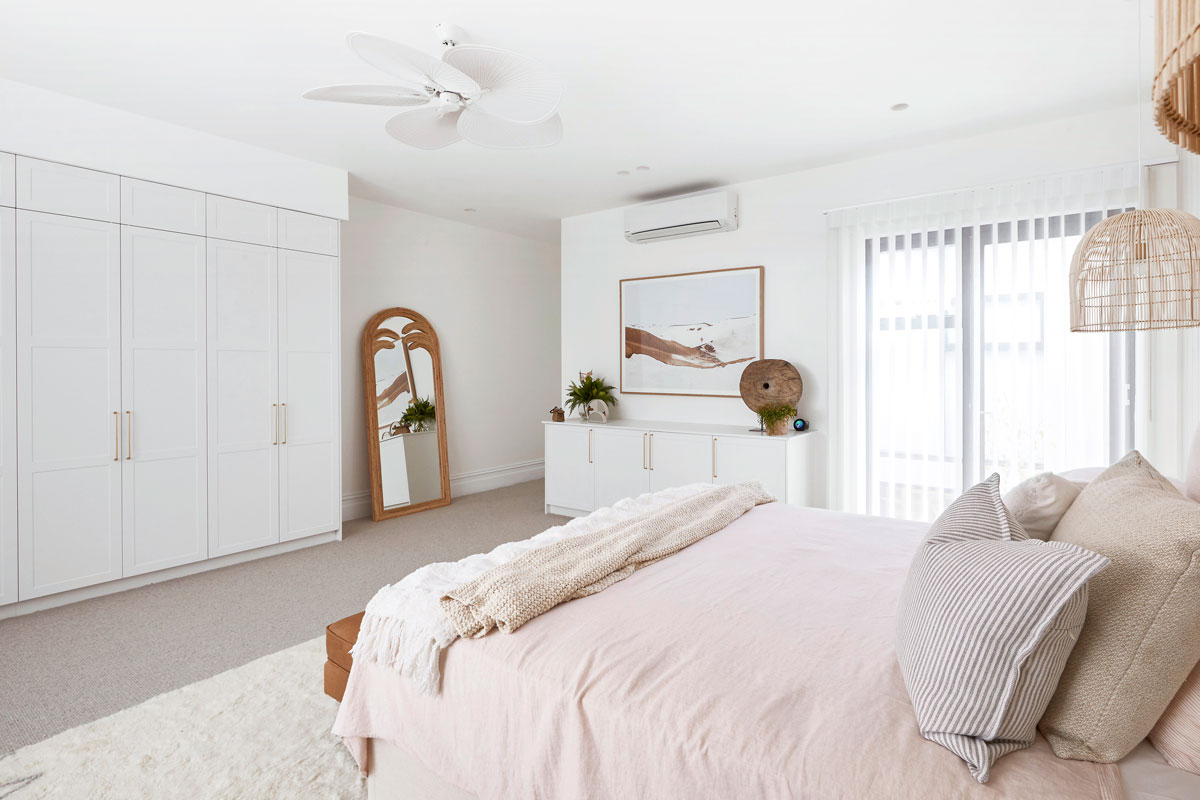 Q. Which wardrobe layout is best for my bedroom?
A. Choosing between a Walk-in, Walk-through, Hinged or Sliding wardrobe will depend on the size of your room and the furniture within it. If space permits, a Walk-in robe is the epitome of luxury with the potential to include luxe extras such as island benches, makeup stations or desks. Connect your master bedroom to your ensuite with a Walk-through robe. Hinged wardrobes suit both small and large bedroom spaces and allow you to hide away the contents of your robe behind closed doors. Sliding robes are a great option for smaller spaces, as they allow you to place bedroom furniture such as bedside tables and tall boys closer to your robe as you don't need to factor in hinged doors opening out into your bedroom.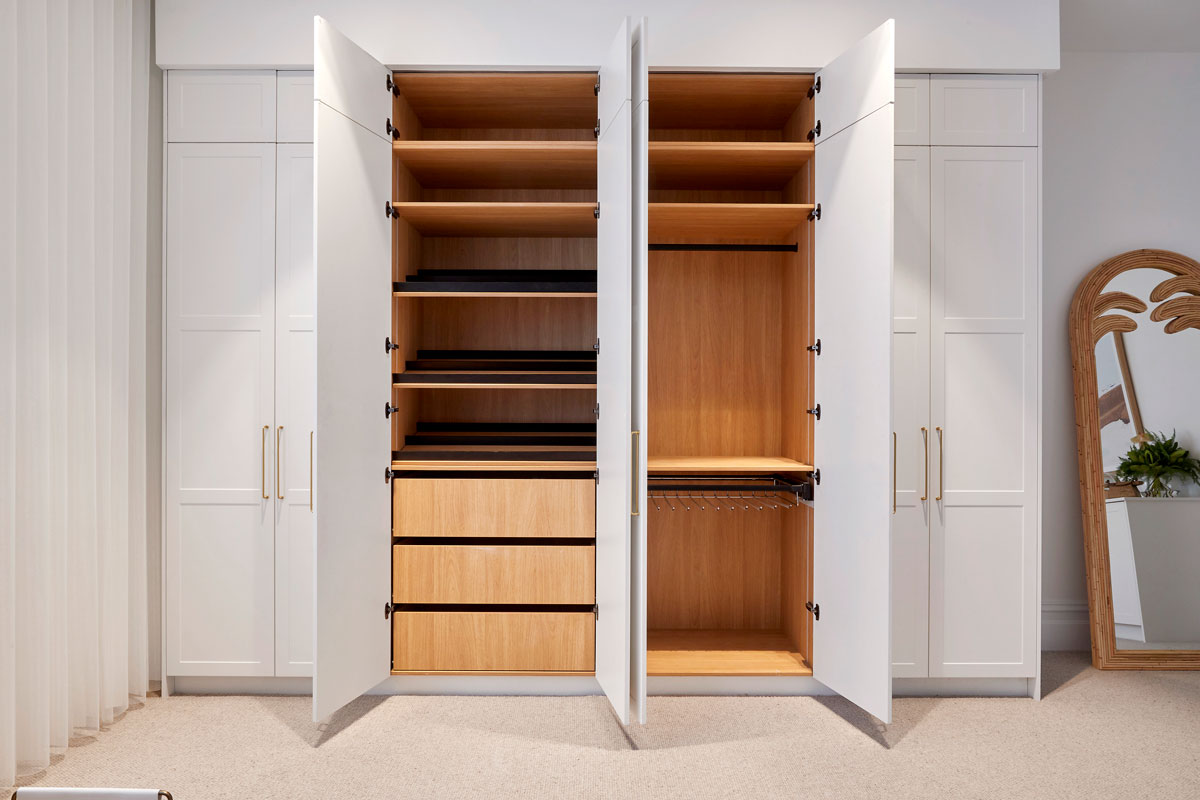 Q. What storage solutions are 'must-haves' in my new Freedom Wardrobe?
A. At the heart of your new wardrobe lies a successful mixture of three main solutions: hanging space, adjustable shelving and drawers. However, here at Freedom Wardrobes we believe the finer details count just as much the larger ones which is why we offer an extensive selection of smart storage accessories. Including extras such a shoe racks and shoe drawers, pull-out trouser rails, tie and scarf racks, Folding mirrors, jewellery inserts and trays for your drawers, home safes, and laundry hampers will elevate your new robe to stylish new heights.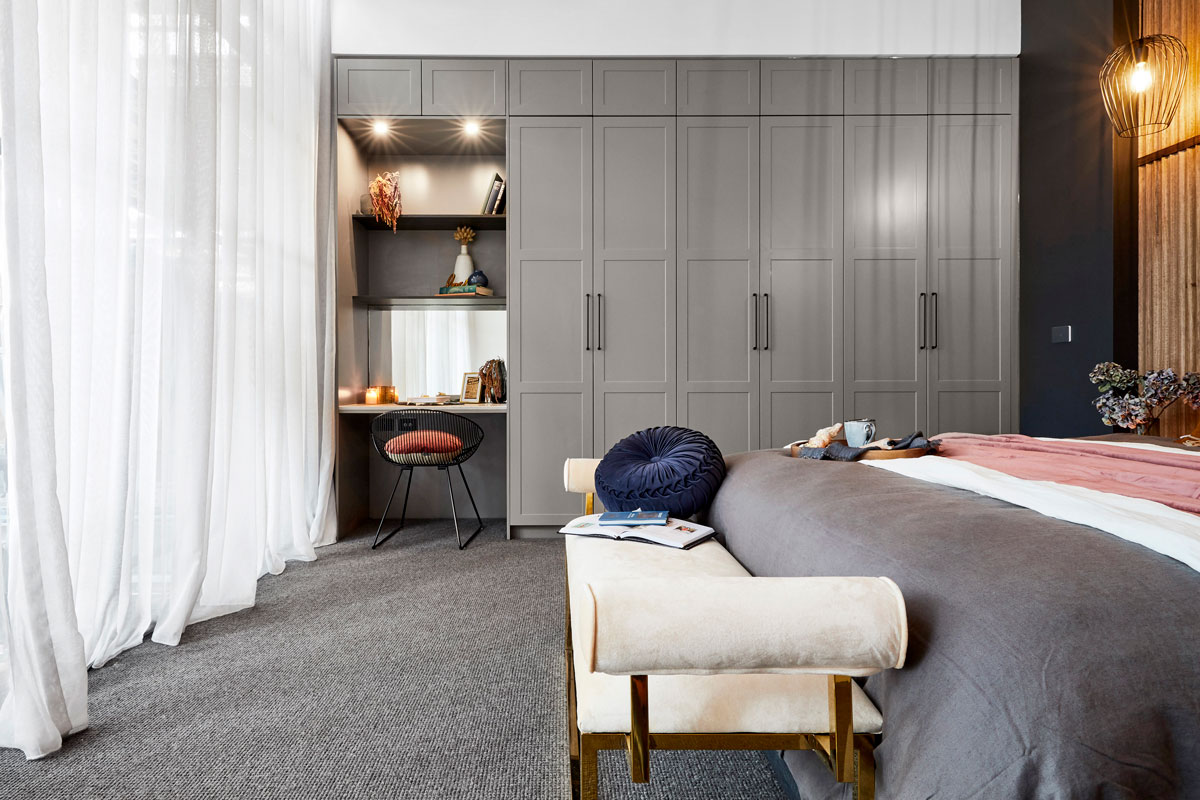 Q. Should I choose light or dark-coloured cabinetry?
A. Both are wonderful, fashionable and popular options. We recommend considering cabinetry that complements the rest of your home and the joinery you have throughout it. We offer a variety of exterior door options to suit any home and style- from a classic Shaker profile in white, to sleek matte blacks and greys, and our on-trend Forest Flint green.
Designer tip: Our interior finishes have been curated to perfectly complement your exterior joinery, with four stylish options in a white, textured grey as well as a light and dark timber-look, offering the finishing touch to your robes look and feel.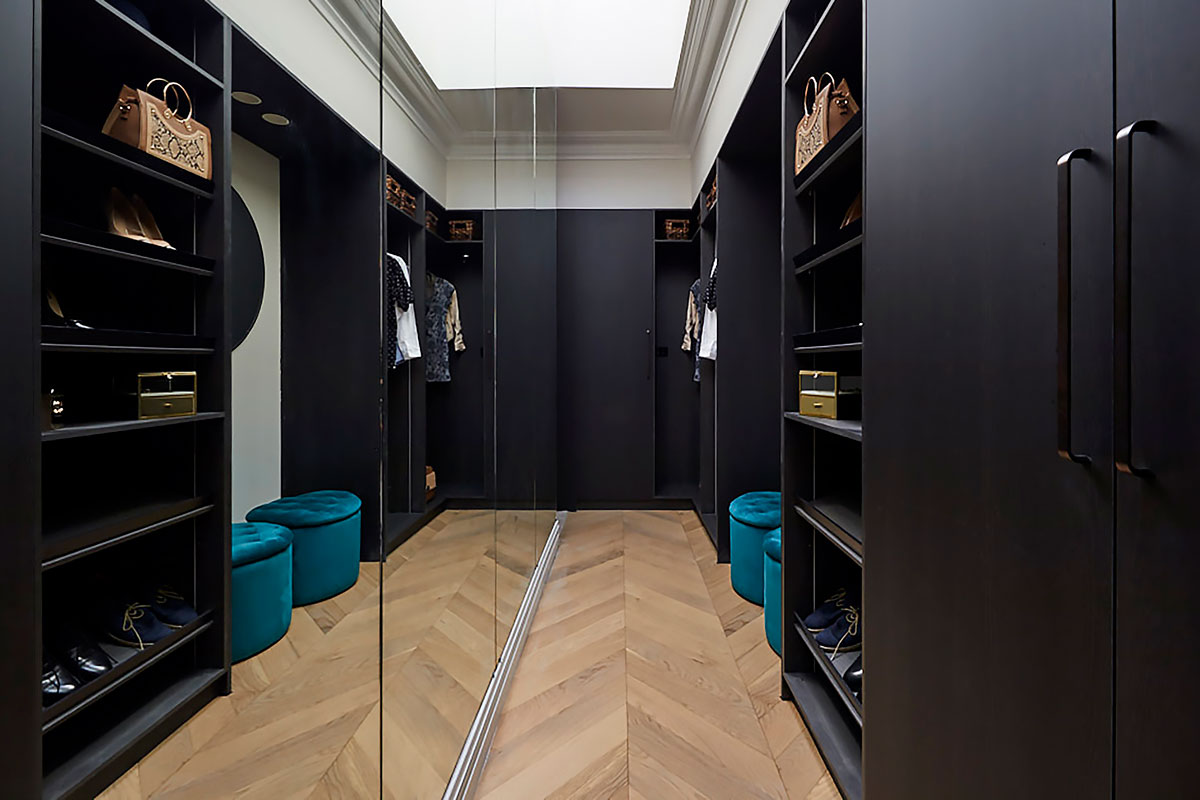 Q. Should I opt for doors on my wardrobes or choose an open design?
A. Again your decision will be influenced by the wardrobe layout you choose for your bedroom, as well as the way you wish to use your closet.
Hinged and Sliding robes feature doors, which allow you to hide away any mess, and are easy to clean. However, don't feel as though you should hide away your clothing, footwear and accessories- an open design can work particularly well in a Walk-in or Walk-through layout and allow you to arrange all these out on display, creating easy access.
Designer tip: Opted for a Hinged or Sliding wardrobe design but would love to incorporate some open shelving? Consider adding our 2020 Black Alumin Shelving with broadline glass to one side of the cabinetry to create a luxurious setting to display precious items such as shoes, handbags, fragrances, small artworks and candles etc.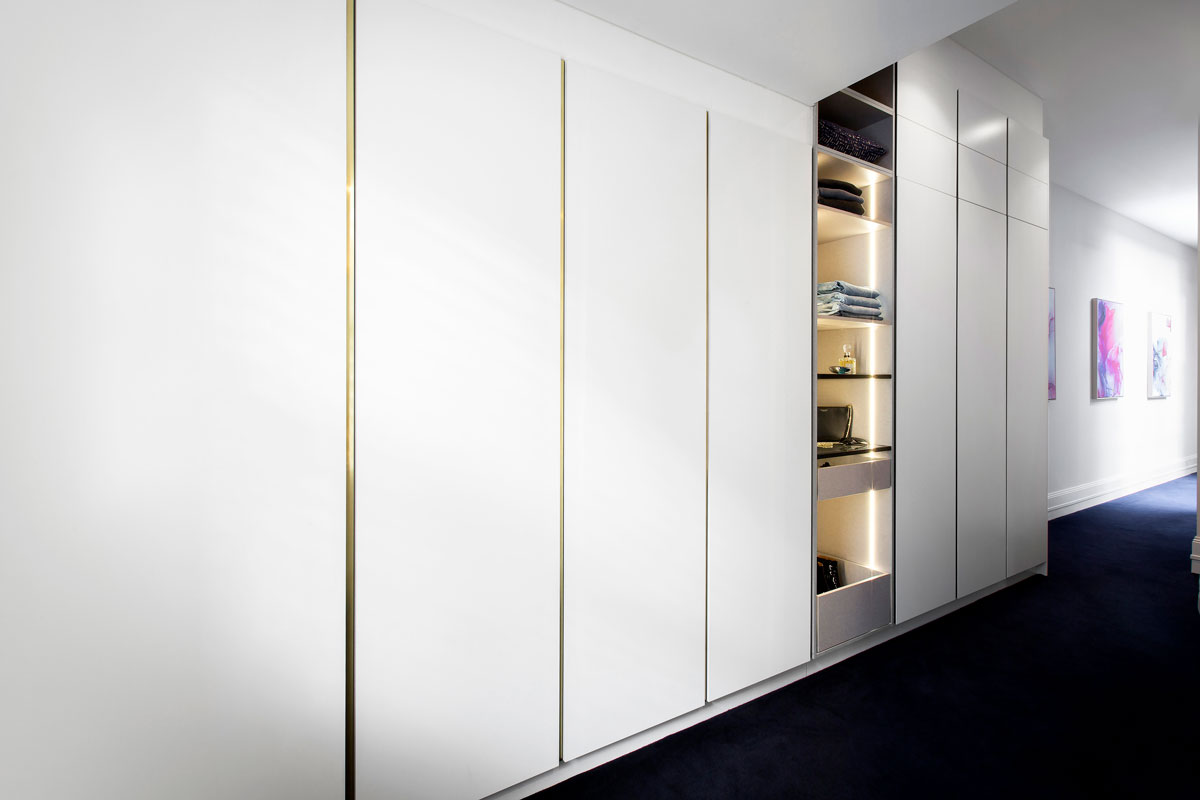 Q. Should I add handles to my wardrobe cabinetry and if so how do I pick the right style?
A. Handles may be a small detail, but they have the power to transform the look of your wardrobe doors and allow you to create the style you want within your bedroom and beyond, ensuring they suit the rest of your home. With styles that include bar, knob and Peak Integrated handles- there's a handle design to complement any wardrobe.
So how do you find the perfect handle to pair with your exterior robe joinery? Brass-look hardware is a wonderful choice for a classic Shaker-profile style door, while our Brushed Orb handles add to the opulent look our Supa Wenge colour-way evokes. Ask your Freedom Wardrobes designer to show you the many handle options we offer as part of our range.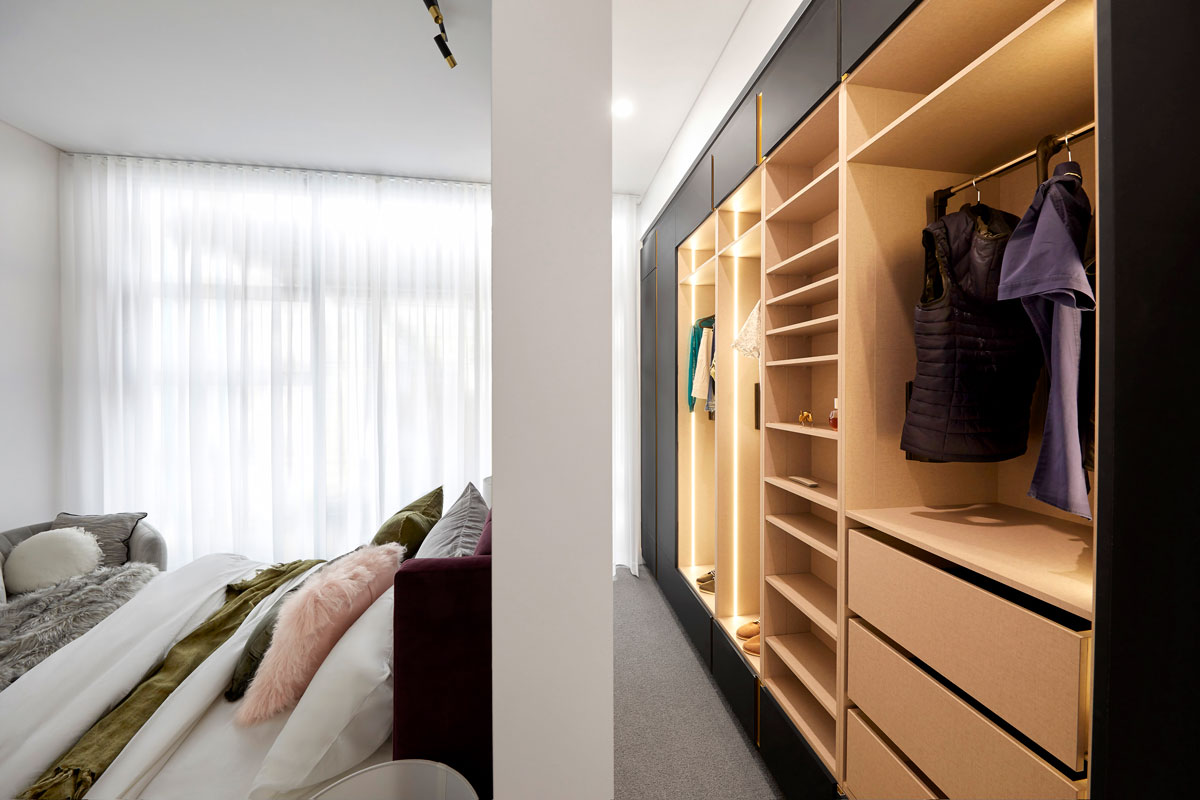 Q. Is lighting within my wardrobe really that important?
A. Yes! Lighting is often an over-looked design element when creating your dream wardrobe, and yet it has the potential to transform how you use and enjoy your wardrobe.
The Freedom Wardrobe lighting range gives you the option to include mood lighting in several locations of your robe layout, such as on the exterior under kickboards, or within the interiors themselves. Our Vertical Mood Lighting (available in both cool and warm tones) is recessed in the cabinet interiors to illuminate to contents of your robe. We also love using LED Strip Lighting at the base of your robe, for a moody look that can also double as a night light in children's rooms!
Designer tip: Ask about placing lighting on a motion sensor or using remote options.
Start the New Year with a new Freedom Wardrobe and elevate your bedroom storage to stylish new heights!
Book your free in-home or video call appointment HERE.
Download our latest catalogue HERE for more inspiration, images and information on our Freedom Wardrobes product range!