Australia's favourite renovation show, The Block is back on our screens this week and we're super excited! We may not be the proud supplier of wardrobes this season but let's cast our minds back and revisit some of the show-stopping walk-in/walk-through Freedom Wardrobes that were showcased on The Block 2019.
Choosing the perfect wardrobe layout and designing it to suit your space and your lifestyle is so important. Walk-in/walk-through wardrobes are by far the most luxurious, as well as being extremely functional too.
Here at Freedom Wardrobes, our smart storage solutions for walk-in/walk-through enables you have the freedom to choose from a curated selection of premium door and interior finishes, plus luxe options including island benches and on-trend black hardware. If you are looking to create a walk-in wonder, we can help you design the perfect wardrobe to suit your lifestyle, which will make you love using your new wardrobe as much as you love the look of it.
The Block 2019 showcased a host of show-stopping walk-in/walk-through Freedom Wardrobes. Below we share our top four walk-in wardrobes from The Block 2019, to help you define your wardrobe style and give you an insight into our range of luxury extras. Which is your dream wardrobe style and design?
1. Deb & Andy's Master Bedroom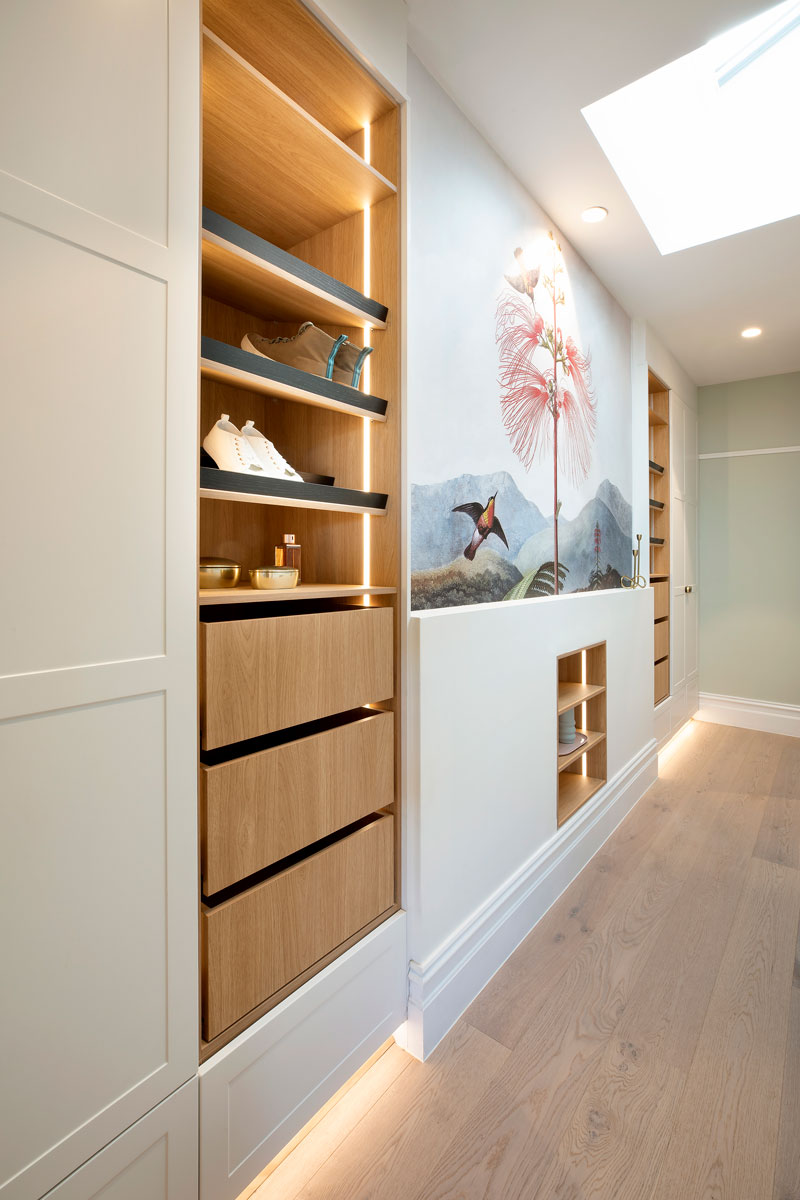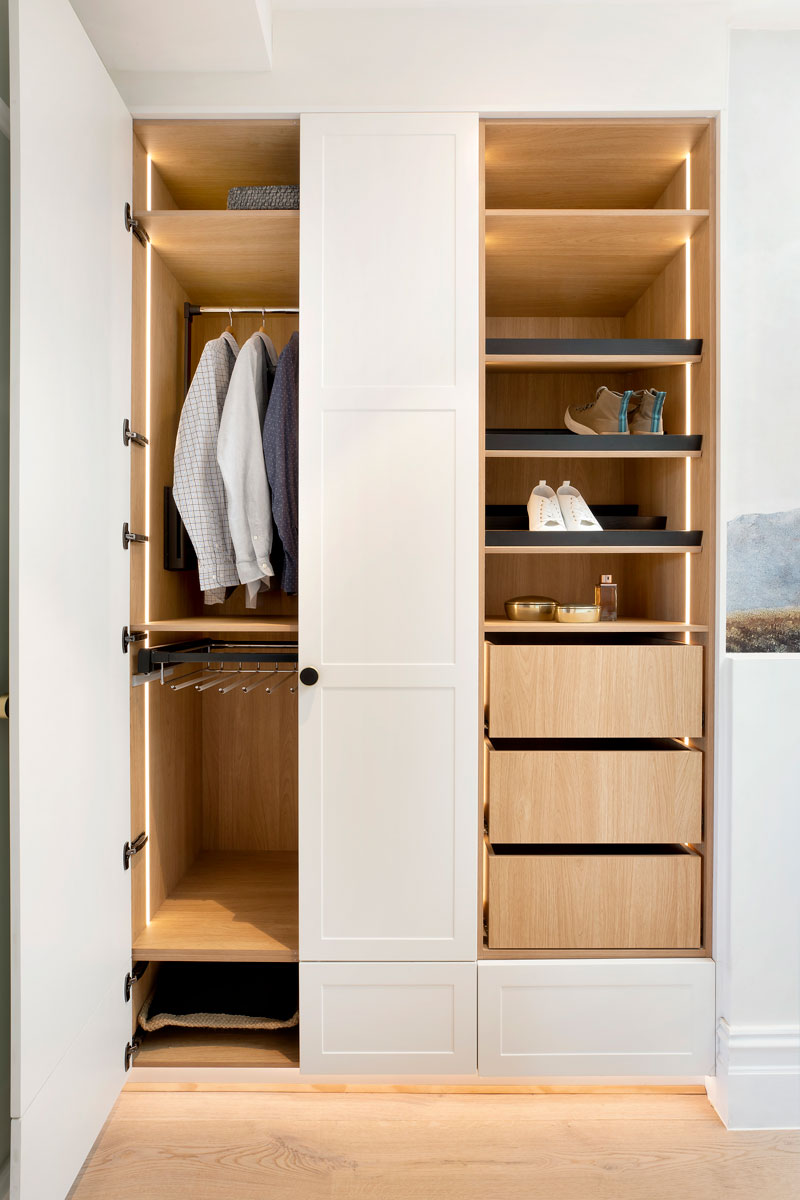 Deb and Andy ensured their walk-in wardrobe reflected natural and soft elements by using Sierra White Matt exterior finish and Ash Firenze feature opening shelving.
Delving deeper into the walk-in wardrobe design, the attention to detail and thought process behind the design choices are apparent. Radio Dial Brass Plate Handles lend a modern touch alongside the Sierra White Matt shaker style door profile. Pull down Black Hanging Rails mean clothing is easy to access without compromising the storage options below. Flexy LED Strip Lighting is the perfect finishing touch, creating a perfect setting for an opulent display of garments.
Love it? Design it!
Cabinetry:
Exterior finish in Sierra White Matt
Internal finish in Ash Firenze Natural
Special features:
 Radio Dial Brass Plate Handles
Shoe Racks
Black Hanging Rails
Flexy LED Strip Lighting
Pull-out Trouser Rack
2. Jesse & Mel's Guest Bedroom 3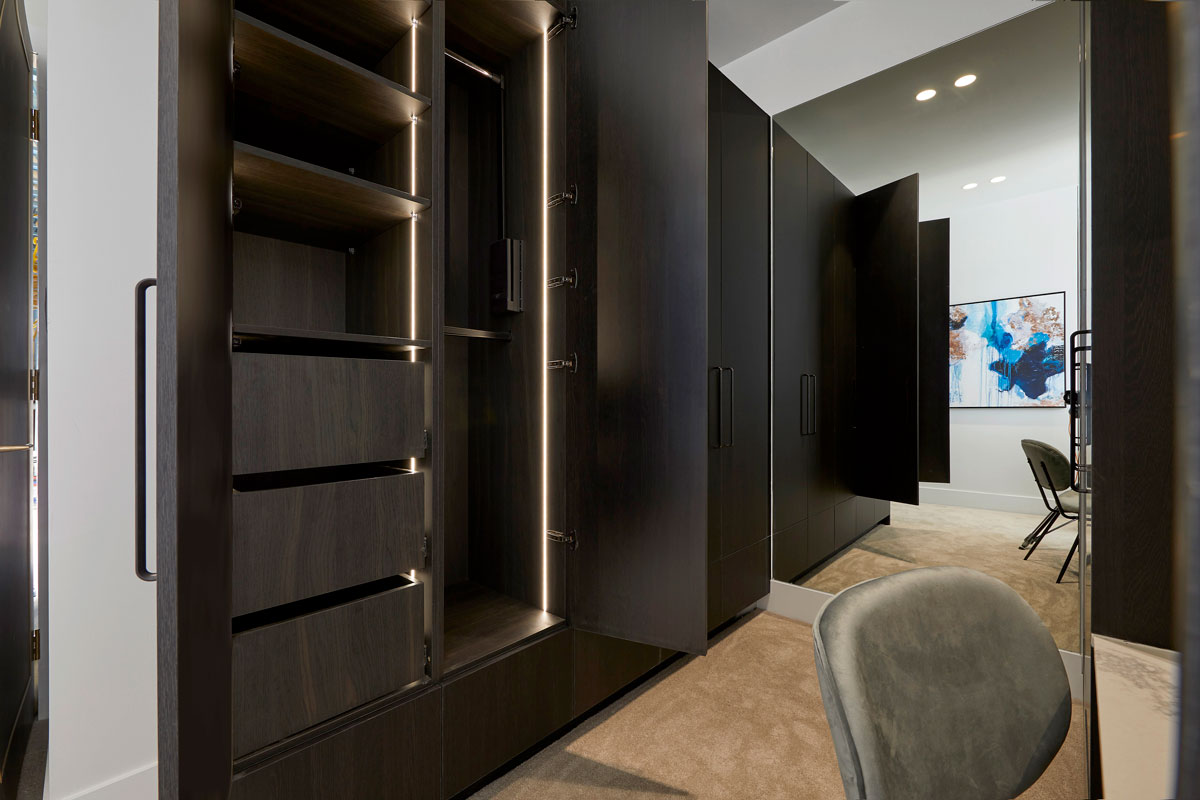 In their third guest bedroom, Jesse and Mel made the most of the limited space available by revealing a galley style walk-in robe which helped to enhance the whole room's rich feel. The standout feature as you walk straight into the room is the desk/make up station topped with the beautiful Caesarstone® Statuario Maximus.
A dark, indulgent palette as seen in their other bedrooms, is created from their use of anti-fingermark and scuff resistant Supa Wenge cabinetry. A continuation of the Supa Wenge doors, brushed orb handles and Mountain Oak internals helps seamlessly link the room with the rest of the house. Not only is this robe stylish, it is functional too with clothing and shoe storage solutions neatly tucked away within the cabinetry.
Love it? Design it!
Cabinetry:
Exteriors in Supa Wenge
Internals in Mountain Oak Nautral
Special features:
Caesarstone® Statuario Maximus Desk Top
Brushed Orb Handles
Black Pull Down Hanging Rail System
Trouser Rack
Flexy LED Strip Lighting
3. Mitch & Mark's Master Bedroom
In their Master Bedroom, Mitch and Mark created a grand, light and opulent walk -in robe that perfectly mixes both style and sophistication. A sleek run of White Satin cabinets with subtle Brushed Gold Peak Handles highlight the vertical space with double stacked storage boxes above. The wardrobes ooze elegance from the injection of gold found throughout.
The most notable being the decorative Black Framed Glass Shelves, highlighted by flexy LED strip lighting and a glamorous metallic back panel tying back in with the brushed gold handles. A makeup/dressing table topped in Caesarstone Empira White for an added touch of luxury, has been neatly tucked away, demonstrating a practical use of space.
Love it? Design it!
Cabinetry:
Exteriors in Iceland White Satin with Brushed Gold Peak Handles
Internals in Suit Grey
Special features:
Caesarstone® Empira White Desk Top
Black Framed Glass Shelves
Black Hanging Rail
Jewellery Drawer
Home Safe
Flexy LED Strip Lighting
Motion Sensor Door Switches
4. Tess & Luke's Master Bedroom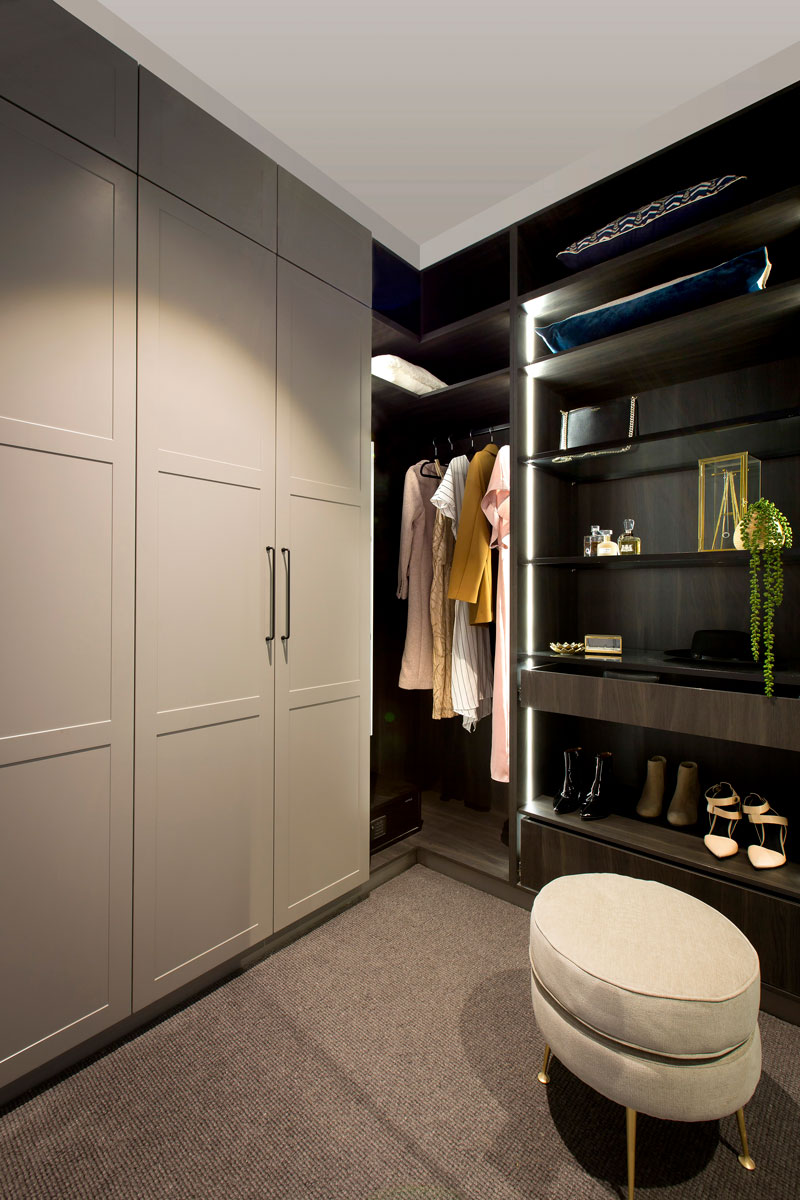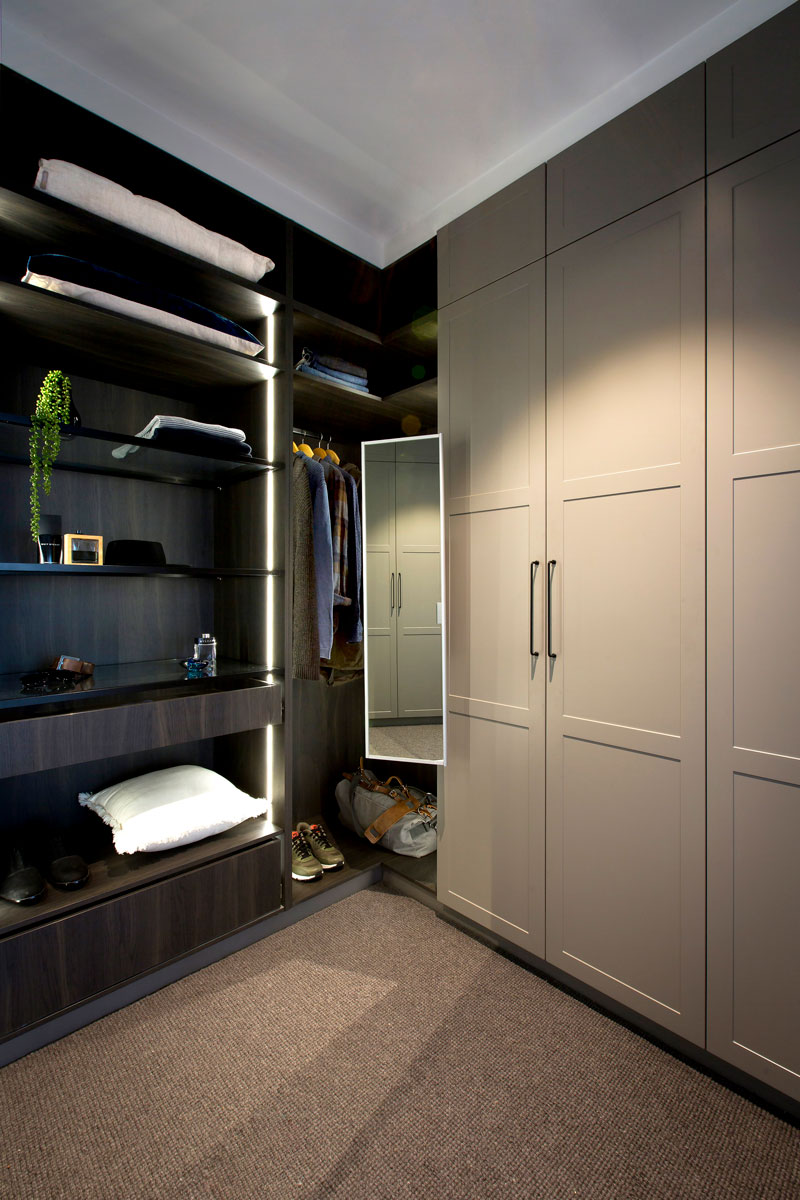 This Master Bedroom walk-in robe boasts a dark, moody and luxe colour palette, an intriguing contrast to their guest bedroom finishes. Open shelving in Mountain Oak hosts a His and Hers side, complete with Black Framed Glass Shelves. Also including are Black Hanging Rail for ample hanging space and jewellery drawers, all illuminated by Flexy LED Strip Lighting.
Sierra Warm Grey doors with Satin Black Rounded D Handles effortlessly match the ornate features of the old building. Tucked away inside are Mountain Oak internals paired with black hardware, creating a bold and rich feeling space.
Love it? Design it!
Cabinetry:
Exterior finish in Sierra Warm Grey
Internal finish in Mountain Oak Natural
Special features:
Satin Black Rounded Handles
Jewellery Drawer
Folding Mirror
Black Framed Glass Shelves
Black Hanging Rails
Flexy LED Strip Lighting
Inspired to take your bedroom storage to stylish new heights with a walk-in wardrobe with wow factor? Simply click HERE to book a FREE design appointment today. Need more walk-in wardrobe inspiration first? Download our catalogue HERE.