Lack of Funds Didn't Stop the Blockheads Creating More Breathtaking Wardrobes
With the final weeks of The Block on the horizon, the big question on everyone's lips is who's going to finish and with funds running extremely low it's looking doubtful for some couples. Regardless of the lack of funds and tightened budgets, the Blockheads still managed to reveal more breathtaking bedrooms which showcased a host of stunning Freedom Wardrobes.
By using their bonus point, Tess and Luke topped the leader board with their self-contained studio apartment featuring a bedroom, ensuite and kitchenette. This was a much needed win for the Cairns couple who faced being sent home from their insufficient funds. Read on to discover the details on how the couples from House 2 created their winning wardrobe, as well as the other couple's robes.
Mitch and Mark – House 1 (Master Bedroom)
First up to be revealed was Mitch and Mark's room and unlike the rest of the contestants they choose to reveal their Master Bedroom. Just like the rooms they have revealed so far, this was no ordinary Master Bedroom, it was a remarkable sized room which impressed the judges. All judges agreed they had created a stunning space which was consistent with the rest of the house.
"Look at the size of this" declared Neale Whitaker as he paid homage to the size of the room.
Reviewing the room, Darren Palmer believed their wardrobe "isn't a walk-in wardrobes, it's a strut-in-wardrobe!" Mitch and Mark created a grand, light and opulent walk in robe what perfectly mixes style and sophistication. A sleek run of White Satin cabinets with subtle Brushed Gold Peak Handles highlight the vertical space with double-stacked storage boxes above.
The wardrobe oozes elegance from the injection of gold found throughout. Shaynna affirmed it was "sass personified". Shaynna went on to describe the makeup/dressing table topped in Caesarstone Empira White as "theatre", stating it would be a pleasure getting dressed in here and we couldn't agree more!
Cabinetry by Freedom Wardrobes:
Exteriors in Iceland White Satin with Brushed Gold Peak Handles
Internals in Suit Grey
Special features:
Caesarstone Empira White Desk Top
Black Framed Glass Shelves
Black Hanging Rail
Jewellery Drawer
Home Safe
Flexy LED Strip Lighting
Motion Sensor Door Switches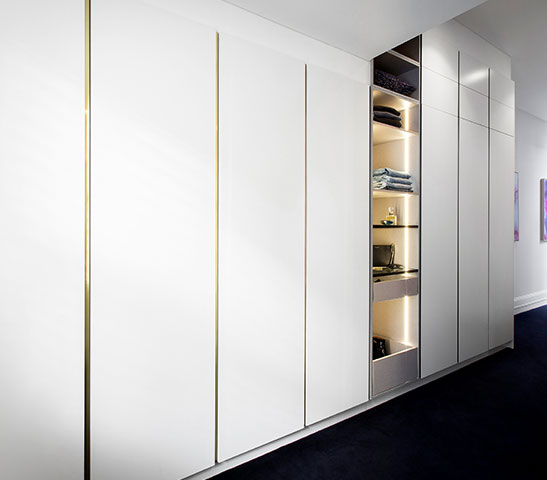 WINNERS Tess and Luke – House 2
Having not won a room reveal since Week 4, Tess and Luke were certainly over the moon to have been crowned the week's winners from using their bonus point gnome. They revealed a self-contained studio which was on a different level, mixing practically and style impeccably.
Neale Whitaker defined the room as "luxury of a different level", stating the luxury is based off the practically of the space.
Shaynna reinforced Neale's statement saying she loved the practically of the Freedom Wardrobes. Tess and Luke opted to include a sliding robe in their winning third guest bedroom, the perfect addition which combines space-saving storage with style.
Sliding back the doors it is clear to see the functionality of the wardrobes are sustained with plenty of hanging and drawer space in elegant Mountain Oak, to tie in with the joinery displayed in their other bedrooms. Also hidden within the slider is a TV and Caesarstone Noble Grey counter top, which leaves the room with a clean exterior with the storage being hidden away behind the cabinetry.
Cabinetry by Freedom Wardrobes:
Exteriors in Iceland White Satin (Top and Bottom Tri Panel) and Black Ultramatt (Centre Tri Panel)
Internals in Mountain Oak
Special features:
Black Framed Glass Shelves
Caesarstone Noble Grey Desk Top
Pull Out Mirror
Black Hanging Rail
Flexy LED Strip Lighting
Sliding Door Motion Sensor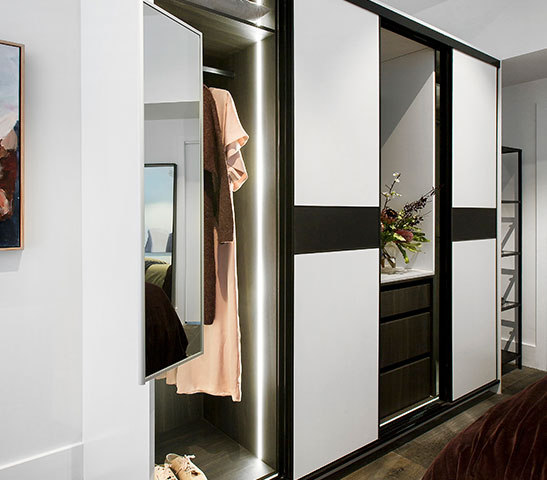 Deb and Andy – House 3
Consistency is key with Deb and Andy's style with the soft, natural elements, as showcased in the rest of their room, effortlessly flowing into their enormous third guest bedroom and blowing away the judges. Matching joinery has been chosen in their wardrobe space to maintain their chic, relaxed style.
A tall run of Sierra White Matt cabinetry serves as a gorgeous focal point and helps bring the historic style of the Oslo into the new space. Concealed behind these doors boasts drawers and internals in Ash Firenze cabinetry, giving the bedroom warmth.
Shaynna instantly fell in love with the calmness of the space, so much so it reduced her to tears with her declaring "it's just so gentle!"
Neale expanded on Shaynna comments stating "it's beautiful. Absolutely beautiful."
Another strong performance displayed by the renovation rookies from NSW.
Cabinetry by Freedom Wardrobes:
Exteriors in Sierra White Matt
Internals in Ash Firenze
Special features:
Caesarstone Intense White benchtop
Matt Brass Rounded Handles
Shoe Racks
Trouser Rack
Black Hanging Rail
Flexy LED Strip Lighting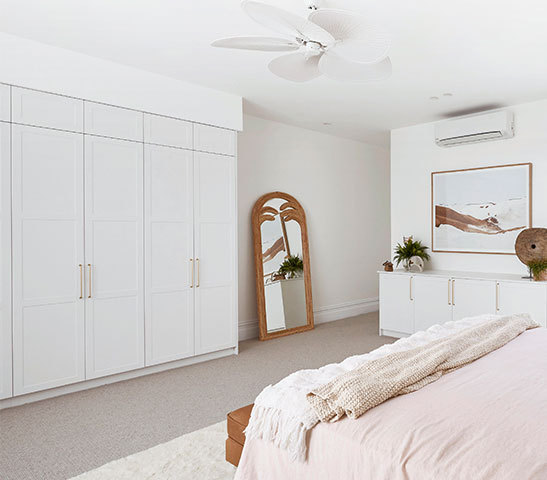 El'ise and Matt – House 4 (Master Bedroom)
From the success of splitting their second guest bedroom wardrobe into two, Matt and El'ise decided to replicate this in their third guest bedroom and divide their wardrobe once again. A well-thought-out move from the couple in House 4 as they now showcase a guest bedroom of grandeur and opulence, with their wardrobes hidden from the main bedroom space, allowing both to be completely open.
Shaynna was thrilled to see their wardrobes, describing the split sections as "pretty cool". The style guru later labelled them as "classy, classic and simple" and affirmed both spaces were home to plenty of storage.
Both wardrobes display an exquisite Suit Grey interior framed off with a Black Ultramatt door finish with Brushed Gold Peak handles. This is a design feature which mixes classic and contemporary, a style that the couple have brought right through their house.
Neale references this by agreeing there is a "really nice contrast between the classic and the ultra-modern."
Cabinetry by Freedom Wardrobes:
Exteriors in Peak Black Ultramatt with Brushed Gold Peak Handles
Internals in Suit Grey
Special features:
Trouser Rack
Folding Mirror
Black Pull Down Hanging Rail System
Flexy LED Strip Lighting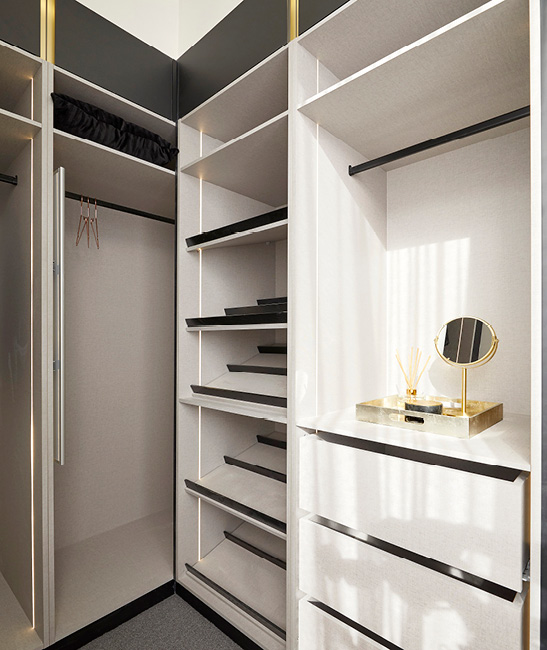 Jesse and Mel – House 5
Throughout the season Jesse and Mel have gone from strength to strength as they continue to showcase a high-end, luxurious look in their house and their third guest bedroom was no exception. The St Kilda couple delivered a versatile room, which they described as multi-purpose and gives the home owner plenty of usage options.
The judges were delighted as they walked into the room and were met by Jesse and Mel's galley style walk-in robe, which enhances the whole room's rich feel. They loved the wardrobe joinery, as well as the size and the storage of the space. Darren noted "there's lots of storage space, and you get a desk/dressing table", pointing out the standout of feature of the room which is topped with the beautiful Caesarstone Statuario Maximus.
The dark, indulgent palette as seen in their other bedrooms, is created from their continued use of Supa Wenge doors, Brushed Orb handles and Mountain Oak internals which seamlessly links the room with the rest of the house. Not only is this robe stylish, it is functional too with clothing and shoe storage solutions neatly tucked away within the cabinetry. Shaynna noted this design element by saying she loved the doors and the fact you don't see clothes everywhere.
Neale concluded the review of the wardrobe, describing it as a "very nice introduction to the room" which spells luxury. Another picture perfect room to round off an impressive week for all The Block houses.
Cabinetry by Freedom Wardrobes:
 Exteriors in Supa Wenge
Internals in Mountain Oak Nautral
Special features:
Caesarstone Statuario Maximus desk top
Brushed Orb Handles
Black Pull Down Hanging Rail System
Trouser Rack
Flexy LED Strip Lighting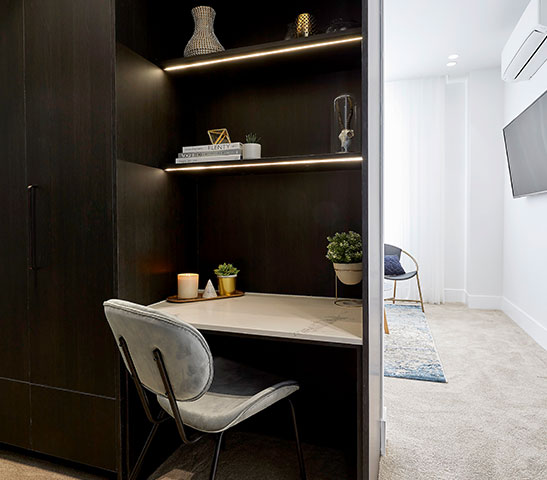 With The Block fast approaching the final few weeks in the season, stay tuned for another Freedom Wardrobes with wow factor reveal. Follow The Block bedroom and Freedom Wardrobes on our socials:
Instagram: @freedom_wardrobes
Facebook: /freedomwardrobes
Inspired by the Blockheads to take your bedroom storage to stylish new heights? Start your dream wardrobe journey today and book a FREE design appointment today HERE.
Need more wardrobe inspo first? Download our catalogue HERE.