Mitch and Mark Rock The Block During Master Bedroom Week
The Block promised to be bigger and better than any previous season, and so far it has lived up to its word. It started with the toughest first week ever seen on the show, then last week we watched the most controversial room reveals and it was only the third week!
The Bondi boys, Mitch and Mark rocked The Block when they revealed they had changed their building design plans to host an entertainment space rather than opting for a fourth bedroom like the other contestants. A huge, strategic risk which could affect not only their chances of winning but also the remaining couples as well. Shaynna described it as "the most exciting twist I've ever seen on judging The Block."
This game-changing move did not put Mitch and Mark in jeopardy, instead the room received the week's highest score and they were crowned victorious. Read on to discover all the Freedom Wardrobes products which were showcased on Master Bedroom week.
House 1 – WINNERS Mitch and Mark
Inevitably, Mitch & Mark's controversial decision to create an entertainment space surprised the judges as they entered the room. After initial shock sunk in, Shaynna stated the room had elegance and class, labelling it good enough not to be a Master Bedroom.
Luxurious Sierra White Matt doors pair perfectly with Classic White Satin interiors, creating a clean and bright entertainment area, complementing the period features of the building. Neale defined the space as the "epitome of glamour".
The base and wall cabinets, as well as the functional bar caught the eye of Darren as he noted there is plenty of space for wine! Another the unique feature within the room is a desk topped with Caesarstone® Excava, chosen specifically to balance the timber flooring and contrast well with the neutral palette of the wardrobe cabinetry.
Cabinetry by Freedom Wardrobes:
Exterior finish in Sierra White Matt
 Internal finish in Classic White Satin
Special features:
Matt Brass Rounded Handles
Caesarstone® Excava Desk & Benchtop
Warm LED Downlights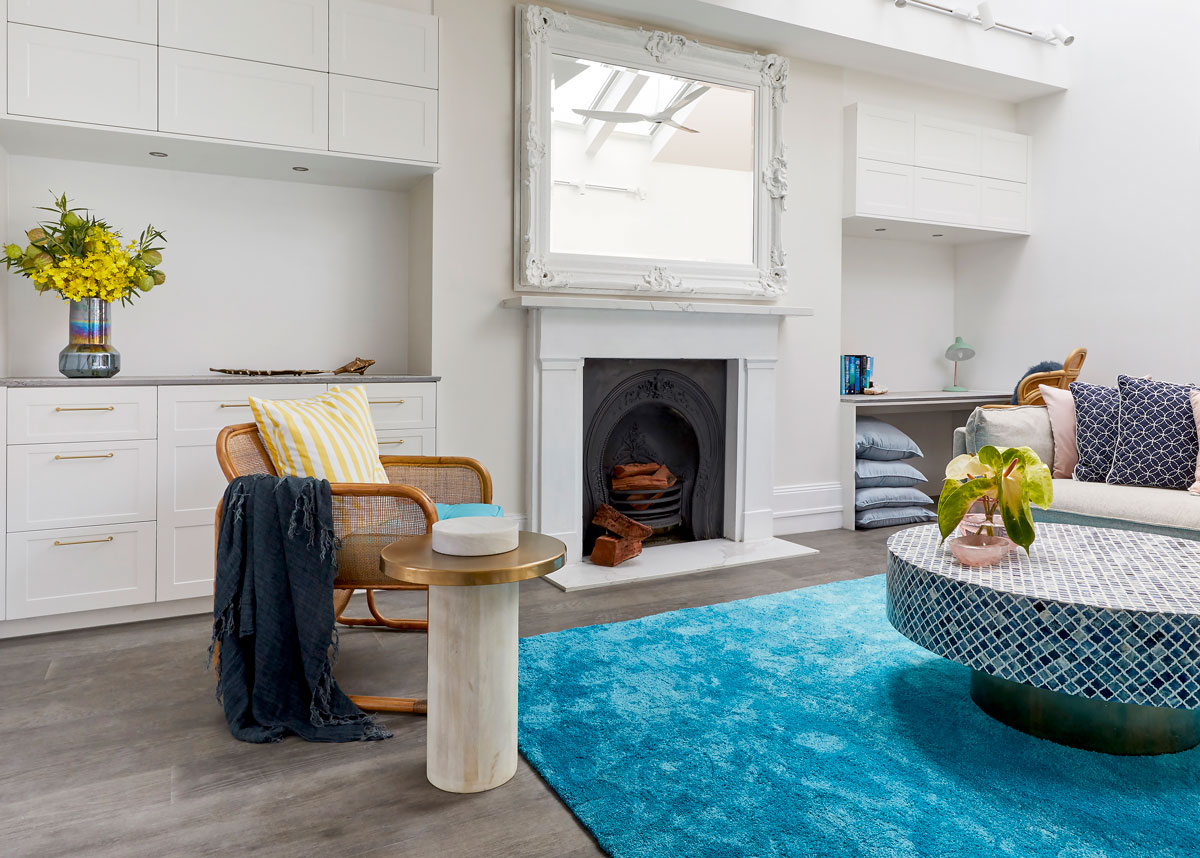 House 2 – Tess and Luke
Tess and Luke's Master Bedroom was a hit with the judges as they commented on the beautiful cabinetry, with the couple displaying strong progress from previous weeks' room reveals. Darren believed they produced "the perfect walk-in robe."
He went on to say their walk-in Freedom Wardrobe was not just nailed, it was right out the ball park!
The robe boasts a dark, moody and luxe colour palette, an intriguing contrast to their first guest bedroom finishes. Shaynna said she loved the profile of the Sierra cabinetry, these Warm Grey doors and Satin Black Rounded D Handles match effortlessly with the ornate features of the old building.
Tucked away inside are Mountain Oak Natural internals paired with black hardware, creating a bold and rich feeling space. Also included are Black Hanging Rails, supplying ample hanging space and jewellery drawers, all illuminated by Flexy LED Strip Lighting.
Cabinetry by Freedom Wardrobes:
Exterior finish in Sierra Warm Grey
 Internal finish in Mountain Oak Natural
Special features:
Satin Black Rounded Handles
Jewellery Drawer
Folding Mirror 
Black Framed Glass Shelves 
Black Hanging Rails 
Flexy LED Strip Lighting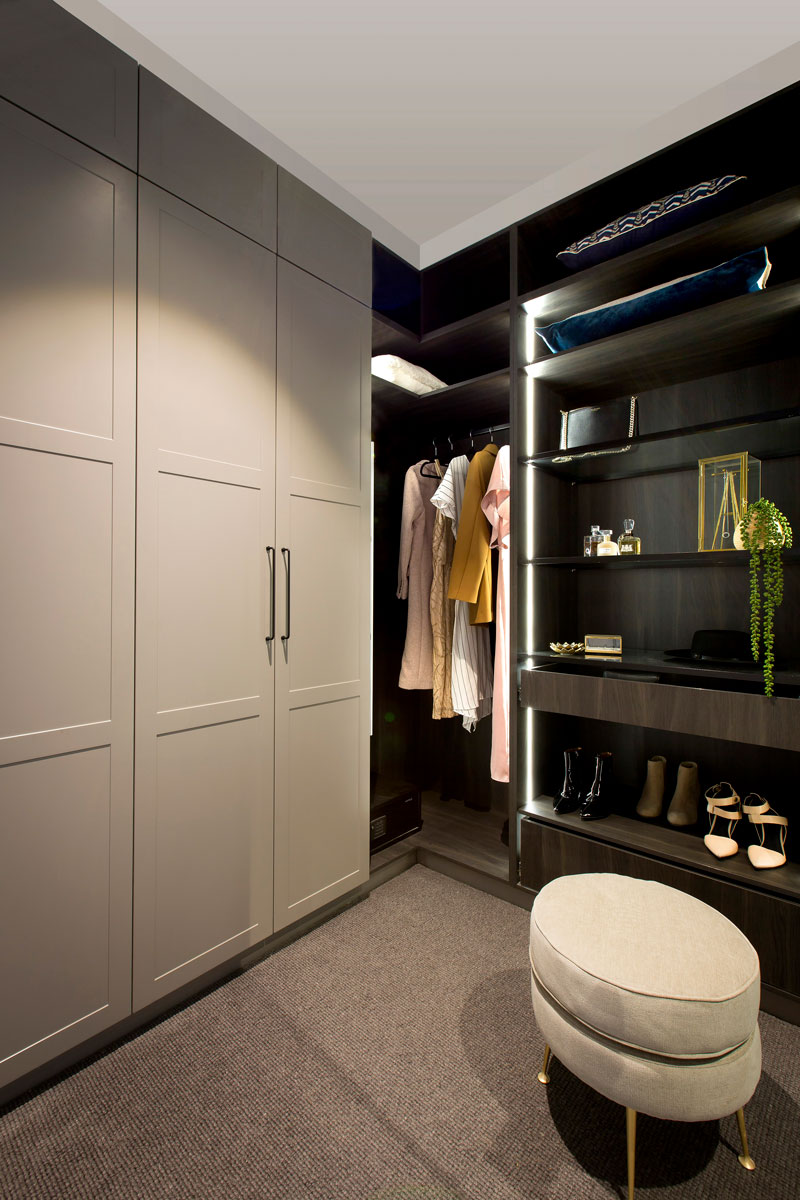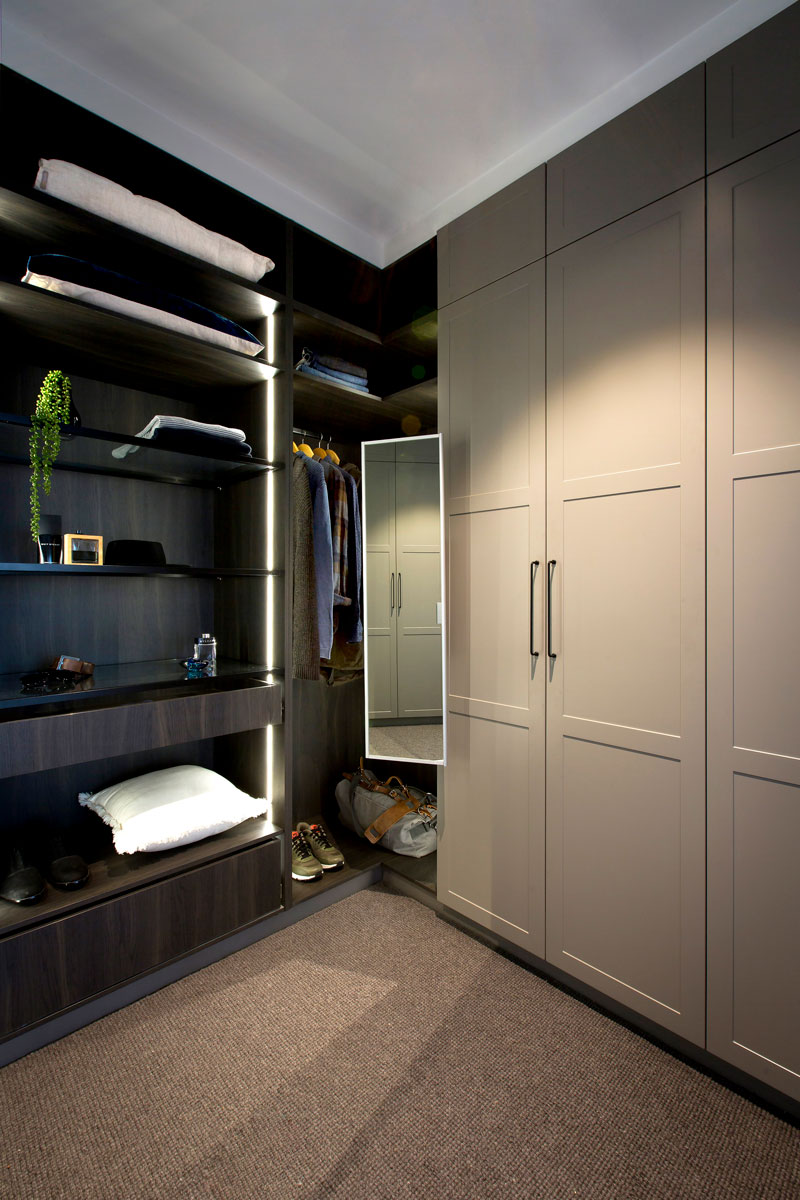 House 3 – Deb and Andy
All the judges were blown away with the sophistication and glamour of Deb and Andy's walk-in wardrobe. Darren thought the space was exciting and loved it, with Shaynna labelling it as stunning.
Neale loved everything about the walk-in as well, stating he had never seen anything like it before and described their bedroom as a "lovely, calm room".
Deb and Andy ensured the natural and soft elements showcased in their first guest bedroom also flowed into their Master Bedroom using Sierra White Matt exterior finishes and Ash Firenze feature opening shelving. The judges praised the couple for their choice of these as well as the design of the wardrobe.
Delving deeper into the wardrobe design, the attention to detail and thought process behind the design choices are apparent. Radio Dial Brass Plate Handles lend a modern touch alongside the Sierra White Matt shaker style door profile. Pull down Black Hanging Rails ensure clothing is easy to access without compromising the storage options below. Flexy LED Strip Lighting is the perfect finishing touch, creating an ideal setting for an opulent display of garments.
Cabinetry by Freedom Wardrobes:
Exterior finish in Sierra White Matt
Internal finish in Ash Firenze Natural 
Special features:
Radio Dial Brass Plate Handles
Shoe Racks
Black Hanging Rails 
Flexy LED Strip Lighting
Pull-out Trouser Rack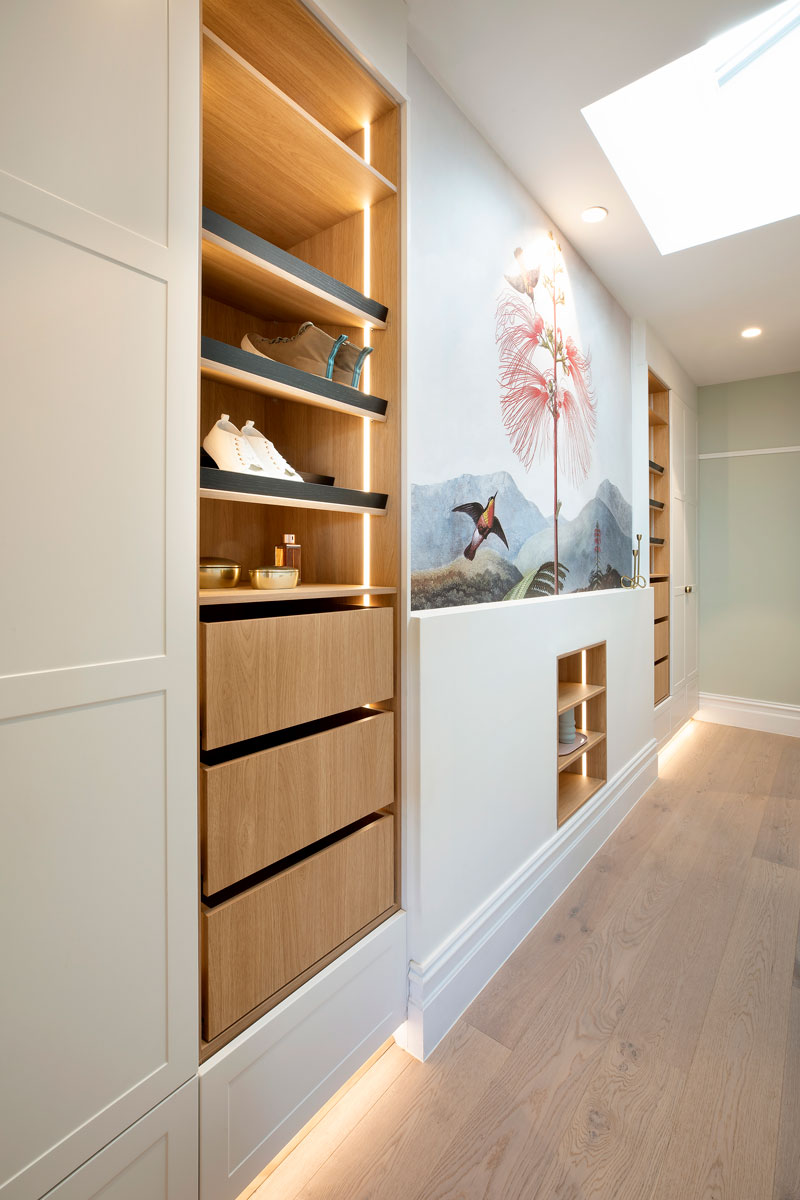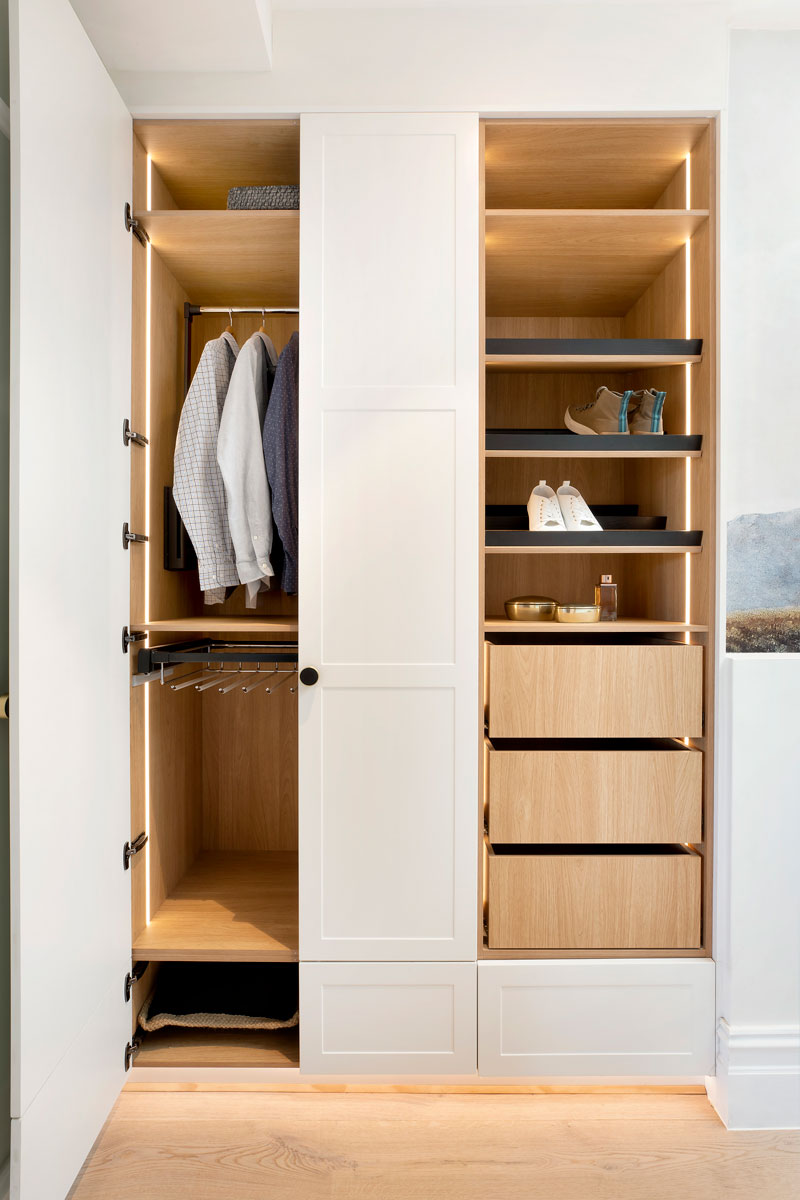 House 4 – El'ise and Matt
El'ise and Matt's walk-in wardrobe certainly made a statement with the judges, resulting in Darren stating he was "completely speechless" and Shaynna commenting the wardrobes are "glamorous and beautiful". The room boasts a grand and opulent straight run of cabinets, finished with a floor to ceiling mirror to reflect light and give the sense of more space.
The elegant colour palette delighted the judges too, Darren said he loved the colour of the wardrobes. Champagner Metallic doors gives the wardrobe the ultimate luxurious feel, alongside Classic White Satin cabinetry to establish a clean, bright interior.
Ample storage space is created from a complementing mixture of Black Hanging Rails, Shoe Racks, Jewellery Drawers and Trouser Racks. Black Framed Glass Shelves splits the cabinetry into separate storage area, giving a striking visual effect and decorative styling opportunities.
Cabinetry by Freedom Wardrobes:
Exterior finish in Champagner Metallic (no longer available)
Internal finish in Classic White Satin
Special Features: 
Square Hook Matt Black Handles 
Shoe Racks 
Jewellery Drawer
Black Hanging Rails
Trouser Rack
Black Framed Glass Shelves
Multifunction Insert Drawer Dividers 
Flexy LED Strip Lighting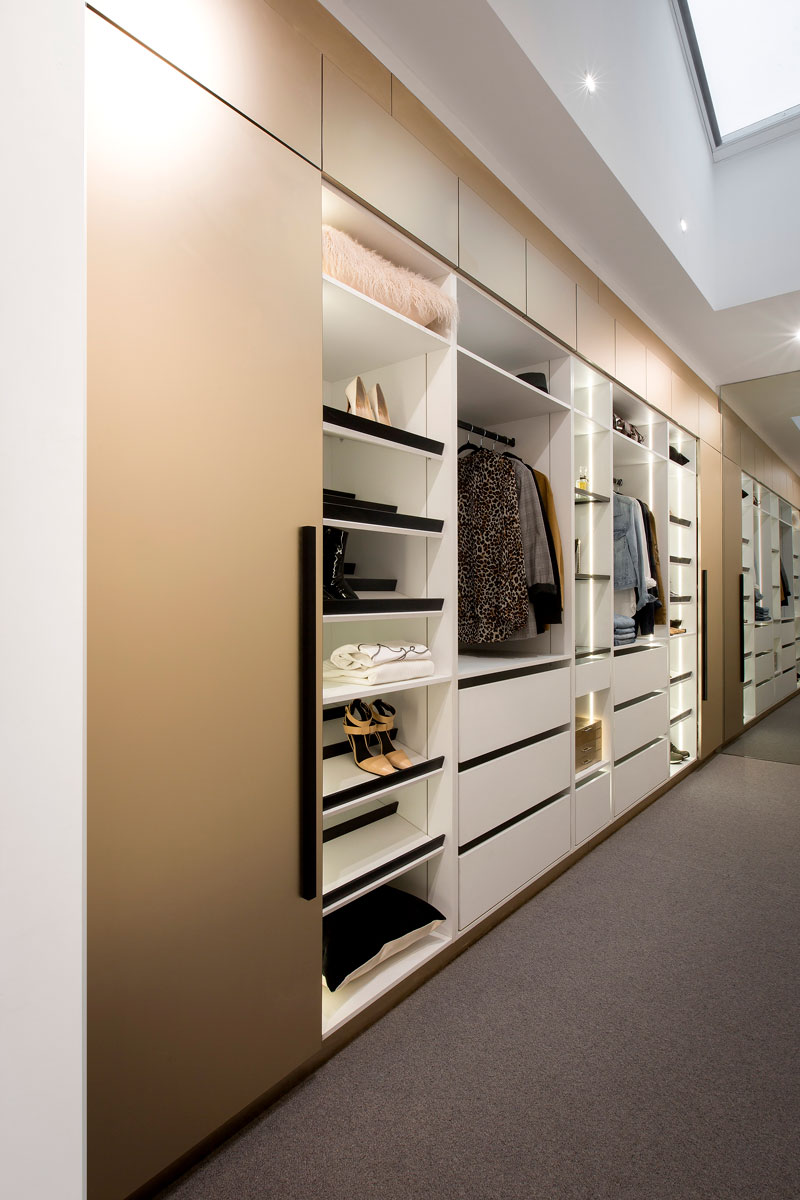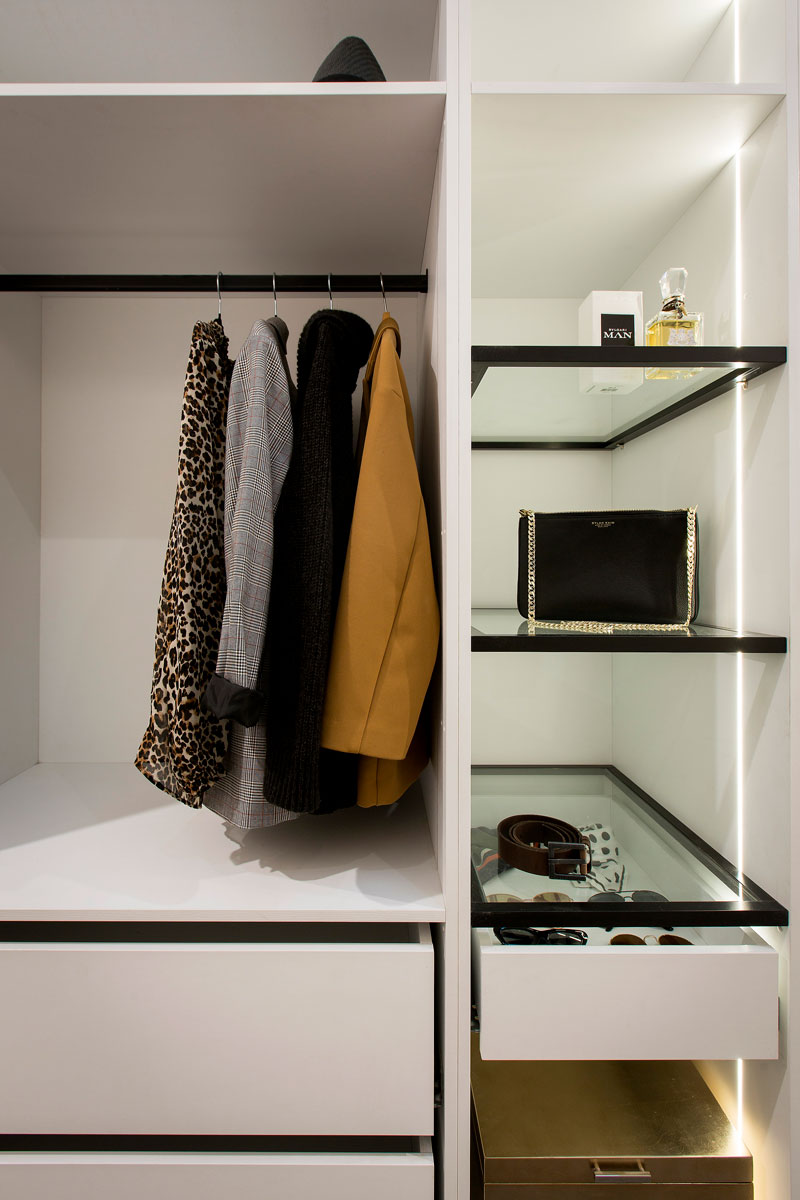 House 5 – Jesse and Mel 
Jesse and Mel were not as successful as their fellow contestants and fell short of impressing the judges with their Master Bedroom. The judges stated they were underwhelmed by the space as it gave off a sense of déjà vu. The St Kilda locals decided to replicate their winning guest bedroom look of Supa Wenge doors so that it seamlessly flowed into their Master Bedroom.
Despite the judges comments, there is no denying that this walk-in wardrobe boasts extensive storage space, which is evenly made up of Shoe Racks, Drawers and Black Hanging Rails. The dark and indulgent colour palette of the cabinetry contrasts perfectly with the timber-look herringbone flooring which adds a touch of warmth to the room.
The desk found in the main room has been topped with Caesarstone® Statuario Maximus to complete the luxurious aesthetic the couple wanted to achieve. LED Strip Lighting above the desk and bench seat pairs form with function. Illuminating the desk space, this highlights decoration and creates a useable makeup/study area.
Cabinetry by Freedom Wardrobes:
Exterior finish in Supa Wenge
Internal finish in Mountain Oak
Special Features: 
Caesarstone® Statuario Maximus Desk Top
Brushed Orb Handles
Multifunction Insert Drawer Dividers
Shoe Racks & Drawers
Black Hanging Rails
Flexy LED Strip Lighting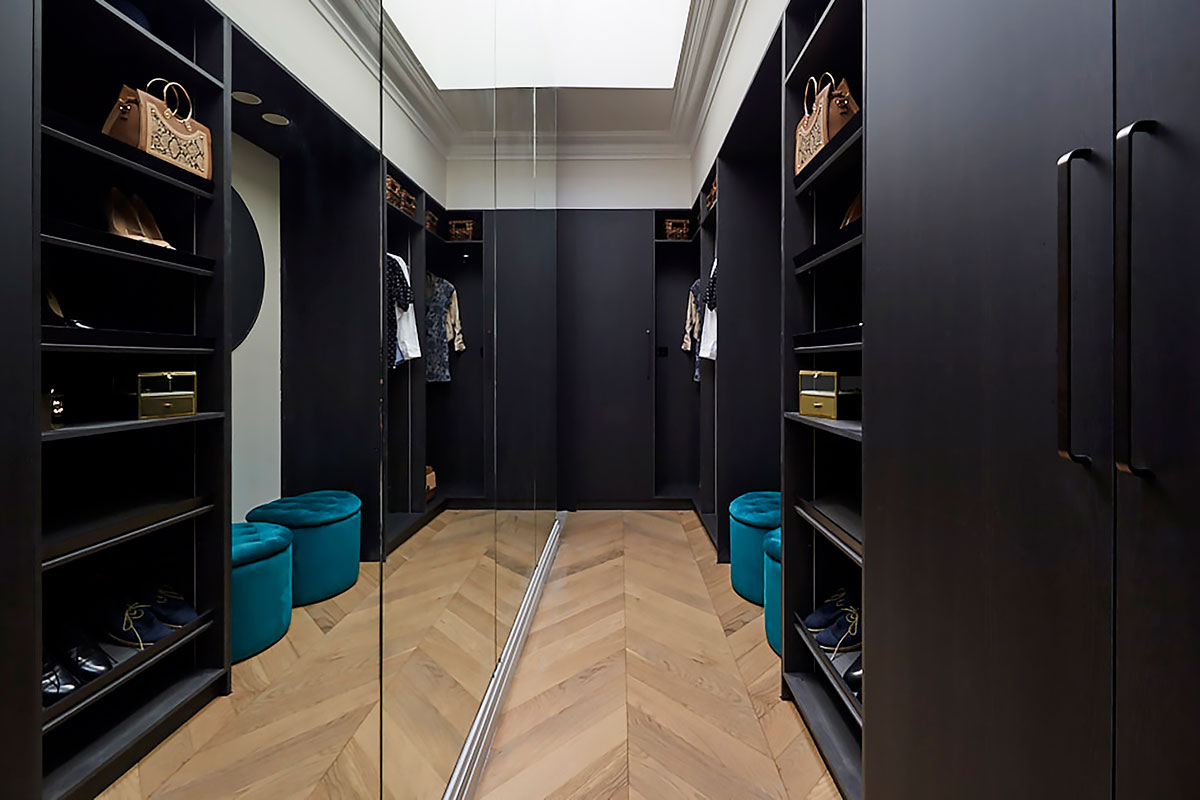 With more bedrooms yet to be transformed on the show, stay tuned to see how the contestants create a host of Freedom Wardrobes with wow factor. Follow The Block bedroom and Freedom Wardrobes on our socials:
Instagram: @freedom_wardrobes
Facebook: /freedomwardrobes