Have you (like so many others) cleared out your wardrobe in the New Year only to come to the conclusion that your wardrobes are need of a total transformation- both from a functional and stylish point of view?
We are here to help! With so many layouts, colours, styles and accessories to choose from; read on to discover the top 5 trends we are loving in 2020 and how you can take your bedroom storage to stylish new heights!
1. Lust-worthy layouts
Depending on the size of your room Walk-in or Hinged wardrobe layouts are topping our must-have lists for 2020.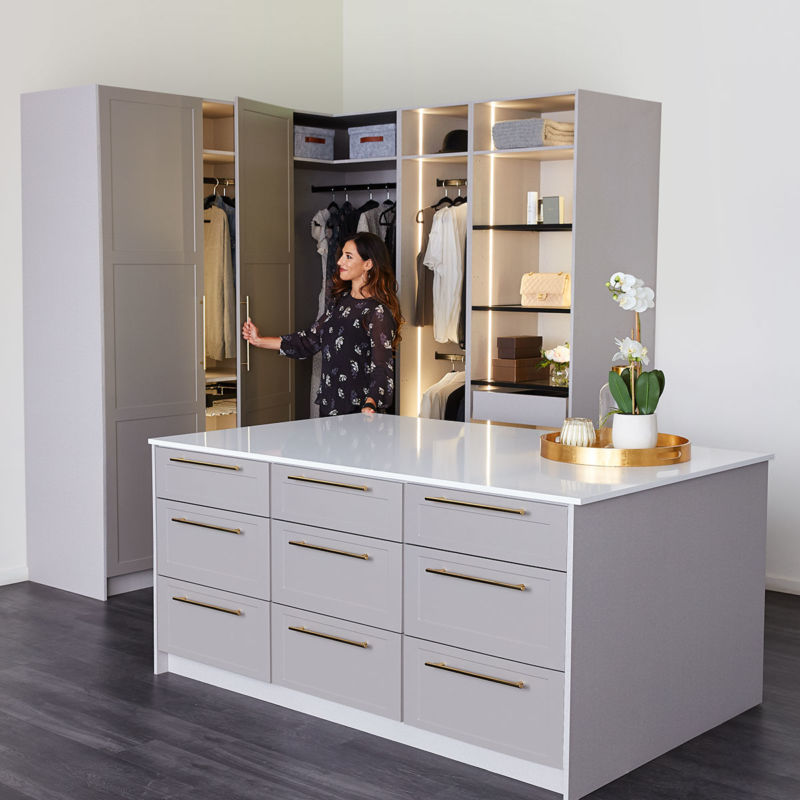 Island benches within Walk-in or Walk-through wardrobes adds instant glamour.
The epitome of luxury, Walk-in and/or Walk-through wardrobes are a daily style experience designed to showcase all your prized items.
If space permits, an island bench is the perfect addition to your Walk-In robe. Not only do they allow you to maximise your storage (deep drawers offer a plethora of space-saving storage that allows you hide certain items out of sight) but they up the luxe factor when created from Freedom Kitchens' premium selection of door finishes, handles and Caesarstone tops.
Style tip: If an island bench is not feasible in your Walk-In space maintain a luxurious feel with the inclusion of a make-up station/desk.
A highly popular layout, a Hinged wardrobe with its variety of door sizes and functional layout, is ideally suited to both small or large bedroom sizes. They create a feature wall of storage bliss that allows you to keep everything hidden behind soft-close doors.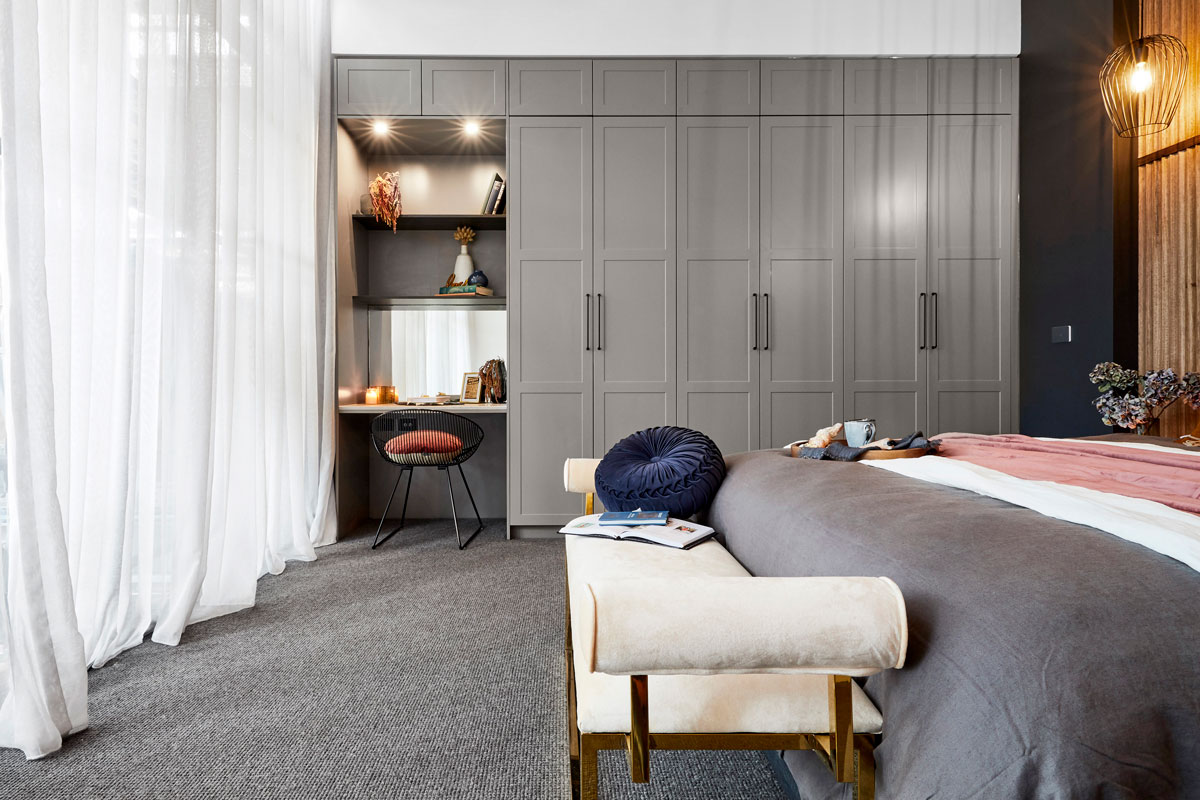 Tess & Luke's Second Guest Bedroom showcased a luxurious and neutral colour palette reflected in their stunning Hinged Wardrobe which also featured a desk area on The Block 2019.
Style tip: The addition of a desk nook or make-up station to your new Hinged Freedom Wardrobe will elevate what is already a highly functional and stylish design.
2. Perfect colour pairs
Our curated selection of premium door and interior finishes ensure that not only do your Freedom Wardrobes function perfectly but they look beautiful with quality that will last.
One of our exterior and interior favourite pairing for 2020 is Sierra Warm Grey from our Deluxe Door range matched with Suit Grey Interior Finish – this classic and timeless combination will suit a number of room styles and the soft greys will complement most colour palettes.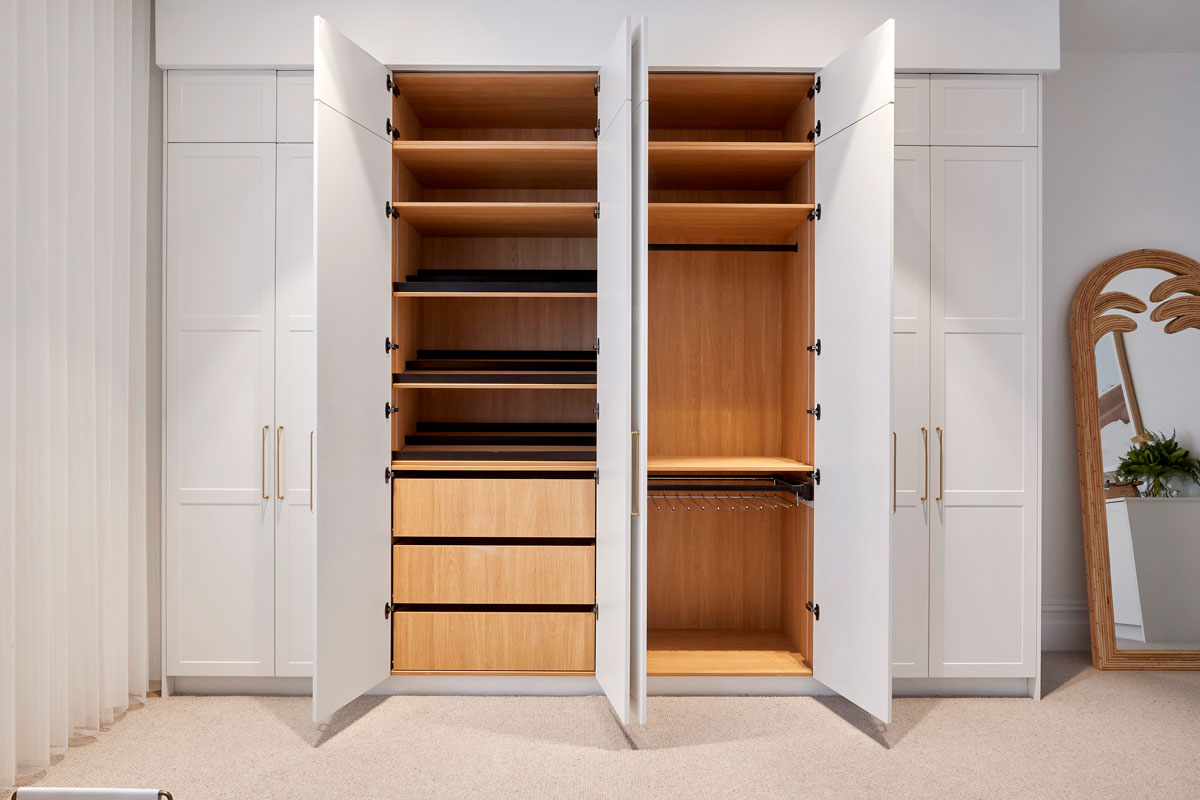 If white cabinetry is more to your taste we love crisp white doors with light timber interiors. If you love a modern Hamptons or coastal look in your home Sierra White Matt doors with their beautiful Shaker profile with interiors in Ash Firenze is a match made in wardrobe heaven.
Style tip: Brass handles are a great choice to complete the look pictured above as they add interest and contrast against the crisp White Matt cabinetry.
3. Handle it with style
Handles may be a small detail but they have the power to transform the look of your wardrobe doors and allow you to create the style you want within your bedroom and even beyond so they suit the rest of your home.
This year we expect to see a rise in our Brass and Antique Brown handles gracing our wardrobe designs. With styles that include bar, knob and Peak Integrated handles- there's a handle design to suit any wardrobe.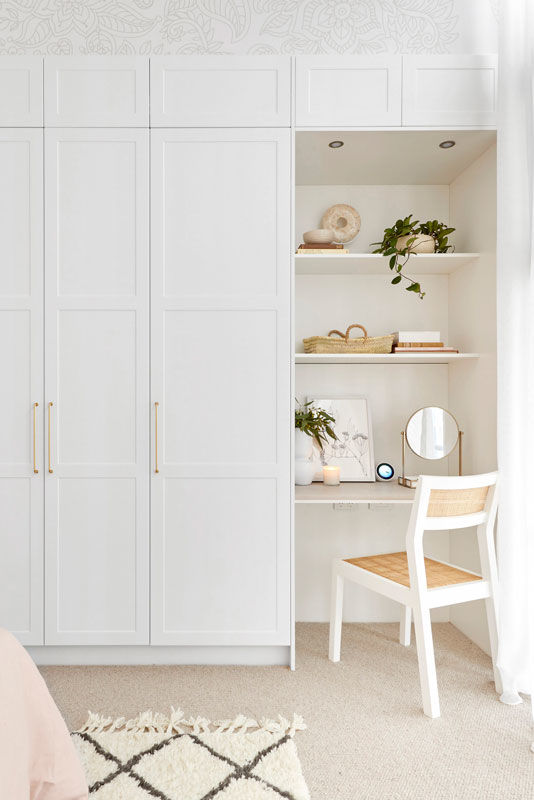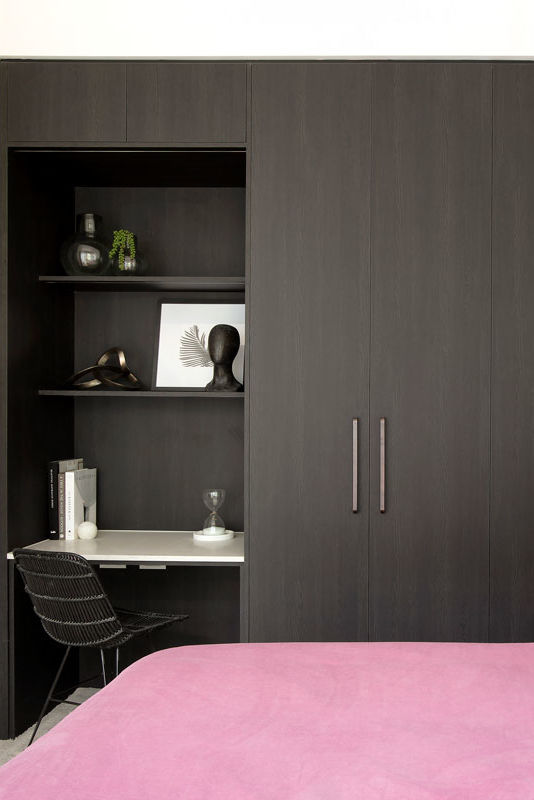 Select handles that suit your wardrobe style. Brass-look hardware is the perfect choice for a classic Shaker-style door while our Brushed Orb handles add to the opulent look that Supa Wenge evokes.
Style tip: Carefully consider your choice of handle as it will transform your wardrobe. Ask your Freedom Wardrobes designer to show you the many handle options we offer as part of our range.
4. Frame it
Adding another luxe level to your robe, our Black Frame Glass Shelves are the perfect choice for displaying your favourite accessories such as handbags, hats, and fragrances. The sleek matte black frame is irresistibly on-trend and matches our other available extras, while the glass adds the high-end feel of a boutique to your boudoir.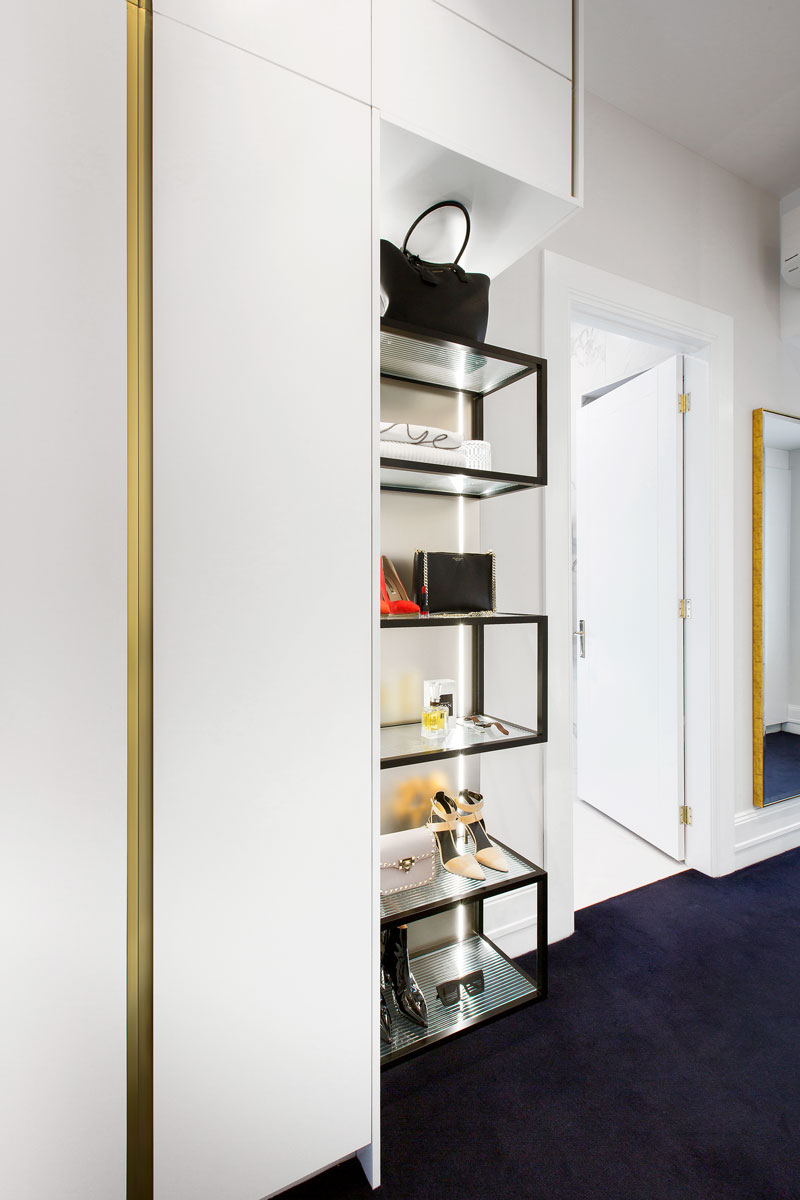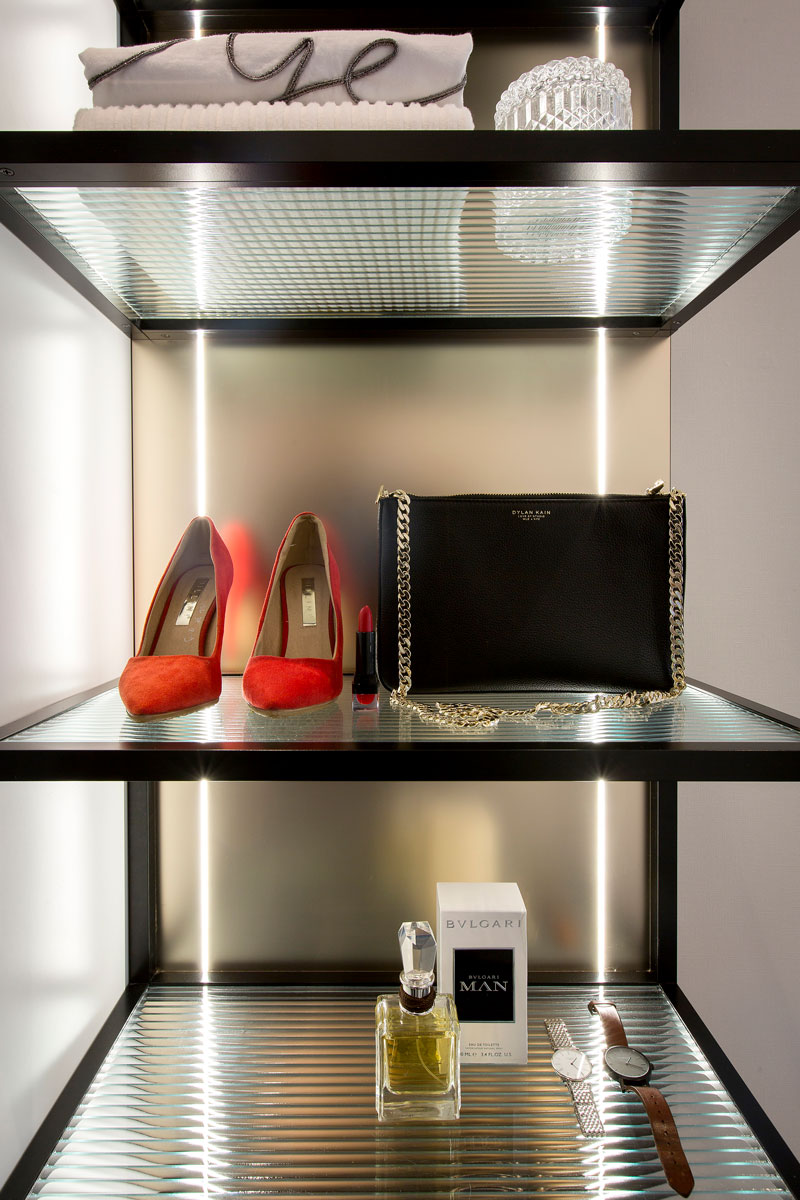 Mitch & Mark from The Block 2019 used our Black Frame Glass Shelves as an eye-catching design feature for their stunning Master Bedroom Hinged wardrobes.
Style tip: Mix artwork pieces from sculptures, prints and other decor items with your wardrobe items to create an individual look within your space. You can update it each season to keep it fresh and keep your must-have items within reach.
5. Noir chic
Our Flexstore organiser system provides great possibilities for space-saving storage of clothing, footwear and other accessories in your new robe. 2020 will see matte black accessories for all fittings across the Freedom Wardrobe range. It's these little details that will elevate your robe design to the next level.
Style tip: Design your dream wardrobe with combinations of pullout wire baskets, shoe racks and trouser rails complemented with full extension runners and soft closing mechanisms. They feature refined matte black edging- you can even select matte black handles and hinges for your matte black wardrobe doors.